he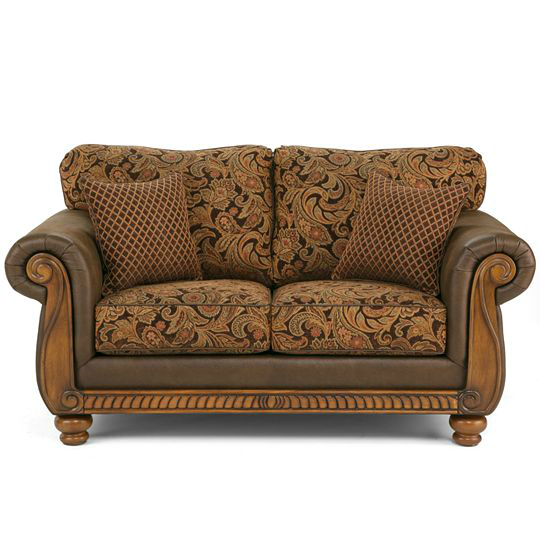 Comfortable, sturdy and stylish, loveseats – a couch that seats two people – are usually the main feature of any living room. With many people searching for the perfect loveseat in terms of colour, size and shape, it is no wonder that there is a booming online furniture market catering to many different budgets and tastes.
With this guide buyers will not only be able to identify the perfect loveseat for them, but also be able to buy it for the perfect prize on eBay, the site with the widest online market available.
Types of Loveseat
There are many different types of loveseat available, all catering for different needs, uses and style tastes. The main types of loveseat available are:
Traditional
The regular, 2-seater loveseat comes in a variety of shapes and sizes as well as designs, but this style covers most of the basic loveseats not designed for any specific purpose or to any particular design.
Recliner
Recliner loveseats are very popular as a great place to curl up in the evening, with unfolding leg rests and reclining backs for extra comfort. La-Z Boy is a well-known brand of recliner loveseats, and is made in a variety of styles, sizes and colours.
2-Seater Sofa Bed/Loveseat
2-Seater sofa beds/loveseats are a perfect piece of furniture for those who frequently entertain guests, with loveseats that can unfold into a comfortable double bed-size mattress.
Camel Back
Camel Back loveseats are so named after the distinct humped shape of the backrest. Camel back loveseats are a very simple and classic design, and there are many antique camel backs available for purchase, as well as newer loveseats.
Chesterfield
Chesterfield loveseats are very distinctive in look, with buttoned backs and typically very large arms. These are usually upholstered in leather and have wooden frames, resulting in a very heavy and imposing loveseat – these are very popular office furniture pieces.
Garden
Garden or outdoor loveseats are designed not only to look lovely in a garden, but are also able to withstand everything the weather throws at it. These are typically made from metal or wood and are not upholstered, though some do have fabric cushions that can be attached at will.
The buyer should consider what type of loveseat would suit their lifestyle as well as their home or office. Depending on the style and size of the room, one type can be more of an advantage than another. There is no 'right' choice of loveseat, only what the buyer prefers.
Things to Consider When Buying a Loveseat
Upholstering Materials
Materials used to upholster are a very important when choosing a loveseat, because the material in which it is made from decides the look and feel of the loveseat, as well as the style. The main kinds of material for inside and outside loveseats are fabric and leather.
Fabric
The most basic type of upholstery, natural and man-made fabrics have different strengths and weaknesses. The most typical fabric upholstering materials are:
Type

Advantages

Disadvantages

Cotton

Resistant to wear.

Cotton is easy to wash.

Dyes very well – so there are many different coloured fabrics available.

Not resistant to stains unless treated prior.

Linen

Linen is easy to clean.

Holds colour well, so very easy to dye and does not fade.

Not resistant to wear or stains.

Wool

Resistant to wear.

Wool is a very soft fabric with a nice feel.

Sunlight fades the colour of dyed wool.

Wool must be dry cleaned, and is not moth resistant.

Microfiber

Very durable – highly resistant to wear and stains.

Easy to clean.

Microfiber is hypoallergenic.

Lack of heat resistance.

More costly than other materials.

Nylon

Nylon is a very strong fabric with great resistant to wear and stains.

Often included in blends to provide resilience to other materials.

Easy to clean.

Tends to fade.

Low resistance to heat.

Leather

A durable material that ages rather than fades – becoming softer with time.

Easy to clean.

Leather can be very costly, especially if of a high quality.

Can scratch easily.

Lighter leather colours such as buff or white can stain permanently.
Garden
Type

Advantages

Disadvantages

Wood

An organic material, wooden loveseats have a very natural appearance.

If not treated, wood can be vulnerable to weather and insect damage.

Wood fades with age.

Metal

Metal is a very strong, durable material.

Can be made in a variety of shapes and styles due to malleability of metal.

If left unpainted, metal will rust when left outside.
The correct upholstering material is purely the choice of the buyer, as they must weigh up the pros and cons and make a decision based on what would suit them. Important things to keep in mind are:
Children and Pets – if the buyer has children or animals in the house, they should consider buying a tough and stain-resistant loveseat, such as microfibre or polyester. Whilst leather is very durable, light colours can scratch and stain very easily.
Placement – depending on where the loveseat will be placed, the choice of material might change. If the room is exposed to direct sunlight, materials that are given to fade may be inadvisable as the dyes could diminish very quickly. This is the same for materials such as polyester that are not very heat resistant – if the material becomes too hot the fabric may warp.
Frame
The frame of the couch not only determines the shape and style, but also the strength of the loveseat. Wooden frames are popular, particularly in antique loveseats, for being strong and durable, as well being visually appealing. Wood, however, can be extremely heavy, particularly in loveseats that use a great deal of it. Metal frames, in contrast, are much lighter while still being strong, but are liable to rust as well as warping.
If it is particularly important for a loveseat to contain a particular frame, they should make sure to ask the seller for more details.
Antique Loveseat
Antique loveseats are particularly popular, not only as items of furniture, but also as artefacts of history. When buying antique loveseats, buyers can usually identify the period of the item from the design and fabrics used, though if unsure the buyer should consult an expert.
Many buyers purchase antique frames or damaged antique loveseats to reupholster them to keep or sell on – this is a booming trade, with upholstering fabric also for sale.
Size
The size of the loveseat is an incredibly important part of choosing which one to purchase, as it is not only a matter of it the loveseat will fit in the room – they loveseat must be able to fit in the house first. The buyer may purchase a loveseat only to find that they cannot even fit it through their front door. The buyer should find out the specific measurements of the loveseat to ensure it will fit perfectly into the space allocated for it, as well as checking that they will be able to fit it through doors.
Conclusion
The loveseat is the perfect piece of furniture – decorative yet functional, stylish yet comfortable – a statement piece that says a great deal about its owner. With its importance in daily life, the buyer should make sure that they buy the perfect loveseat for them and their house, and this is easy with the wide variety of types and prices available on eBay.
When buying on eBay, buyers should be aware of the added benefits of purchasing items using PayPal, eBay's recommended way to pay with bonus eBay Buyer Protection.