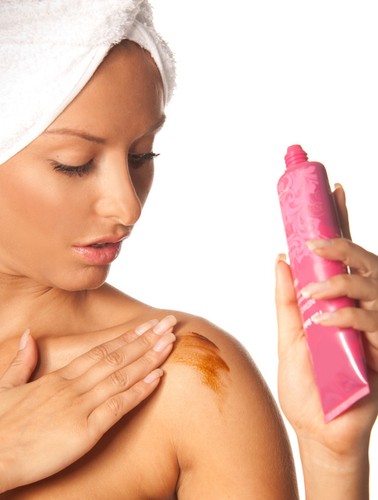 Everyone loves the look of a tan but it can be difficult to maintain a good looking suntan during the dark, grey months of the year. Rather than spend every week in a tanning salon, save money by using lower-cost natural fake suntan treatments. These treatments are all available over-the-counter and do the job within minutes or a few short hours. Some of the products even last for several days without reapplication. The goods include lotions and gels, tanning pills, sprays, and bronzers. After applying a tanning lotion to create natural looking base tan, it is possible to enhance the tan with another layer of strategically placed bronzers and the application of a shimmer stick. All naturally-based tanners are non-toxic and do not harm the skin, even with consistent use. These products are found in tanning salons, retail stores, the makeup counter, through sun care retail websites and manufacturers, and also on eBay.
Methods for Creating a Natural Fake Tan
Women have several options for creating a natural fake tan. Different products are either applied to the surface of the skin to darken the skin cells, ingested as pills, or rubbed in as temporary make-up to the face and upper shoulders. All of these methods below are naturally derived from plants, and minerals.
Tanning Lotions
Many tanning lotions contain a product called Dihydroxyacetone (DHA), which is derived from plant-based sources like sugar beets or sugarcane. DHA causes the skin to turn brown a few hours after exposure. This product does not penetrate beyond the first few layers of dead skin. It turns the skin from shades of yellow to brown because of a reaction with the amino acids in the skin cells. This effect is non-toxic, and fades after three to ten days. The important thing about using a tanning lotion, cream, gel, or spray is to apply the product evenly to avoid uneven tanning or streaks.
Tanning lotions also contain another natural sugar called erythrulose, which is found in red raspberries and other fruits and vegetables. This product takes much longer to act on the skin and produces a brown tan that is similar to one achieved through UV exposure. It also reacts with amino acids in the dead surface layers of the skin to create brown pigmentation. The effects can last between two and ten days.
Types of Tanning Lotions
Tanning lotions are an easy way for people to get a natural fake tan at home with decent results. These lotions also create the tan in a relatively short period of time and last almost two weeks. However, the products are available in slightly different mediums, each of which offer contrasting benefits and are applied in varying ways.
| Tanning Product | Description | Application |
| --- | --- | --- |
| | White, slightly thin, comes in a squeeze bottle | Apply to clean skin starting at feet and work up; using less lotion on legs and face |
| | White, thick; comes in a squeeze tube | Same as lotion |
| | Semi-transparent; comes in a squeeze tube | Same as lotion; allow more time for gel to absorb into skin |
| | Liquid, slight brown colour; comes in a spray bottle | Spray onto clean skin in a circular motion starting at legs; blot smooth with damp cloth; may need someone else to apply |
Before applying one of these products it is important to take a shower and thoroughly exfoliate the skin. After application, allow the product to absorb and dry before lying down or sitting. Applying moisturiser to the driest areas of the skin helps prevent it from turning orange.
Tanning Pills
Another option for those interested in naturally darkening their skin with a fake tan is taking tanning pills. There are a few different formulations available, but pills containing beta-carotene are the most natural option. As lycopene is used in the biosynthesis of beta-carotene, this combination helps make the high doses of beta-carotene found in tanning pills safer for users. Over time, consumption of these pills alters skin colour, making it a more yellow-orange. It may also be possible to alter skin colour by high consumption of foods containing carotenoids, such as tomatoes, and carrots.
Bronzers
Those who want a fake tan that only lasts for a day or less can use bronzers to create the appearance of naturally sun-kissed skin. Bronzers are essentially dark pigments applied to the skin, such as makeup or lotion. The bronzer darkens the skin wherever it is applied and washes right off with soap and water. Most bronzers are made of natural ingredients, such as plant-based powders and minerals. It is possible to purchase a bronzer at a very low price, or even to make a do it yourself bronzer out of ingredients found around the house. Some common ingredients used for bronzers include cinnamon, cocoa powder, and powdered gold.
Preparation Tips to Create the Best Natural Fake Tan
Creating a natural fake tan is not as easy as just applying the lotion and walking away. To really make that tan look good, it is necessary to first prepare for application, and finish the look afterwards.
Exfoliation
Exfoliation is essential to creating an even fake tan that lasts as long as possible. This removes the top layer of dead skin cells that are already close to sloughing off. Exfoliation helps ensure that the tan lasts longer because tanning product users are applying the lotion to freshly exposed skin cells. It also helps prevent an even tan from patches of skin cells that slough off right after application.
Apply Tanning Lotion
As mentioned previously, the lotion should be applied starting at the legs and working up. This gives the user a chance to get used to the lotion and to understand how it applies to skin before getting to more visible spots, such as the face and arms. It is also recommended that some gels and lotions be applied in a circular motion to help ensure even coverage and reduce the risk of streaky patches. Do not be heavy-handed in applying the product. Apply less of the product to the face and legs and more of the product to the torso or arms. When applying the product, consider how the sun would hit the skin and where the tan appears darkest.
Skin Finishers
After applying a tanning lotion or gel, there are some products to apply to the skin that finish or enhance the tan. Skin finishers are shimmer sticks rubbed over key points of the skin and face to create an extra punch of brightness and shine. These sticks are usually rubbed over the front of the shins, the knees, the shoulders, chest, and the brow, top of the nose, and upper cheek. A powdered bronzer can also be applied on top of a fake tan to enhance face contours.
Buying Natural Fake Tanners on eBay
You can buy natural fake tanners on eBay and save a bundle over store prices. Finding these tanners can mean going through dozens of different categories by hand. Luckily, eBay has an efficient search engine that searches through hundreds of thousands of seller listings in a matter of seconds. To use the search engine to look for your tanning supplies, just enter whatever search term you prefer into the search engine bar on the eBay home page. This search term can be generic, such as "sunlamps" or specific, such as a brand name like "L'Oreal". The website searches through all listings in a selected category, and then expands out into the remaining categories on the site searching for seller product listings with the search term listed. The site returns all matching listings in a search results page.
Seller History
Before purchasing any sort of sun care product on eBay, it is a good idea to find out about the seller's history. This includes customer comments and a rating for the seller left by previous customers after a sale has been completed. To get to the seller's history, just click on the seller's name in any listing.
Conclusion
People have plenty of options for creating a natural fake tan without having to go out into the sun or spend time in a tanning bed. These options include tanning lotions, gels, creams, sprays, bronzers, and even tanning pills. The lotions, gels, and creams can all be applied to the skin after a shower and exfoliation. They cause an actual darkening of the skin within a few hours of application, creating a temporary tan that lasts between two and ten days. Sprays are similar except they are sprayed onto the skin and may require the assistance of another person to apply.
Bronzers are dark pigmented powders applied to the face, chest, and shoulders to give the appearance of sun-kissed skin. These are very temporary, and can actually be washed off with soap and water. Tanning pills are formulated with high amounts of beta-carotene and lycopene which helps alter skin colour from inside the body over a period of time. Before applying any sort of temporary tanning product it is important to prepare the skin by showering and exfoliation. After applying a tanning product, it can be helpful to apply a finishing product to enhance the tan, such as a shimmer stick or the powdered bronzer. All of these products can be found on eBay.