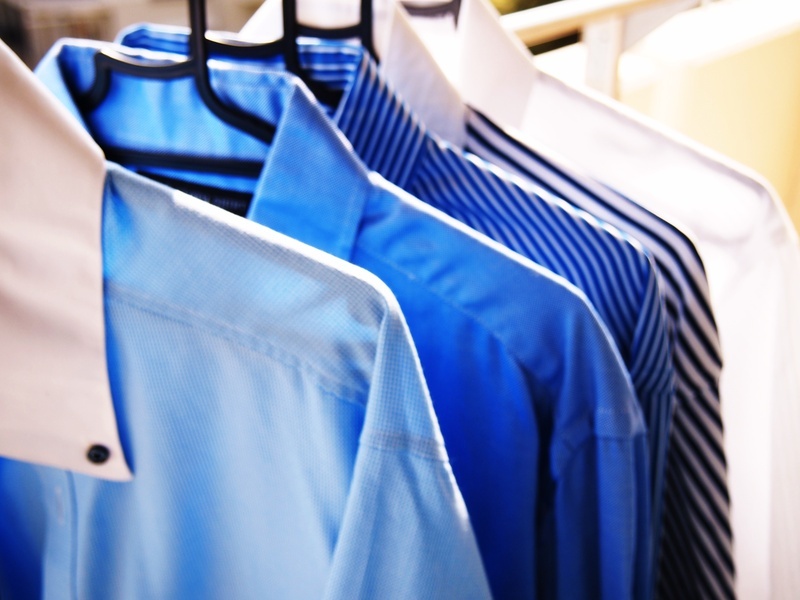 Men's dress shirts come in styles to fit the neck, arms, and torso perfectly. Without this tailored appearance, dress shirts look sloppy, baggy, unflattering, and unprofessional. In order to find the correct size, men must learn how to take their measurements or choose less dressy collared shirts designed to fit all neck sizes. There is an art to wearing a collared shirt, but any man can learn how to look sharp in this style.
Measure the Neck

To measure the neck, a flexible measuring tape is necessary. Wrap the tape around the base of the neck where the collar sits. Once the tape is all the way around, stick one finger underneath it to loosen it up a bit or add half an inch to the length to make sure the shirt collar is not too tight. Round the measurement up to the nearest half inch. For example, if the measurement is 17.4 inches in circumference, round it up to 17.5 inches. Most shirt manufacturers size collars in inches using half-inch variations or in the standard small to extra-large format. Big and tall men's shirts offer larger sizes.
Measure the Sleeve and Waist
To properly fit men's shirts, shoppers need more than just neck size. Manufacturers size formal dress shirts based on neck, sleeve, and possibly waist measurements. To measure sleeves, enlist the help of a friend and measure from the base of the neck, over the shoulder, and down to the base of the wrist. Round the measurement up to the nearest inch and repeat to make sure the measurement is correct. Most men already know their waist sizes. If not, take that measurement or check trouser labels for the proper size. Waist size is very important when buying men's fitted shirts.
Test the Dress Shirt

Because every brand is a little different when it comes to sizing for formal shirts, it is a good idea to test a size when possible. Purchase a single shirt and wear it with the collar buttoned. If the collar feels too tight, then the neck size is too small. Also consider the fit and look of the sleeves and the body of the shirt. After determining the correct fit, purchase additional items needed to complete the wardrobe.
Casual Button-up Shirts
Men's casual button-up shirts often come in standard small to extra-large sizing with collar sizes designed to fit the average man who wears each particular size. With this type of shirt, it is usually acceptable to leave the collar unbuttoned if the neck is too tight.