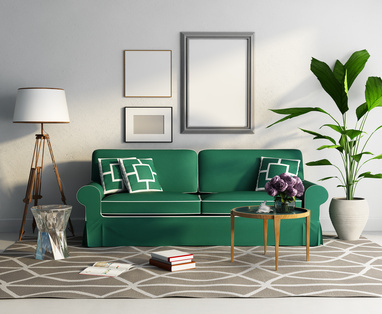 Art Deco is undoubtedly one of the most popular and long-lasting movements in the history of design. Its influence extends beyond home furnishings to architecture, fashion, interior design, automobiles and jewellery. It inspired many of the contemporary furniture designs that we see today. The Art Deco period began in the early 20th century and combined aspects of many other artistic movements, such as Neoclassicism and Art Nouveau. Its popularity peaked in the 1920's and 1930's as the world recovered from World War I. Furniture designs often reflected the optimistic attitudes of post-war society with the use of vivid colours and playful motifs. Art Deco with its distinctive style is one of the most recognizable design movements, making furnishings from this period some of the most desirable for homeowners and collectors alike.
History of Art Deco Furniture
The Art Deco movement arose in the early 20th century following the 1925 Paris Exposition Internationale des Arts Décoratifs Industriels Modernes (International Exposition of Modern Industrial and Decorative Arts). A number of factors influenced the movement, the end of the war being one of them. Post-war society at this time was full of optimism for the future and designers wanted their pieces to reflect this. Art Deco furnishings were vibrant and playful, representing an avant garde way of thinking. Furthermore, international travel was becoming more affordable, exposing people to other countries and cultures. All of these influences were evident in Art Deco designs.
Amongst Art Deco manufacturers there were two distinct schools of thought: on one hand there were those who concentrated on the crafting of individual pieces by highly-skilled furniture makers, and on the other hand, there were those who embraced innovative new techniques of mass production. Both were popular with consumers.
By the beginning of the Second World War the popularity of Art Deco was waning. It was a time of extreme austerity and the style was perceived as gaudy and unfittingly luxurious. The movement experienced a revival in the 1960's, and vintage pieces as well as modern takes on the style are still popular to this day.
Discover Art Deco Furniture
Art Deco furnishings have the ability to complement practically every modern style and make an interesting addition to any home. At the beginning of the Art Deco movement furniture was based on classic designs, but the addition of grandiose features lent a sense of opulence. Exotic woods such as ebony were frequently used in furniture, and sometimes rare materials such as ivory were also used. Stained glass, inlays and enamel are other elements that were also commonly incorporated. However, by the mid-1920's the demand for such flamboyant furniture was decreasing and Art Deco furniture makers began to embrace new materials such as stainless steel, Bakelite, chrome and plastic which were more functional. With the introduction of these materials came a new style that emphasized geometric forms and symmetrical patterns. These elements typify what we consider to be quintessential Art Deco furniture today.
Materials used in Art Deco Furniture
Home furnishings from the Art Deco period incorporated many materials, from metal to wood, and glass to stainless steel:
Wood
Art Deco designers took advantage of modern transportation methods to import exotic woods such as teak and ebony for use in their furnishings.
Marble
Marble had been used in buildings for many centuries before Art Deco designers began using it in home furnishing design. Marble was frequently used for cabinet and table tops.
Metal
Polished metal was highly sought-after in the furnishings, jewellery, architecture and fashions of the time, and due to improvements in steel-making, the incorporation of metals into such designs was made possible.
Plastic
The advent of plastics such as Bakelite and lucite in the early 20th century meant that household items could be produced cheaply and easily. Even jewellery and furniture designers embraced the new material by regularly incorporating it in to their designs.
Lacquer
Those who could not afford exotic woods such as ebony would instead buy furniture items constructed from cheaper materials that were lacquered. The deep colour and shine from polished and lacquered pieces offered a similar effect to ebony at a much lower price.
Animal Skin
Animal skins had once been enjoyed only by the rich, but during the Art Deco period the cost of importation decreased and so furniture was often upholstered using exotic animal hides. Furs also became popular in both interior design and fashion.
Types of Art Deco Furniture
Examples of Art Deco furniture are widely available in today's marketplace:
Chairs
Art Deco chairs typically feature curved lines and organic, humanlike forms. These curves are often juxtaposed against angular lines, creating the attractive contrast that was characteristic of Art Deco design. Some specimens incorporate the use of modern materials such as chrome for the frame and leather for the upholstery. These items are often highly sought-after by Art Deco furniture collectors.
Cabinets
Art Deco cabinets are generally very large, rigid, and often composed of lacquered wood. Many craftsmen left the wood natural to show the distinctive grains of exotic timbers such as bird's eye maple, burled oak and Macassar ebony. In some cases, cabinets were painted in secondary colours, unusual shades of primary colours or in metallic tones such as copper or gold.
Beds
Art Deco period Beds usually feature oversized headboards and footboards, typically constructed from wood but sometimes metal. They sometimes feature architectural motifs influenced by ancient Egyptian, Aztec and Mayan designs.
Tables
Many people consider tables – particularly cocktail tables - to be archetypal examples of Art Deco furnishings. Such specimens generally feature chrome legs and glass table tops, but often pieces with wooden legs and leather tops are available.
Factors to Consider When Buying Art Deco Furniture
Examples of Art Deco furniture are now being considered as antiques as they near the hundred year age mark. It is recommended that buyers enquire about the provenance and condition of any piece they might be considering. Condition, style and rarity all affect the value of Art Deco furniture so it's important to consider these factors before purchasing a piece:
Condition
Evaluate the overall condition of the piece. Ensure that veneers are not chipped or show signs of water damage. For furniture with legs, such as tables, chairs and wardrobes, check for dents, instability or replacement parts.
Quality
Handcrafted Art Deco pieces are known to fetch high prices, particularly when they were made by a notable manufacturer or have a particularly unusual provenance. A mass-produced item of the same age is still likely to be valuable, but will be worth considerably less than a one-of-a-kind piece.
Desirability
Consider the intricacy and details of the item. As a general rule, the more ornate details, unusual materials and examples of fine craftsmanship, the higher the value of the piece.
Typical Features of Art Deco Furniture
Glossy and sleek
Art Deco furniture is typically composed of sleek and shiny materials, such as stainless steel, chrome, glass and moulded plastics. Furnishings often feature high-gloss lacquered finishes and reflective metals.
Inlaid wood
Often, examples of Art Deco furniture feature intricate inlays made from exotic woods and materials, such as ebony and ivory.
Prominent lines
Whether lines are straight and angular or long sweeping curves, prominent lines are perhaps one of the most recognizable features of Art Deco furnishings.
Opulence
Furnishings of the Art Deco period are renowned for their opulence. Architecture and interior design styles of the era featured bold colours and patterns, geometric shapes and animal prints.
Motifs
Motifs were commonly used as features on Art Deco furnishings. Animals, chevrons, stars and sunbursts are all frequently found on examples from the period. These emblems exude the optimistic, carefree attitudes of the post-war era.
Popular Art Deco Furniture Manufacturers
Some noteworthy designers and manufacturers of Art Deco furniture include:
Eileen Gray
Ludwig Mies van der Rohe
Jacques-Emile Ruhlmann
Sue and Mare
Raymond Subes
Jules Leleu
Pierre Patout
René Prou
Paul Kiss
Edgar Brandt
Christian Krass
Caring for Art Deco Furniture
Every item of furniture is composed of different materials, and therefore requires different methods of care to maintain its condition. However, it is useful for owners of any items of Art Deco furniture to have the following products on hand to ensure their piece is well-preserved:
Furniture polish
Glass cleaner
Soft cotton cloth
Toothbrush
Dehumidifier
Beeswax
Finding Art Deco Furniture on eBay
Once you determine the type of Art Deco furniture you want to purchase, visit the Antiques portal on eBay, click on 'Antique Furniture' and start searching item listings. The Categories list on the left-hand side of the eBay page helps to narrow the search.
Searching for Art Deco Furniture on eBay
Search eBay listing titles for specific words when shopping for Art Deco furniture. For example, to find an Art Deco drinks cabinet, type 'Art Deco drinks cabinet' into the search box, and then click the Advanced button to customise the results. Also visit eBay's Search Tips page for more advice on searching for Art Deco furniture with keywords. If you can't find the exact item of furniture you want, try shopping eBay Stores.
Conclusion
Before buying any piece of Art Deco furniture, it is important to first be sure of the piece's condition and provenance. Art Deco furnishings are now becoming classified as antiques, so these factors will determine an item's value to collectors. Consider the materials used – are they unusual? Is the woodwork intricately carved or is the piece handcrafted? Any of these could increase the item's value substantially. Prior to purchasing, it is also worthwhile to learn about the different styles available and in which time period and location they were popular. With careful consideration of the materials and designs on the market, buyers will be able to ascertain which style best suits their home and their budget. Armed with this information, shopping for a piece of Art Deco furniture can be accomplished safely and securely on eBay.