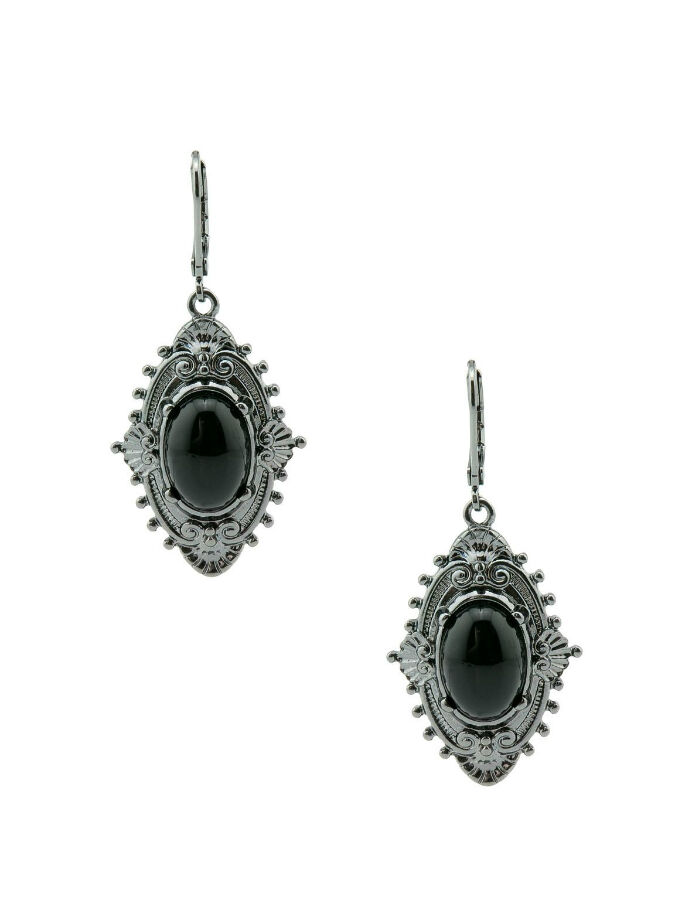 Few people are immune to the timeless allure of classic Victorian jewellery: mourning bead necklaces in black jet, diamond brooches en tremblant, pendants with gleaming cabochons, ornate gold-washed butterfly pins, and rings of the finest gemstones. They are eye-catching, timeless pieces to wear, adore, or collect, and are thoughtful gifts and heirlooms to pass down from generation to generation. Growing interest in antique jewellery means the limited supply cannot match the increasing demand for fine Victorian jewellery, resulting in a proliferation of costume jewellery and reproductions items that are not authentic pieces. Unfortunately, many people cannot tell the difference. Victorian enthusiasts and lovers of fine jewellery can, however, and spend a lot of their time searching through second-hand shops, markets, antique jewellery collectors, dealers, consignment stores, and estate auctions for the elusive finds. Other prefer the convenience of reputable online sites like eBay, which offer secure shopping with lower prices and a wider variety than most brick and mortar stores.
The secret to identifying Victorian jewellery is knowledge: knowledge of what it is, where it was made and by whom, and the different periods and their distinctive features and styles and what influenced them. Developing a keen eye for quality takes time and patience, but is well worth the effort. In the end, one can identify Victorian jewellery with ease and confidence that results in satisfaction when buying authentic jewellery on eBay or anywhere else.
Defining Authentic Victorian Jewellery
Victorian jewellery is personal ornamentation such as brooches, earrings, pendants and bracelets that are from and of this epoch indicative in the style, design and material used. The term 'Victorian' refers to the era of Queen Victoria of England, who reigned from 1837 until her death in 1901, the longest influential period in English history and one in which romanticism had a significant impact on the development of jewellery. Antique jewellery is that which is more than a hundred years old and Victorian jewellery falls neatly under this category. Victorian Revival, Victorian Inspired, or Victorian style are simply reproductions, usually with modern fastenings and material that were not available during that period. They are similar to costume jewellery, and are not authentic Victorian jewellery.
Identifying Victorian Jewellery
Victorian jewellery designs are a complex eclectic mix because of the length of the Victorian period and the different issues that affected the jewellery designs over that time, such as the death of Prince Albert, Darwinism, the Queen's visit to Scotland, and Eastern influences. There are a number of ways to identify or classify Victorian jewellery: by the period, technique used, or even construction.
By Period
Victorian jewellery is mainly classified according to three distinct periods during which the influence was great enough to affect a divergent change in the jewellery designs: the Romantic, the Grand, and the Aesthetic periods. The periods are not clear-cut and often overlap but there are designs unique to each.
The Romantic Period (1837 to 1860)
This Early Victorian era was romantic and sentimental with the marriage of the teenage Queen Victoria expressed in delicate jewellery designs elaborately engraved. Nature played a great role in the designs of the time too, with flowers, berries, and leaves prominent features on jewellery. Serpents abounded as motifs everywhere, catalysed by the Queen's ring. Also popular were large handmade ivory and coral brooches and bracelets and gold diadems. Queen Victoria's love of her Scottish ancestry introduced the Scottish agate jewellery set with cairngorms, a smoky type of quartz, into English jewellery designs.
The Grand Period (1860 to 1885)
Also known as the Middle Victorian period, this was the time when the death of Prince Albert and Queen Victoria's mother plunged the young monarch into a period of deep mourning. Queen Victoria led the mourning jewellery rage that took over, with dark, distinctive pieces in rare jet, onyx, vulcanite, and bog oak. The finest jet jewellery at the time came from Whitby jet in Yorkshire, England, highly prized because of its brilliant polish. Lockets became all the rage to hold a loved one's lock of hair, and, sparking a range of hair jewellery, mourning jewellery included necklaces intricately woven from hair or enamelled brooches that contained woven hair. Later, this period was characterised by diamonds, pearls, cabochon garnets, emeralds, and rubies. Cameos were also popular, made using agate, shells, and mother of pearl.
The Aesthetic Period (1885 to 1901)
The Late Victorian period was a time of expeditions, travels, and discoveries and the Phoenician influence is reflected by jewel-encrusted crescent and star designs as is the Darwinian evolution fever in the animal and insect figures of monkeys, butterflies, beetles, and houseflies. The bar pin was as fashionable as the hats of this time, and sapphires, peridots, diamonds, and the fiery Bohemian garnets were the gemstones of choice.
By Technique
There are two distinctive types of jewellery-making techniques that set apart the Romantic period to the Aesthetic period of the Victorian: Cannetille and Repoussé.
Cannetille
Cannetille involves forming intricate designs from twisted strands of gold or silver wire, a technique inspired by the embroidery on traditional peasant garments. It is similar to filigree jewellery and is made as either a plate or threads embellished with gemstones.
Repoussé
Repousse is a technique in which relief designs are formed by raising the metal from the inside out using punches and hammers. It is more solid than Cannetille with raised and fluted edges.
By Construction
Painstaking construction and careful finishes to jewellery will show through any material despite of the age of the items. Peoples interested in identifying Victorian jewellery use knowledge of the material used and the types of fastenings for that period to place an item and get further proof of authenticity. By the same rule, other types of fastenings and materials that do not fall under this period cannot possibly be Victorian.
Material
The most common material of that time was silver and yellow gold; others included bog oak, human and horse hair, tortoise shell, ivory, and jet. Most of the pearls used were freshwater, baroque, or seed pearls, while stones included peridot, ruby, diamond, opal, agate, emerald and coral, and the beautiful mosaic tiles created by the Pietra Dura technique.
Fastenings
Victorian jewellery was mostly made with the 'pin and barrel' type of fastening with one side as the barrel and the other as the pin that slid into the barrel to close. At the end of the Aesthetic period, earrings had screw types of fastenings, but this was not true for pieces from earlier time periods. Many 19th-century brooches have simple 'C' type of clasp on the inner side.
Symbolism in Victorian Jewellery
An enchanting element of Victorian jewellery is the deep symbolism and sentimentality rendered in its designs. Aside from charm, ageless beauty, and nostalgic value, Victorian jewellery fashioned a hidden meaning, message, or story through the choice of material, colour, shape, and types of gemstones used, as well as the arrangement. Knots, buckles, and bows are symbols of binding love; lilac, the first tender feelings of it. Ruby denotes passion, pearls mean tears, coral offered protection against evil, and amethyst, devotion. The serpent-shaped betrothal ring Prince Albert gave to Queen Victoria symbolised wisdom and eternity, the popular motif repeated throughout the era in necklaces, rings, and bracelets. Some designs used gems to spell out words like the romantic Regard engagement ring, in which the setting of the gemstones on the ring spelled out the word 'regard': ruby, emerald, garnet, amethyst, ruby, and diamond.
Determining the Value of Victorian Jewellery
There are a number of factors that one should consider in evaluating a piece of Victorian jewellery. The most common indicators are the condition of the piece and the stated price.
Condition
The older the jewellery and the more elaborate the design, the higher the price tag, especially when it is in good condition. Some wear can be negligible or in such a spot that it is not easy to notice. Extreme signs of wear and tear, however, devalue even the most expensive jewellery, and these include missing parts, chips, scratches, worn plating, and broken micro-mosaic tiles. Many people buy Victorian jewellery and replace missing parts with modern bits to fashion what is called a 'marriage', piece although some maintain that this compromises the authenticity of the item.
Hallmarks
The UK has a detailed hallmarking system for precious metals like gold, silver, and platinum that protects consumers. Hallmarks act as authenticity marks and are tiny stamps on the any precious metal sold in the UK. Hallmarks usually indicate the purity of the item's metal, as well as the year it was made and by whom. Despite the fact that hallmarks define quality in jewellery, Victorian jewellery did not have any hallmark as jewellery made before 1973 and is thus exempt from this. The exception was wedding and mourning rings.
Price
Price is a value indicator that consumers should consider after everything else, since many factors influence it, including the seller's or buyer's ignorance. A knowledgeable consumer compares prices from different websites dealing in Victorian jewellery and takes time to match the item's value with the given price. Differences in price could be because of authenticity, but they might also be because of one party's ignorance.
Further Researching Victorian Jewellery
New enthusiasts of Victorian jewellery can visit museums, talk to jewellers and dealers, attend workshops, and research extensively online on Victorian jewellery. Online communities or forums relating to jewellery have members who are happy to share their experiences as well as answer questions regarding antiques and their prices, including the authenticity of jewellery.
How to Buy Victorian Jewellery on eBay
When you know the characteristic features of the item you are looking for before you begin searching, you will quickly single out the item you need amongst distracting numbers. With sellers spanning the globe, eBay proffers an impressive collection of Victorian jewellery to titillate even the most jaded of buyers. Take a good look at the photos the buyers have posted of the items you fancy. Close-ups of used items may show signs of wear, and it is up to you to decide whether you find the item acceptable, as some might need nothing more than a little polish. Read up on the seller's feedback received from other buyers to feel confident about your purchase. You will also get a good idea about how quickly the item will be posted to you. Top-rated sellers receive consistently positive feedback and have thus established a reputation of excellent sales and service. Pay for your item with one of eBay's secure, convenient payment options, and your transaction is done.
Caring for Your Victorian Jewellery
Victorian jewellery is difficult to repair, and thus deserves care regardless of its price tag. Be cautious about the type of cleaners and polish you use, as some might cause irreparable damage. Ask jewellery shops for advice on the gentlest cleaning agent for your fine pieces, and always keep Victorian jewellery dry and stored separately on soft pads. With proper care, you can enjoy your jewellery for a long time to come.
Conclusion
A person who researches on the types and designs of Victorian jewellery will have an idea of what constitutes quality. This is easily done online in forums and communities, as well as by talking to people in the industry. Discerning consumers need knowledge, thorough planning, a keen eye for quality, and careful selection to locate excellent Victorian jewellery pieces; a mad love for fine trinkets helps too. Many people covet the antique items because they are unique and versatile wardrobe items; others see worthy investments of irreplaceable value, whiffs of nostalgia, or an unforgettable present for a beloved. The selection of Victorian jewellery is diverse, from the black drama of mourning jewellery to the delicate leaves and berries of Romantic jewellery. Constant through all are the qualities of superior craftsmanship, excellent material, and lasting beauty that any authentic antique item offers. Those who settle for less than the genuine article are cheating themselves out of enjoying the gleam and sparkle that only comes from the real Mc Coy.