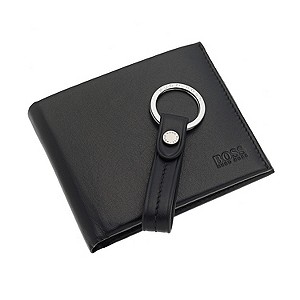 For many men, it is impossible to leave the house without keys, a mobile phone, and of course, a wallet. Many women make do with a purse to provide space for all of their daily necessities such as: credit cards, cash, rewards cards, receipts, coins, old cinema ticket stubs, and various other bits and pieces of the effluvia that is life. On the other hand, men are forced to rely on the humble wallet in order to store everything they need. Most wallets for men are made of leather, although there are other options, such as nylon and faux leather.
Regardless of what kind of material a wallet may be made from, it can last for a long time if it is cared for properly. Caring for a wallet includes organising it properly and caring for the fabric from which it is made, including regular cleaning. Doing so will ensure that a wallet can serve as a valuable tool for many years to come. The supplies needed to clean and maintain a wallet can be found in any grocery store, but they are also available on eBay for shoppers who are looking to maximise their purchases.
Organising a Wallet
For many men, keeping a slim wallet is almost an impossible task. A wallet can end up as a repository for so many things that it can actually become damaged as a result. A leather wallet can become stretched and the leather can even crack, especially when exposed to dry weather. The key to avoiding this problem is to organise a wallet, including the essentials, and removing anything that is not absolutely necessary.
Reduce the Number of Cards
While most people have more than one credit or debit card, only one or two are usually used during the course of a typical day. Reducing the number of cards being toted around not only reduces problems that may arise from theft, but it also helps to keep a wallet smaller and thus less strained. With the right card, daily purchases can be made easy, eliminating the need for multiple banking cards. This philosophy extends to other cards as well.
Decide Which Cards Are Most Important
Many men may still be carrying a seldom-used video rental card that allows them to watch movies. Another card that may clog up one's wallet is the gym membership cards belonging to those who rarely get a chance to workout. While there is nothing wrong with keeping these cards around until they are needed, keeping them in a wallet is not usually necessary. It may make more sense to keep them at home in a drawer until that glorious day when a man rents a video and heads to the gym.
Join The Cashless Society
Since a credit card can be used for basically any purchase, cash is becoming increasingly irrelevant. Many people are finding that cash or coins kept in the wallet can sit there for months before being spent. Cash, especially in large quantities, can make it harder for a wallet to close, which can damage the leather. Coins, even kept in a special coin section within a wallet, can create disk-shaped indentations in the leather, that, over time, can become permanent and unappealing. Coins can be more easily kept in a zippered coin pouch as opposed to cluttering up one's wallet. Removing cash and coins can go a long way toward increasing the lifespan of a wallet.
Eliminate Excess Paper
For many men, it is easier to place a receipt in a wallet rather than search for a trash can after a purchase. At the same time, they can be useful for tax reasons, so keeping them organised makes sense. Over time, these bits of paper, as well as other refuse or miscellaneous items, can clutter up even the biggest wallet over time. The ink from receipts and other pieces of paper can also bleed onto the wallet itself, causing discolouration. If keeping receipts or other paper is necessary, routinely removing them and putting them in a more secure location helps for better financial organisation, keeping the wallet as clean and slender as possible. Trash should always be thrown away as soon as possible to avoid build-up.
Removing Picture Inserts
Many wallets still contain small plastic inserts, typically designed to hold precious photos. With the advent of modern mobile phones, most men now keep their photos of loved ones there instead of in their wallet. Rather than having these photos printed wallet size and storing them in a wallet, removing the plastic insert is healthier for the wallet in terms of providing more space.
Cleaning and Maintaining a Leather Wallet
Cleaning a leather wallet is something that may not cross the minds of many men, but like everything, leather can become dirty over time. Not only that, but a wallet can become a breeding ground for bacteria as well. Money is one of the dirtiest things that people come in contact with, and even though many people are opting out of using cash, wallets still collect many microorganisms regardless. Before cleaning a wallet, it is helpful to remove anything that may be inside.
Use Antibacterial Wipes
Wipes that contain antibacterial properties can be used as a quick way to remove any bacteria from a wallet. Every area of a wallet should be wiped down, even areas that are not exposed to cash or coins. This is a process that can be done every few weeks in order to keep the wallet free of bacteria, and can eliminate things that can cause disease as well as eventual damage the wallet.
Use Leather Cleaner
A leather wallet can be easily cleaned with leather cleaner. This is most effectively done by pouring some leather cleaner on a soft piece of cloth. The cloth should be used to thoroughly clean the deepest parts of the leather, including the cracks and creases. This will not only help remove the dirt and oil that build over time, but it will also help the leather last for a long time.
Use Saddle Soap
Saddle soap is another product that can be useful during the cleaning of a leather wallet. Using saddle soap to keep everything clean has the added benefit of making the leather waterproof. Waterproofing a wallet can help protect a wallet from damage that may occur during a rainstorm or an accidental drop into a bathtub, sink, or toilet. Regardless of which product is used to clean a wallet, it is important to allow the wallet to be completely dry before returning anything to it or using it to store anything.
Use Leather Conditioner
After cleaning the leather, with either leather cleaner or saddle soap, it is important to rub the leather with leather conditioner. Allowing the leather to absorb the conditioner will ensure that it is soft and supple, adding years to the lifespan. This activity is not something that needs to be done frequently, but a regular cleaning and conditioning every few months is usually a good choice. While leather conditioner is a popular choice for conditioning a wallet, petroleum jelly can also make the leather supple. As with leather conditioner, petroleum jelly should be rubbed into the leather using a soft cloth.
Use Shoe Polish
There are other ways to keep a leather wallet clean and attractive. One way is to use shoe polish in a colour that matches the colour of the leather. This can not only keep the leather looking nice, but it can also provide a way to eliminate scuffs and spots where the leather has been worn. After rubbing the leather with shoe polish, buffing it with a brush or a chamois cloth is helpful to remove excess polish.
How to Buy Wallet Organising, Cleaning, and Maintenance Supplies on eBay
Increasing the lifespan of a wallet may require a few products that can be purchased in stores, but these helpful products can also be found on eBay as well. Shopping online offers customers several advantages, such as potentially lower prices, and options in terms of brands, sizes, and content. These options are not typically available when shopping in one particular store.
In order to find the supplies needed to increase the lifespan of a wallet on eBay, the buyer should enter a search term such as "Leather Wallet" into the search bar on the eBay home page. Of course, other keywords can be used, or added, to the search bar to access many of the different products available on eBay. With just a few clicks and keystrokes, anyone can find everything they might need to keep their wallet looking attractive and functioning well for a long time to come.
Conclusion
Even though there are a plethora of different ways to pay for things these days, it can become quite a hassle to keep your wallet looking new and not too bulky. To increase the lifespan of an existing wallet, try to keep it organised and clean. For wallets of all shapes and sizes, it is important to keep it organised without overstuffing them, which can lead to irreversible damage to the wallet. Leather wallets, usually the most common form of wallet, can be scuffed and stretched by overstuffing, or damaged by weather or accidental droppings.
With a leather wallet, it is important to regularly clean and maintain it with products like leather cleaner and leather conditioner. Using shoe polish is also another great way to keep the leather looking clean and new even when it has been possibly scuffed or broken in. With the proper care and treatment, a wallet should be able to last for a very long time without taking up too much space in your pocket.