Office dividers increase privacy within the workplace while allowing for personal space. A cost-effective alternative to building more permanent office fixtures, these freestanding office partitions help improve worker productivity and efficiency by cutting down on distractions. They are both portable and easy to install, making them highly sought after.
Measuring Office Space

Before beginning the installation process, measure the space. The room divider should comfortably fit within the constraints of the office without looking overbearing. While some individuals may solely require a straight divider, others may prefer to install square dividers in order to fashion an office cubicle. Be sure to consider the amount of privacy you require. For instance, a glass partition may muffle sound but does little to visually wall you off.
Framing
Cut five long rectangular strips of wood of an equal height. Using four of the wood panels, create a square frame. Attach the fifth piece of wood horizontally across the square frame to add strength to the divider, and fasten with screws. Next, place the frame between two sheets of plywood and fasten each side using screws; make sure that all edges line up evenly. Sand down any rough edges, and add a felt covering to create a more aesthetically pleasing appearance if desired. Repeat for each needed divider.
Installing the Office Dividers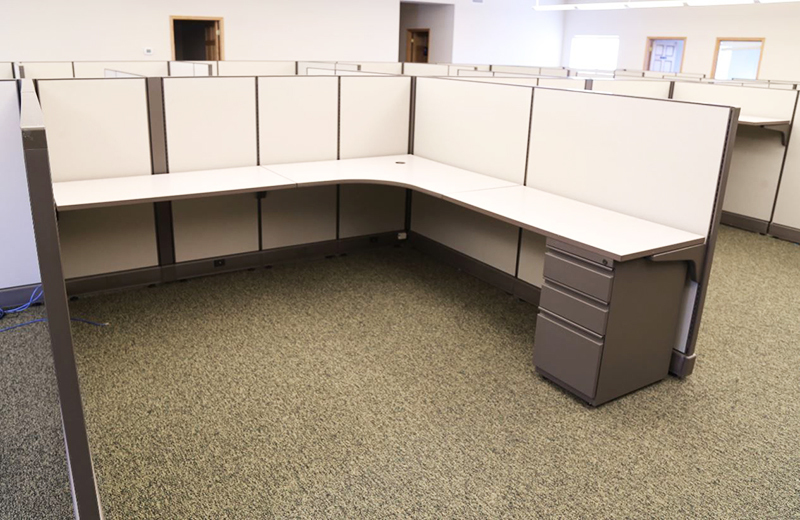 Once you have fabricated all the divider walls, fix them in place on the floor, or to the wall using wood screws. For the best results, space and secure the screws about a 25 cm apart. If the dividers are tall enough, you may also fix them to the ceiling.
Preassembled Office Dividers
For those planning to purchase pre-assembled office dividers, the installation process is quite straightforward. Begin by standing two room partition panels next to each other, then set a metal connector plate onto the top and bottom of each panel; each panel features indentations that allow the prefabricated connector plates to snap into place. Next, connect the two panels at a 90-degree angle by securing both their tops and bottoms with an angle connector. Attach the end of one panel to the face, or side, of another to form a "T" shape; secure the panels using a T-connector. From this point, you can then secure four panels together using a flat cross-connector. Combine these various shapes to form the desired office dividers. Consider using a right angle partition and the short side of a T-shaped partition to produce a square shaped portable office setting.