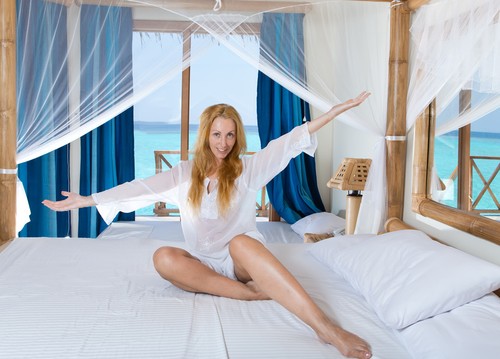 A fancy fabric or netting canopy adds a touch of romance and whimsy to any bedroom. Bed canopies can be as opulent or understated as desired, and there is no end to the styles available to resourceful homeowners. Four poster canopy beds are one option for achieving this lavish look, but not everyone wants to spend money on new furniture. Instead, designing a personalised canopy allows individual creativity to inspire unique home decor. With the right tools and materials, bed canopy installation is quick and easy, even for first-time do-it-yourselfers. This guide includes helpful hints for installing a canopy for your bed, along with decorating ideas and style suggestions.
Before deciding which installation approach best suits your needs and budget, spend some time exploring various canopy designs. Then formulate a plan for crafting a formal or faux canopy for your bedroom. The tools and supplies needed to install a canopy for your bed are available at hardware and DIY shops. Fabric, sewing, and upholstery shops sell material suitable for this type of project. All of these items are also sold via online auction sites like eBay, as well as through many Internet merchants.
Bed Canopy Design Ideas
Before finalising your installation plans, it helps to check out various canopy style options. A working knowledge of canopy design elements lends itself to the brainstorming process. Feel free to pick and choose characteristics that speak to your vision, but try to incorporate them seamlessly for a more unified look. After deciding where to hang the canopy and which type of material to use, consider the benefits of adding a few matching accents and a fresh coat of paint.
Basic Canopy Options at a Glance
The following chart briefly describes a few popular bed canopy styles to give people a sense of the possibilities. With a little ingenuity and effort, you can install any of these canopies in your bedroom.
| Type of Bed Canopy | Description |
| --- | --- |
| Complete Canopy | Bed fully surrounded by full-length or mid-length drapes; Style common to four poster canopy beds; May also include fabric "roof" top |
| Full Canopy | Partially surrounds top of bed; Fabric around headboard and halfway down length of mattress |
| Half Canopy | Also called crown or shelf canopy; Limited to top of the bed; Fabric drapes down from wall or ceiling to partially or fully surround headboard |
Of course, there are countless variations on these basic designs, so homeowners are encouraged to let their imagination take the lead. The first step is to consider the room where the canopy will be installed, along with the personality of the individual who will sleep under it. From there, it helps to break the project down into smaller, more manageable steps to ensure ultimate decorative success.
How to Design a Creative Canopy for Your Bed
When planning a canopy project, contemplate each element carefully before making any definite decisions. Likewise, be sure to think about whether or not you are capable of handling the job alone. To inspire creativity, try browsing through books and magazines featuring home interiors and design ideas.
Select the Installation Location
The first step in canopy installation is deciding where to put the canopy. This is a good time to settle on a type of canopy and figure out if a secondary structure, such as a frame or rod system, is part of the plan. Think about how far you want the canopy to surround the bed, and choose between drapes that slide closed and those that remain stationary. These layout choices make up the bulk of the project design plans. Once you have accomplished them, you are well on your way to installing a canopy.
Choose Canopy Materials
After deciding where to hang your chosen type of canopy, the next step is selecting materials to work with. The fabric is certainly the most eye-catching aspect of a bed canopy, and there are plenty of options to choose from. A complete canopy of heavy, opaque fabric is great insulation against the cold, while a gauzy circle canopy made of mosquito netting adds a touch of fanciful whimsy. Selecting a canopy material is a simple as looking for a colour or print that suits the decor and your personal taste.
The real key to success is a solid base structure or stable tether points, so finding hardware suitable for building a canopy is crucial. Premade bed canopy frames are available in wood and metal, but people who are especially handy might want to try building their own. Curtain rods are useful for installing canopy drapes that move freely, but ceiling hooks are a simpler option for those looking for a quick fix. If necessary, use a combination of hooks, ties, rods, and rings to securely install the canopy for your bed, just remember to keep the design scheme as simple as possible.
Finish with Fashionable Coordinating Accents
A few finishing touches can turn a rather simple canopy into something truly stunning. Paint is an effective way to set off floor-to-ceiling canopy drapes stationed at each corner of the bed. A paint colour that matches the canopy fabric applied directly above and behind the bed tricks the eye into seeing a canopy roof. Lighting accents add yet another layer of visual stimulation to your canopy creation. For example, you could hang a miniature shabby chic chandelier in the centre of a frame canopy, or weave romantic fairy lights between sheets of netting. To further express your individuality, incorporate feathers, beads, ribbons, and other tiny decorative trimmings into your overall canopy design.
Tips for Do-It-Yourself Canopy Installation
Whether a person wants an airy pink canopy to feel like a princess or full-length opaque bed curtains to block out the morning sun, preparation is the first step in any do-it-yourself project. Having the right tools available is an absolute necessity, and locating an extra pair of hands is a wise choice as well. When participating in home renovation projects, safety is always the number one priority. Use caution to avoid falling while installing hardware near the ceiling, and learn how to use each new tool properly.
Gather All the Necessary Tools and Supplies
While working on the canopy design for your bed, start taking stock of the supplies you will need to complete the project. Since a canopy tends to be mounted in or near the ceiling, a ladder or step stool might be required to access the area. Some homeowners may need to purchase additional items to carry out their redecorating plans. Here is a brief list of tools that every handy homeowner should own:
Follow a Step-By-Step Installation Process
By using a methodical approach, canopy installation feels less overwhelming. If painting is part of the plan, let it dry before commencing with installation. Meanwhile, gather the fabric for draping the canopy and finish any last-minute cutting and sewing. When you are ready, carefully measure out and mark all the installation points. After determining the exact layout, put in the hardware piece by piece, checking to be sure everything is completely secure. Then fasten any remaining frames, rods, or other canopy mountings to their corresponding hardware. Lastly, secure the canopy fabric in place as dictated by the design scheme and finish off with your matching accents.
Buy Supplies for Your Canopy Bed on eBay
If you decide to install a canopy for your bed, find all the tools and supplies you need on eBay. To browse the available ready-made canopies for inspiration, type "bed canopies" into the search box on the eBay home page. By designing your canopy before you shop, you are ready to search for exactly what you need for the job. When you have a particular item in mind, search one or two relevant keywords. For example, search terms such as "pink canopy netting" or "long curtain rod" produce more specific results than simply "canopy". There are several different ways to organise your search results, so investigate your options to see which works best for you. You can always refine your search if there are too many results to scan through easily. If there are not enough results for matching listings, try including full item descriptions in your search or consider revising your keywords. Whenever an item catches your eye, click the title to find out more information about the product and seller.
How to Use the Listing Page
By navigating to the listing page, you have access to a wealth of information about the item up for sale and the person selling it. The listing includes a more detailed item description along with the current price. You can find out more about postage costs and returns policies on this page as well. A quick glance at the seller info shows you his or her feedback score and feedback stars. Additionally, top-rated sellers display a special badge in their listings for easy reference.
Conclusion
By installing a self-designed bed canopy, the sensuous atmosphere of a frou-frou boudoir is within reach without buying an expensive piece of furniture. By calling upon their imagination and handiness, homeowners can easily recreate this coveted bedroom design element themselves. After taking a look at a wide array of canopy options, the next step is selecting a specific style to work with. Fabrics available in many different colours and thicknesses leave plenty of room for creativity when choosing canopy materials. For a look that matches the overall room motif, stick with canopy drapes that complement the existing decor.
Before installing a canopy for your bed, be sure to purchase all the necessary equipment and supplies for the job. These might include tools, hardware, paint, and matching accents. To find all the tools, hardware, and fabric needed to install a canopy for your bed, search the eBay Shops and auction listings. When you are fully prepared, approach the project with patience and concentration, and work methodically to avoid mistakes. Always make safety a top priority, and ask for help if you need it. By following this straightforward advice, a bed canopy fit for royalty is no longer just a distant dream.