One of the perks of owning a Condenser Tumble Dryer is that it can go anywhere in your home. Unlike typical dryers which require a vent and an exhaust hose, these dryers take the warm damp air and turn it into water that goes into a container within the dryer. However, users can add vents if they desire. Before purchasing and installing the vent, you need to have necessary supplies on hand and understand how to make the installation.
Benefits of a Tumble Dryer Condenser Vent Kit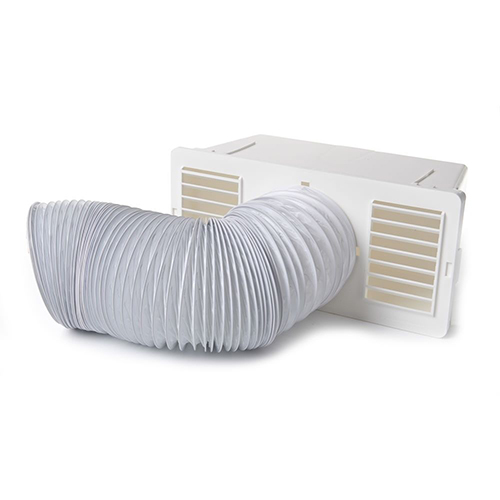 If you own a standard vented dryer, you may want to try to convert it to a condenser dryer. This vent kit does just that. If you now reside in a place where outdoor venting is not possible, this a great way to keep using your dryer and not have to buy a new one. This kit is a simple, affordable way to make your vented dryer work for you no matter where you are.
Contents of a Tumble Dryer Condenser Vent Kit
One of the best aspects of these kits is that there are no working parts, so the product has a long life and there is little chance of it breaking. The vent kit essentially eliminates the need for an exhaust vent. The warm air that would normally go out a vent, hits the cold water in the container and then condenses, eliminating the need for a vent.
Contents of a Kit
Many people may think that doing this conversion is complicated or expensive, but it is actually quite simple and affordable. Three simple parts make your vented dryer a condenser dryer. The kit comes with a condenser box, a plastic hose clip, and a 10-cm flexible hose about 1.25 metres in length. These kits are universal and work with most dryers that have a 10-cm or 102 millimetre external outlet.
How to Install

Installation is very simple to do. Take the hose that comes with the kit and attach one end to the steam outlet in your dryer. Attach the other end of the hose to the supplied condenser box. Fill the condenser box with ice cold water. Once the dryer has run its cycle, simply empty out the box. Refill with cold water for each use.
Tips
While using the vent kit is simple and easy, there are two things you can do to improve its functioning. The first is making sure that the water you put in the box is as cold as possible. Adding ice helps with that. The other is ensuring that the room the dryer is in has proper ventilation. This is as simple as having a window that opens.