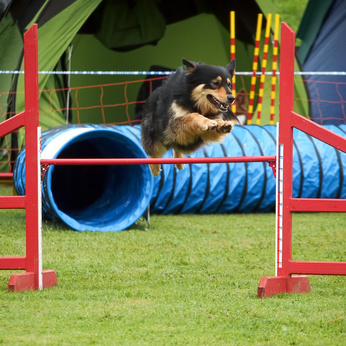 Owning a dog is an important responsibility, and keeping a dog fit is essentially related to the care that the pet receives. There are many ways to build fitness for a dog (and owner) in daily life, and there are also many items available on the eBay marketplace which can make fitness fun and an enjoyable part of a daily dog exercise routine.
eBay has many sellers who offer a diverse range of items which aid a dog fitness regime, all of which can be easily found and bought online.
Why is Fitness Important For a Dog?
Fitness is as important for animals as it is for humans and need only take 10-15 minutes a few times a week. Exercise will keep a dog fit and active, and will prevent health problems. Exercise is also hugely important to a dog for a happy life; exercise is known to help a happy mental state, and aids behavioural issues, as many dogs who don't get enough stimulation and exercise may become disobedient over time.
Fitness can be beneficial to dogs for a range of reasons:
To help improve body condition.
Weight management.
Cardiovascular fitness.
It enables faster recovery from illness and surgery.
Reduction in pain.
Positive mental and behavioural improvements for a dog.
It can prevent decreased mobility with age.
Exercise prevents muscle tone reduction.
Dog Fitness Activities
Keeping a dog fit can be fun for the owner and family of the animal, and there are many ways to exercise a dog in addition to the usual walk they may be used to.
| | |
| --- | --- |
| Dog Walking with Intervals | Take the dog for a walk on a leash, and combine intervals of jogging and running to help increase the heart rate of the dog and to provide cardiovascular variety. |
| Resistance Walk | Try walking along routes with varied surfaces such as tarmac, rough surfaces, shallow water, sand or grass to vary resistance and encourage a more challenging walk. |
| Regular Walking | A regular walk is a staple part of dog fitness and just walking around the local area will be beneficial to the dog. |
| Stairs | Using stairs in the walking route will change the exercise routine and vary the muscles used. |
| Obstacle courses | Creating an obstacle course in a local area, park or back garden can be a lot of fun for a dog and is a good way of varying their day to day routine so that their experience is more fun and uses different muscle groups. Jump over logs, climb over obstacles, crawl through tunnels - with some imagination an obstacle course can be a lot of fun whilst providing exercise. |
| Fetch | Playing fetch is an old favourite game, and provides great exercise for dogs. Throwing a ball or toy makes the dog run around enough to work his cardiovascular system, and using a hill or stairs in addition can provide a gradient to provide a more challenging game. Harder by doing it on a hillside or stairs. Sticks should not be used as they can splinter and cause injury. |
| Hide and Seek | By hiding a toy or object for the dog to find, simple exercise is also made fun and challenging for a pet. Try hiding toys behind trees or garden furniture to allow for some fun whilst out and about. |
| Swimming | Dogs love to swim, and swimming is particularly useful for dogs with arthritis or back problems as the water give buoyancy and aids mobility. |


A session of exercise should ideally be preceded by a warm up for the dog; this gently increases blood flow to muscles and can greatly reduce the risk of any injury occurring. As general rules of thumb:
Start off any exercise gently and gradually build up the intensity.
Cool down time is also important as it removes the metabolic waste products created during exercise and can therefore help to prevent muscle soreness.
Keeping a Dog Safe
Keeping a dog safe during exercise is of paramount importance too. Ensure the area in which they are going to exercise is free from hazards and look out for uneven terrain which could cause older dogs or those with restricted mobility some problems.
Throw and Retrieve Game Safety
When playing throw and retrieve games there are a range of safety points to bear in mind:
Ensure that the item cannot damage the dog's teeth or jaw.
Lightweight items tend to be safer and preferable than heavy ones.
Ensure that balls are not too small as there is a risk they may become stuck in the throat.
Make sure the item thrown does not have parts which could easily be swallowed.
Do not throw sticks; they can cause serious injury to dogs and may become lodged in the mouth or throat.
For overweight and elderly dogs be careful that they do not twist too awkwardly on the hind legs when trying to catch the toy as there is a risk of spinal injury.
Retrieve games may not be advisable for dogs with dental problems.
Heatstroke Avoidance
Dogs do not have an efficient body cooling system, so exercising in warm temperatures can pose a risk of them developing heat stroke. Exercise should not be undertaken in middle of the day during high temperature months, and early morning or late night exercise sessions are preferable throughout warm summers.
Ensure there are shady spots along the route on a hot day, and provide plenty of fresh, cool water for the dog to avoid both heat stroke and sunburn. Remember to protect the dog's feet from pavements which may have retained heat from the sun.
Swimming Safety
Not all dogs are skilled swimmers, so make sure the dog is in eyesight when swimming in a lake, the sea or a river. Even water confident dogs can be prey to an undercurrent, jellyfish is an unseen hazard, so supervise them at all times. Prevent the dog from drinking the water since salt water can cause vomiting, diarrhoea and dehydration. Water in lakes, ponds and rivers may also contain parasites or bacteria that could be harmful to the dog, so always provide enough fresh, clean water for drinking
Aids to Dog Fitness
There are a range of items available on the market that can vastly aid and improve training and exercise sessions with the dog.
Treat Bags and Pouches
Treat bags and pouches come in a range of designs and styles, and can be easily found and bought on eBay. Some designs fit onto a belt, or have a backpack style and drawstring bag which also allows room for other training toys and accessories.
Throw and Fetch Toys
Throw and fetch toys come in a wide variety of designs; squeaky soft balls, Frisbees, rubber rings, plush toys and snack hunter trainers can all be found on eBay. Ball launcher accessories are ideal for long distance ball throwing and can help prevent back ache from repeatedly picking up and throwing the ball.
Leashes
Dog leashes are available in a diverse range of styles and designs; some attach to the owner's belt for hands-free dog walking, some are.
Backpacks for dogs
Backpacks for dogs are products which enable dogs to carry their own toys and treats when out and about, and are available in a range of styles and colours.
Poop scoops and accessories
The correct disposal of dog poo when out and about is an essential part of responsible dog ownership; a variety of poop dispensers and bags are available in discreet designs to aid the habit of clearing up poop when out and about with a dog.
Whistles
Dog whistles can be an essential part of a dog fitness regime, especially when training a dog; they are available in varying frequencies and tones for teaching commands.
Obstacles and Dog Agility Aids
A wide range of obstacles and dog agility aids can be found on eBay; from seesaws to weave poles, tunnels, chutes and hoops they can all add variety to a canine fitness regime.
Conclusion
eBay has many sellers offering thousands of dog training and exercise accessories, making it simple to shop online from home for the item required alongside the flexible payment options available by buying on eBay.
To search for dog exercise accessories, type in specific searches such as "Dog agility equipment", "Dog Agility Toys", or "Dog whistle" and available listings that match the criteria will appear.
Many sellers offer free shipping on items, and may offer items at a discounted rate when buying in multiples.
Check carefully reviews of the sellers and their activity when considering placing a bid, and check reviews of the product where possible by other dog owners to get an idea of the pros and cons of a particular design or style.
When searching through listings, carefully review all the data. Make sure the item matches the product required. Look over the photographs a couple times, and feel free to ask the Seller a question if more information is needed. When ready to buy, either place a Bid, Buy it Now, or put down your Best Offer. Buying with PayPal will ensure the transaction will go smoothly.