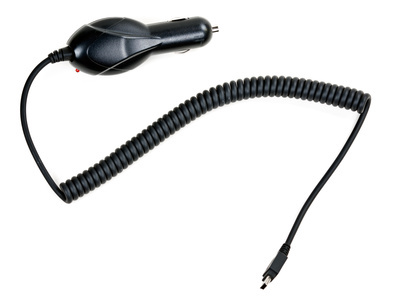 For many people, a mobile phone is a constant companion, providing entertainment, information and phone services wherever they go. Unfortunately, modern smart phones are more like mobile computers compared to the mobile phones available just a few years ago. Due to this fact, the power demands on a smart phone often exceed the battery capabilities, and some users have to charge their phone more than once a day. This isn't usually a problem if there's a power outlet nearby, such as at home or work. But what about phone owners who need to be on the road for hours each day, or can't wait near a power outlet for their phone to recharge? A range of charging solutions has become available to cater for people in this situation, and most major phone manufacturers offer proprietary, branded devices for recharging on-the-go. Apart from solar chargers, battery backup cases and replacement batteries, the most popular mobile charging option is an in-car charger or dock. These gadgets plug into a vehicle's cigarette lighter or accessory outlet to provide convenient recharging functionality. With an in-car charger or dock,, the risk of missing an important call is removed. This can be an important matter for business people or parents, and often essential to stay successful in the always-connected economy of today. Another good reason to have an in-car charger is to be prepared for emergency situations. Being able to call for help could be the difference between waiting comfortably for assistance, or a long walk to the nearest service centre. Mobile phone in-car chargers or docks are a simple, affordable accessory that every mobile phone user should own. If there is more than one vehicle in the family, consider buying a separate in-car charger for each one. The benefits will easily justify the extra cost. If different people in the family own individual brands of phone, there are multi-adapters available that feature up to 10 different charging docks that plug into a simple USB port. These adapters are a good choice to keep everyone's phone charged and ready for use, and may be necessary for older phones.
Things to Consider When Buying an In-Car Charger or Dock
Many of the mobile phones available today have embraced the micro-USB protocol for charging devices, including Samsung and HTC.. This makes choosing an in-car charger or dock much easier, and means they will be relatively future-proof for at least the next two or three phone revisions. Apple has proprietary charging ports for its range of phones, including the new 'Lightning' connector used in the iPhone 5. Naturally, the main feature of all in-car chargers and docks is to recharge the attached device. Some manufacturers promote their chargers as being 'fast charge' or 'rapid charge' devices, but the difference between these and standard ones is negligible. For extra confidence, try to buy an in-car charger or dock from the same manufacturer that produced the phone. This will ensure compatibility, and the styling is usually the same as the phone being used, adding visual appeal to the car interior. Some of the newer mobile phones are larger, and resemble miniature tablet computers. Due to the bigger dimensions, a dock may be a better option. These docks also transform the device into a display for the vehicle, that can show weather details or even Global Positioning System (GPS) directions when used with suitable software. A popular in-car charging solution is a dual charger, that allows a phone plus a separate backup battery to be charged at the same time. This is a great feature for families that own two of the same device. Try to find a charger or dock with a simple LED feature to show the battery charge level. This will be easier to quickly check while the vehicle is in motion, as opposed to having to unlock the device and check the on-screen battery charge level.
In-Car Charger and Dock Tips
Remove the charger or dock from the power outlet when the phone is not being charged. The charger may still draw power from the vehicle when the device isn't attached, and this can drain the battery over time. Although the power drain will be minimal, this can be a negative factor if the car is sitting idle for a long period. If an in-car dock is used, check to see if it comes with a method to attach it to the centre console or dash of the vehicle. This will look better and will be safer for the phone. Some manufacturers offer in-car mounting kits which are excellent when using GPS applications. Store the in-car charger or dock out of sight when parking the car. This will remove any temptation for thieves, and keep the device out of harmful sunlight. Thanks to the common USB charging protocol available today, other devices such as portable game consoles, MP3 players and tablet computers can also use in-car chargers. There have been reports that claim constant use of in-car charging options may have a negative effect on mobile device batteries. Therefore, it's better to use this option occasionally, as opposed to on a daily basis. Alternate between the in-car charger or dock, and a home-based wall outlet charger. Outlet splitters are available that branch off into two or more separate charging points. This can be an inexpensive way to charge multiple devices at once, or if time is limited and two phones have to be charged. These can be bought separately to an in-car charger or dock, or sometimes included as a package with the charger being bought. Some in-car chargers are tiny adapters that plug directly into the power outlet inside the car, and feature a single USB port. Thanks to the growing trend for phone manufacturers to choose USB as the charging protocol, this choice of charger may be all that is necessary.
Where to Buy an In-Car Charger or Dock
Some mobile phones include an in-car charger or dock as a pack-in accessory, but a second one may be required for an extra vehicle or as an emergency backup. Another situation may be that the original charger has become faulty or been misplaced. Most car accessory stores have a range of common in-car chargers for sale. Keep an eye out for special deals or discounts, and consider buying a second one for emergencies or a useful gift for family and friends. Another great place to browse thousands of in-car chargers and docks, plus hundreds of other kinds of accessories, is eBay. Finding the right charging device couldn't be easier, thanks to the intuitive interface and powerful search features on the eBay site. A good way to start searching is to type keywords into the search box on the main page. The phone brand name plus the term 'in-car charger' is usually enough to display the right results. Another way to find the right category is to navigate to the Mobile Phones & Communication area. This is done by first choosing Electronics & Technology from the left hand vertical menu on the eBay homepage. From this category, choose Mobile & Home Phones before selecting the Chargers & Docks menu option. On the left hand vertical menu, there will be a series of sub-categories to refine the search results. Under the Type category is a series of tick-boxes. Select the first one, titled Car Chargers From this point, the search results can be filtered based on the Compatible Brand, Brand, Colour and Condition categories. If the desired option is not shown on the vertical menu, click on the see all link which is found on the right side of each category title. This will display more in-depth search options for each area.
Conclusion
Buying an in-car charger or dock is necessary to keep most modern smart phones working through a typical day. With the multitude of different features, applications and uses for a typical phone available today, it's no surprise that a normal phone battery will need a top-up at some point. An in-car charger can be a literal life-saver when faced with an emergency, and apart from the convenience of having a fully charged phone, this fact should be the main motivator when buying a charger. With most major phone manufacturers offering mobile charging accessories, and many more phone accessory companies offering their own solutions, it's not difficult to find the perfect in-car charger or dock to suit any phone.