Laying paving is a great way to create structure and beauty in an outdoor space. Homeowners who have never undertaken such a project before, however, may have their doubts that they can pull off such a project. Fortunately, laying paving is an easy undertaking with the right materials and tools.
Assembling the Tools to Lay Paving

As a first step, DIYers should gather all of the tools necessary for the project. Required items include a shovel, enough bags of concrete sand and gravel to fill the base onto which the paving stones will lie, a tamper, work gloves, and a carpenter's level. It is also important to have edging slabs on hand to help preserve the structure of the layout during the project.
Measuring and Selecting Paving Stones
There are a wide variety of paving stones available for these types of projects. Popular options include Indian sandstone paving, paving bricks, and paving slabs. Indian sandstone is a very natural material and comes in colours as diverse as green and brown. Paving bricks are a more traditional choice, but are typically thicker and require a deeper excavation. Paving slabs can include anything from concrete to granite and are similar in size and shape to Indian sandstone. Homeowners need to determine which type of paving they prefer, then carefully measure out their workspaces. They also need to select a layout pattern.
| Common Paving Layout Patterns | Description |
| --- | --- |
| Jack on Jack | Even layout with same-sized bricks placed in even rows |
| Basket Weave | Two same-sized paving bricks placed vertically, followed by two horizontal continuously |
| Herringbone | Alternating horizontal and vertical stones create a V-pattern |
Homeowners can also improvise a layout based on the peculiarities of a space. The most important factor is to have sufficient stone to fill out a space.
Digging and Establishing the Base for Paving
Before digging to create the base for the paving, homeowners should confirm that there are no mains power lines or water lines in the excavation area. Homeowners should then dig down until they reach undisturbed soil. At this point, DIYers can lay down the paving base or a layer of gravel, using a rake to even out the gravel. On top of this, homeowners should then place sand to serve as the support for the paving stones.
Laying the Paving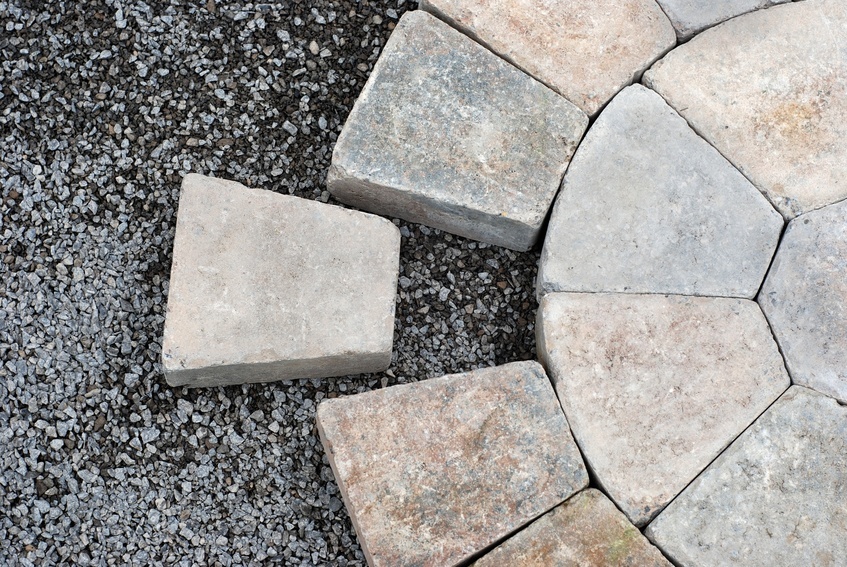 The final step is laying all of the paving stones into the selected pattern, maintaining a few centimetres between each brick or slab. Additional mason's sand should then be spread over the paving stones. Using the vibrating plate compactor, work the sand down into the spaces between the paving to create a secure fit. Check the level of all the slabs with the carpenter's level and tamp down to create a surface that is as even as possible.