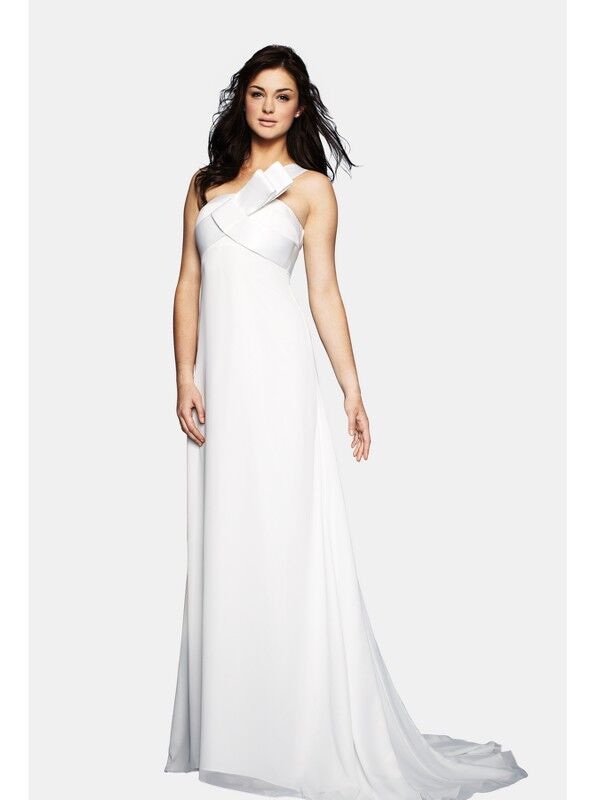 Looking fabulous as you walk down the aisle on your wedding day is every bride's goal and vital for your wedding preparation. As a result, many brides-to-be may invest in a pair of trainers, some weights, and even a gym membership, to slim down and tone their bodies. In addition to actually losing weight, a few simple tricks can help women to look slimmer in their wedding dresses.
First, the key for brides is to choose a wedding dress that flatters their body type. Some dresses, such as those with an A-line silhouette, are flattering for most women, while others are best suited to particular kinds of figures. A few well chosen accessories can also help to create a slimming effect, as does paying attention to posture and poise. While specialty bridal shops are a common place to shop for wedding dresses and accessories, online auction sites such as eBay are viable options too, with a wide variety of options and great deals available.
Choose a Wedding Dress Style that Flatters You
Body shapes and sizes can vary widely, but every woman can look spectacular and slimmer in the right style of wedding dress. The key is for brides to recognise their body types, and choose the style that flatters their best features and hides imperfections. Wedding dresses are available in five common styles, as outlined in the table below.
Dress Style

Definition

Best For

Fitted bodice and a slightly flared skirt

Skirt lengths can vary from short to full-length

Most body types

Fitted dress with no waist

Skirts can be long or short.

Lean and petite figures

Fitted bodice and a large, full skirt.

Slender figures

Pear shaped figures

Waistline just below the bust

Skirts available in a variety of lengths

Most body types

Form fitting dress with a skirt that flares out dramatically below the knees

Slender figures

Hourglass figures
Factors beyond the silhouette also contribute to how well a wedding dress flatters a woman, such as the neckline. For example, a V-neck is ideal for women with broader shoulders, while a sweetheart neckline is ideal for women with either a large or small bust. A bateau neck, which runs across the collarbone from shoulder to shoulder, works well for women with a slim, bony frame. A bride's personal style of course has a big part to play too. For a dress to look stunning, the bride must feel comfortable in it.
Ensure Your Wedding Dress is a Perfect Fit
To look slimmer in your wedding dress, you must make sure that it is the perfect fit, so not too tight that there are unsightly bulges, or too loose, leaving the body looking misshapen. Remember that wedding dress sizes can vary by designer, so your wedding dress size may not be the same as your normal dress size. For this reason, it's better to have measurements taken and use those to size the dress. Dresses typically rely on three measurements: bust, waist, and hips. While these can be measured by professionals, you can also take your own measurements at home.
Wedding Dress Measurements
The hips and bust should be measured at their fullest points, while the waist should be measured at the natural waistline, which is typically above the navel and below the rib cage. In all three cases, be sure to use a soft cloth tape measure and keep it parallel to the floor at all times. Take measurements in any undergarment types that would be worn under the dress, for example, if the dress would be worn with a bra, then measure yourself wearing a bra. Also make sure that the tape measure isn't too loose or too tight.
Wedding Dress Alterations
Even when the wedding dress is sized perfectly, it may still need a few alterations. Having the dress professionally altered ensures that it fits the bride's body as well as possible. However, allow enough time to have the alterations done. Buy the dress early and plan ahead to eliminate one source of wedding stress.
Wear the Correct Underwear for Your Wedding Dress
The garments worn beneath a wedding dress are as important as the dress itself, and they can help you to look slimmer. A bra that fits properly can prevent bulges and keep you from revealing too much. Shapewear can slim and smooth your body.
It is not uncommon for women to wear the wrong bra size. Before the big day, brides should schedule a bra fitting to learn their correct size, and shop around for the bra that works best with their wedding dress. Bras come in a variety of styles, with a few of the most common outlined in the table below.
Style of Bra

Definition

Balcony

Covers half to three quarters of the breast with support from the sides and bottom

Straps set wider apart than most other styles

Half-Cup

Covers about three quarters of the breast with support from below

Allows for a lower neckline

Also called a demi bra

Full-Cup

Covers the breast completely for full support

Good choice for women with larger busts

Multiway

Convertible straps that go from standard form to a halterneck style and even strapless

Padded

Padding enhances the overall size of the bust

Padding can vary in thickness and may be removable

Enhances cleavage

Allows for a substantially lower, V-shaped neckline

Push-Up

Lifts and reshapes the bust for a greater cleavage

May have padding

Good choice for women with small or average busts

No straps, support from the sides and bottom instead

May be self-adhesive so that it is backless
In addition to these styles, women can opt for specialty bridal bras, some of which may offer built-in shapewear to smooth the body. Common bridal bra styles include longline bras, which cover the waist to provide additional shaping, as well as corsets and bustiers. Women can also buy shapewear separately, to smooth out their stomachs, thighs, and bottoms, to ensure a slimmer silhouette for the wedding dress.
Invest in the Right Pair of Heels for Your Wedding Dress
High heels remain popular for a reason. In addition to making women taller, a pair of heels helps to make the wearer look slimmer, because human eyes automatically distribute the body's weight to match the taller frame. However, wearing high heels for long periods can be uncomfortable, at best. Instead of a pair of stilettos, brides should look for a more modest heel, no more than 7.5 cm. Some shoe styles, such as wedges and platforms, are also more comfortable than others, and a chunkier heel gives the wearer more stability. Also look for shoes with plenty of padding, and be prepared to invest in extra cushioning or gel pads.
Have Excellent Poise and Posture in Your Wedding Dress
Posture can have a dramatic affect on appearance, so brides should stand up straight, keep their shoulders back, and heads held high throughout the day, especially in photographs. There are tricks to looking slimmer in photographs. Avoid the appearance of a double chin by lifting your chin and moving your head forward. Avoid poses where your arms are pressed tightly against your body. Instead hold arms to the side, raised ever so slightly, like a ballerina. This makes arms appear slimmer and can camouflage any arm flab. Brides can emulate a popular celebrity pose by turning their hips 45 degrees away from the camera and placing their weight on the back foot. They can also place one hand on their hip and hold the other arm slightly away from their body.
Buying Your Wedding Dress on eBay
eBay is an excellent place to shop for wedding dresses and anything else that you may need. From the eBay home page or any other page on the site, you can enter a keyword, such as "mermaid wedding dress" into the search box. From there, you can filter your results to display only the items that suit your budget by indicating a price range, or you can limit the search to items offering free postage and packaging or express delivery.
Tips for Shopping on eBay
If you have never shopped on eBay before, you will need to create an account. While it is not necessary to log in while you browse, doing so can enhance your shopping experience. For example, by logging in you can save searches that are accessible through your My eBay account, so you can come back to them later. My eBay lets buyers monitor items that they are interested in, send and receive messages, and manage payment methods, among other tasks.
You should also research sellers before you make a purchase by checking their feedback history. Positive feedback and high ratings are a good indication of a reputable seller, so you can feel confident in your choice. Before buying make sure that the seller has a returns policy in case any items do not fit. After making your purchase, take the time to leave your own feedback, as well. This can easily be done through your My eBay account.
Conclusion
Looking slimmer in your wedding dress does not mean that you have to spend months dieting and working out. In fact, a bride can hide pounds on the big day just by choosing a wedding gown that complements her body shape. A-line and empire-waist dresses are flattering on nearly every figure, so they are always safe bets when in doubt. After choosing a dress, having it altered ensures the best possible fit. In addition to the dress, invest in quality underwear, including a bra, and shapewear, if required. Both are available in a variety of styles, and help to slim the body and create a smooth silhouette.
A good pair of heels can make women appear taller and slimmer, but brides should go for comfort as well as style. A thicker heel or wedge design can provide more comfort and stability than a spindly stiletto heel, for example. Finally, being aware of posture and poses for photographs can make brides look slimmer. Arms should be held slightly away from the body rather than pressed against it, and twisting hips 45 degrees away from the camera can have a slimming effect as well. There are lots of ways to look slimmer on your wedding day, so choose the ones that will work best to make you stunning on the day.