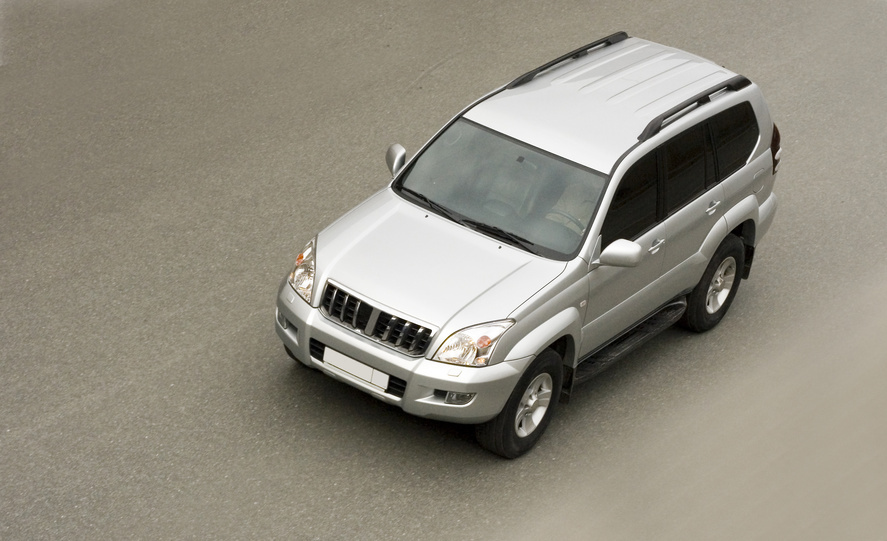 A crossover vehicle is a combination of a sport utility vehicle and a family saloon. The crossover combines the utility that an individual needs from an SUV with the sensible economy that a saloon provides. Crossovers have gained popularity over the years, since the rise of fuel costs has made large SUVs a less economical option unless specifically needed to tow trailers or boats. Many people who purchased large SUVs for their utility discovered that the low fuel economy of these vehicles made them less enjoyable. For this reason, the crossover is a sensible alternative for many individuals.
The crossover satisfies people's desire for utility without the financial strain of a vehicle that is heavy on fuel consumption. Crossover owners are being even more practical by choosing to maintain their vehicles on their own, without seeking help from professionals. Although one can purchase the parts and tools needed for maintaining crossovers from traditional auto shops, these items are also available on eBay.
About Crossovers
The crossover revolution began in the early part of the 21st century, when economic considerations were demanding that utility vehicles find a way to become more fuel efficient and practical. Many drivers wanted better fuel economy and ease of handling, but families still wanted to have a vehicle that was large enough to comfortably accommodate everyone. As much as drivers wanted a more practical driving experience, they also wanted to retain the ability to navigate rugged terrain, if necessary. The answer to all of these demands was the crossover.
Crossovers can vary in appearance but they all have similarities. They are smaller than SUVs but larger than a saloon. They have a more aerodynamic design than an SUV but maintain the appearance of a sporty off-road vehicle. Crossovers are unique in that they can be equally at home on a rugged back road and also pulling up to a valet at the opera. The larger size of crossovers provides great utility value, but the vehicles are much smaller than full-sized SUVs. Crossovers also deliver better fuel economy and are easier to manage about town in traffic and parking.
Benefits of the Crossover
The main benefit of the crossover is that it provides much of the utility and rugged performance of a full-sized SUV but in a smaller package that features improved fuel economy. The crossover has features that are beneficial to families and individuals who have active lifestyles. Many crossovers have a fifth door or hatchback option that allows easy loading and access to the rear compartment of the vehicle. This is especially helpful when loading camping equipment or supplies for a trip to the beach. When equipped with four-wheel drive, crossovers are excellent platforms for ski trips to the mountains for which their agile nature and traction capabilities are well suited.
Another important benefit of the crossover is that it features an SUV-type body on a road car platform, which means that it has all of the handling characteristics of a car without any of the rough suspension and stiffness of an SUV. The benefit of the SUV-type body is that it brings additional interior space to the car platform. Many people tend to shy away from SUVs because of their larger size, and it is especially difficult to manoeuvre a large SUV on crowded city streets or into cramped parking areas.
Maintenance Intervals for Crossovers
While there are variations in the maintenance intervals of different crossovers, the following chart is a good general guide to maintenance that should be performed at various mileage intervals. Performing regular maintenance on a crossover helps keep the vehicle running at top performance and with peak fuel efficiency.
| Mileage | Service |
| --- | --- |
| 8,000 km | Oil change; inspect tyres for premature wear. |
| 16,000 km | Oil change; rotate tyres; inspect brakes; inspect steering linkages; lube chassis. |
| 24,000 km | Oil change; replace air filter; inspect all fluid levels. |
| 32,000 km | Oil change; tyre rotation; inspect brakes, hoses, belts, fluid levels. |
| 48,000 km | Oil change; tyre rotation; replace cabin filter. |
| 96,000 km | Oil change; tyre rotation; replace transmission fluid; service rear differential. |
| 1,92,000 km | Oil change; tyre rotation; replace spark plugs; replace engine coolant; inspect valve clearances. |
| 2,40,000 km | Oil change; tyre rotation; check idle speed. |
Mileage intervals can also be accommodated every 5,000 km if the owner chooses. Oil changes should be done at least every 8,000 km for preventative maintenance, but many people opt to do them every 5,000 km. Tyres should be rotated on every second oil change service to extend their life.
Items Necessary to Maintain Your Crossover
For owners who want to take on the maintenance of their crossovers by themselves rather than using the local dealer or service shop, many of the items needed for maintenance are easily available. Owners who perform regular maintenance on their crossovers can save a considerable amount of money over the long run.
Oil
Depending on the type of engine the crossover has and what the regional climate is, various types of oil are recommended by the manufacturer. Oil viscosity is measured in terms of "weight", and the two frequently-used weights of oil are 5W30 and 10W40. These two types of oil cover a large portion of driving conditions that are common. There is also synthetic oil that has the highest level of viscosity, which basically means slipperiness. The higher the viscosity, the more protection the oil offers against friction between parts, which causes heat build-up and eventual seizing of the engine. Diesels have their own specific type of oil as well. Individuals should always consult the owner's manual for the recommended oil for a particular crossover.
Oil Filter
The oil filter is a metallic canister that has internal cardboard or synthetic elements that filter particles from the oil as it is passed through. The oil filter must be changed with every oil service and cannot be reused. Once can find different sizes of filter, depending on the engine in the crossover; the owner's manual contains the information on which type of filter to use.
Belts
Belts are constructed from high-strength rubber compounds and usually last for a considerable amount of time. A common problem that occurs with belts is glazing, which is when a hard substance builds up on the outer sides of the belt, causing it to squeak as it passes around a pulley. This usually occurs with age and signals the time for a belt replacement.
Hoses
Hoses are also constructed to last a long time, however, they must be replaced eventually. Hoses operate better when the rubber compound is soft and flexible. This allows hoses to expand and contract when needed, depending on the temperature of the fluid running inside of them and the ambient temperature around them. It is important to replace hoses when they become hard and feel brittle.
Wiper Blades
Wiper blades should be replaced, at the very least, prior to every rainy season. More optimally, they should be replaced every six months, since dry and hot weather tends to stiffen the rubber in the wiper and degrade its performance.
Air Filter
The air filter should be replaced during every third oil change. The filter helps to prevent dust and debris from entering the engine's air intake. Clean air running to the engine creates more efficient operation and thus contributes to better fuel economy.
Cabin Filter
The cabin filter cleans the air that passes into the cabin from the air conditioning system in a crossover. The cabin filter helps prevent dust and pollen from entering the cabin of the car and dramatically reduces smells and particles that can make it into the car's interior.
How to Buy Items to Maintain Your Crossover on eBay
An online marketplace, eBay is a great source where one can find the necessary parts and tools needed to maintain a crossover. Once you have decided to perform maintenance on your crossover, the next step is to find and purchase the items that you need by using the advanced search tools available on eBay. Simply go to the eBay home page, and enter a relevant keyword such as "engine service parts" into the search box. A list of available items is then displayed that you can search through until you find what you need to complete the maintenance project.
If there are too many items listed, you can select from the available subcategories on eBay, such as price and item condition, to refine the search results and narrow the number of listings you see. You can also enter precise keywords for the items you might need, such as "oil filter", specifying the type of vehicle you have and the size of the engine. This narrows the results to only show oil filters that are compatible with your vehicle, making the choice much easier.
Conclusion
The popularity of the crossover vehicle has been steadily increasing over many years. Individuals owned SUVs because of a certain cool factor that allowed them to be ready for any type of climate or road condition that could arise on travels. However, many people never use their SUVs for the intended purpose of driving off-road in rugged conditions, so the expense involved in operating large SUVs has become more difficult to justify. The result is the ever-increasing popularity of the crossover. The combination of an SUV's utility characteristics and an easy-to-handle and fuel-efficient car platform has created a 'best of both worlds'-type of vehicle.
Owners who want to maintain their crossovers should make sure to follow the regular maintenance schedules recommended by the manufacturer. Maintaining a crossover on one's own has the added advantage of cost savings generated by not hiring a professional for the task. Those who choose to do their own vehicle maintenance can easily find the supplies they need on eBay. The website provides a wide choice of products at great prices, thanks to its large network of sellers.