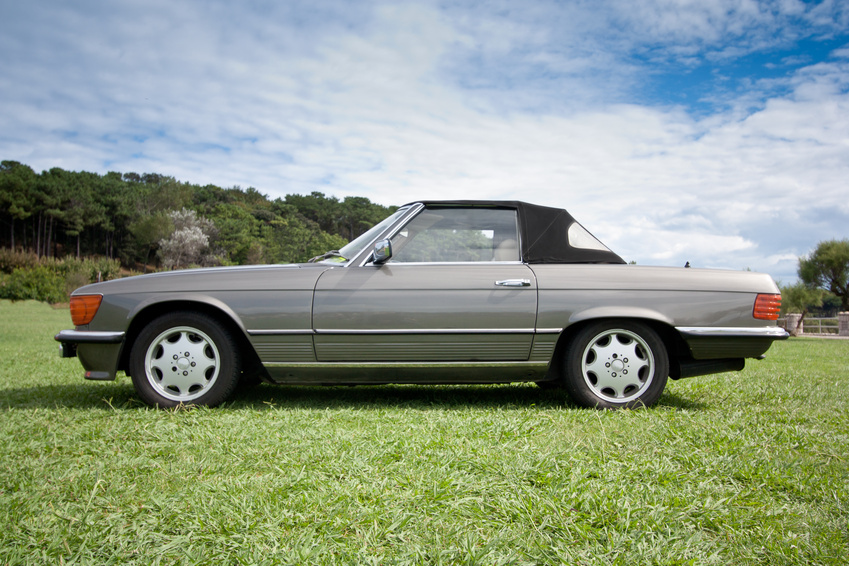 Most manufacturers make contemporary convertible soft tops of polycyclic canvas or vinyl. Designed to fold back and leave the vehicle open to the air, soft tops look impressive and are fun to drive. However, like all fabrics, soft tops are susceptible to stains and damage, and they require attention and care to keep them in good condition.
Soft Top Stain Removal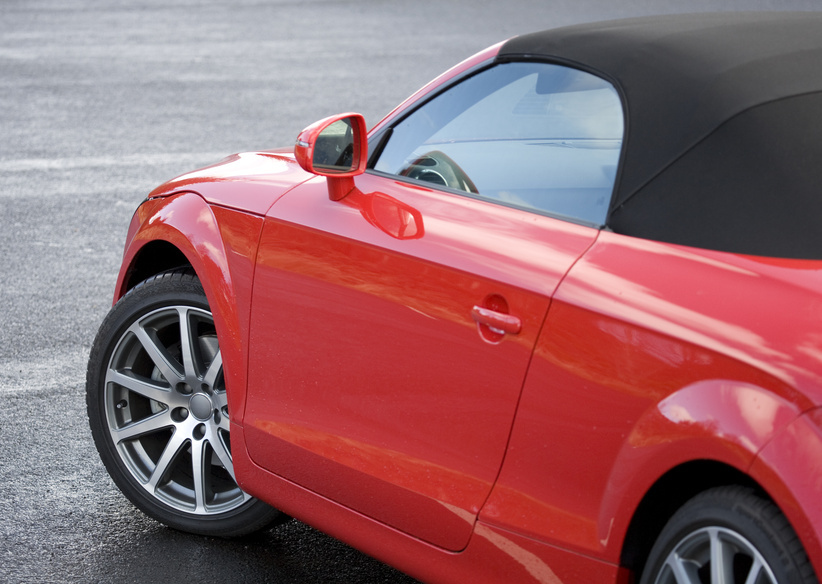 Soft tops are water resistant but not waterproof, so stains that can quickly ruin the look of your convertible soft top and are an everyday hazzard. You can find products on the marketplace to remove even stubborn stains and restore the top to its former glory. Most are concentrates and you need to mix them with warm water, or water from the hose, depending on the manufacturer's directions. In some cases, you may need to apply the soft top cleaning product undiluted directly to the stain for maximum effect. Once applied, leave the product on the stain for a few minutes, according to the manufacturer's directions, and then scrub lightly with a soft brush. Rinse the top with water and examine the stain. You may need to apply more than one treatment to remove the stain successfully. Once you have removed all of the stains, rinse the top with clean water.
Soft Top Cleaning

You should never send your soft top car through an automatic car wash. The scrub brushes and harsh chemicals could create irreparable damage or require professional assistance to restore. Most vehicle manufacturer's recommend that owners clean the soft top once a month with a bespoke vehicle roof cleaner for soft tops. Cool hose water, a few brushes, a soft lint-free towel, and a suitable cleanser is all you need to clean the top. First, rinse with cool water to remove dirt and debris. Once the water runs clear, apply the cleanser and scrub with a soft brush. Scrubbing with a towel or sponge could work the dirt into the fabric, so be sure you use a good brush and work carefully. Once the top is clean, rinse it thoroughly and pat it dry with a lint-free towel. If you use a protectant, this is the time to apply it.
Soft Top Fabric Maintenance
Contemporary and vintage soft top fabrics can fade in direct sunlight. White is a great choice for vehicle soft tops for just that reason. There are products on the market that help to protect the soft top from stains and fading while also protecting against the damage of everyday dirt. Soft top renewers, when applied regularly, help to maintain the fabric's health and beauty, or can assist in the restoration of a tired looking top. For soft top repairs, you can find glues and fabric adhesives for repairing small holes and rips or tears. Be sure to follow the manufacturer's directions when undertaking repairs.