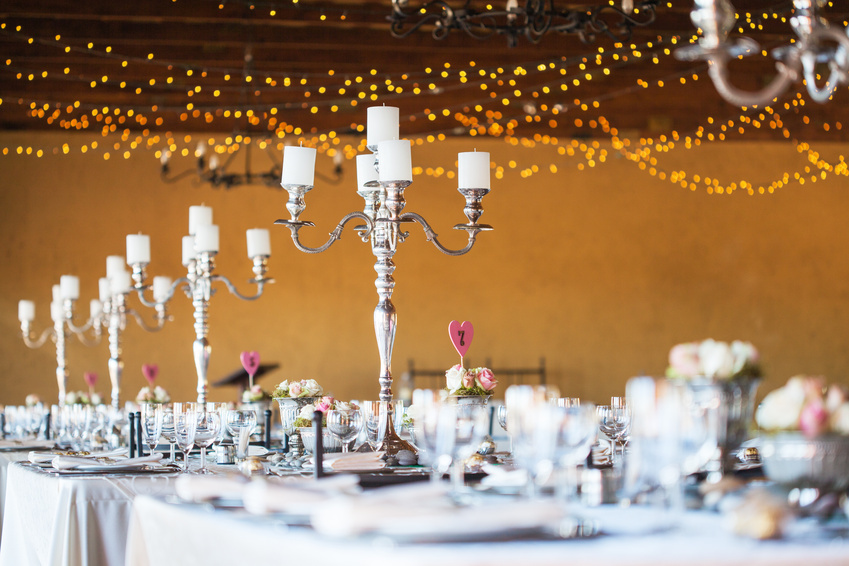 A candelabra is a noticeable accessory to any room whether placing one on a dining room table, mantle, foyer table, or using a silver wedding candelabra as a centrepiece. Your silver candelabra can also draw attention when tarnish covers the surface with a thin layer of oxidation caused by both oxygen and hydrogen sulfide. You can bring back your candleholder to its original sheen observing a few maintenance guidelines.
Regular Surface Cleaning
Professionals recommend wiping, not rubbing, the surface of a silver candelabra every two weeks with a soft, dry cloth such as a microfibre cloth. These chemical- and lint-free cleaning cloths are ultra smooth to prevent scratching and scaring the metal surface. This routine cleaning keeps the surface clean to maintain shine and prevent tarnish build-up. You may also purchase a silver polishing cloth which has a silver cleaner and anti-tarnishing agent infused into the cloth. You should not wash the silver cleaning cloth but replace it after repeated use. Use cotton gloves when wiping the piece to avoid leaving your fingerprints on the silver.
Removing Wax Immediately

Hardened wax on your silver candleholder is inevitable but do not let it stay there. Depending on the size of the candelabra, place it in the refrigerator for approximately 30 minutes. Upon removal, the cold wax should break away from the surface. Wipe with a polishing cloth to restore lustre to the candleholder. Another method is to hold the candelabra under hot running water until the wax falls off. Make sure the sink stopper is in place so the soft wax does not go down the drain. You may be successful removing wax using a hair dryer to heat up the wax, blot with a cloth, and remove any residue with your fingernail.
Deep Cleaning

When your candelabra starts looking dull and grey and hand polishing no longer restores sheen, apply silver cleaner to the candlestick holder. Before applying the cleaner, use a wet sponge containing a small amount of dishwashing liquid to gently wipe down the silver, and then rinse and pat dry. Remove dirt and grime from crevices with a cotton swab, toothpick, or soft-bristled toothbrush. Now, apply small dabs of cleaner in a circular motion making sure to follow the manufacturer's directions between applying and buffing off the cleaner. Only use clean areas of the cloth to apply or remove cleaner. Finish by wiping the silver with a clean, soft cloth. When not using your candelabra, store it in a bag, add silica gel to the cabinet to reduce humidity, or place charcoal in a dish to absorb harmful gases.