Dear friend,
It is easy to make a beaded watch bracelet. Actually, create a beaded
watch
isn't much different than making a beaded bracelet. You can refer to the following tips to design your own watch bracelet.
Tools you will need: a pair of
Bent Nose Plier
Step 1.
Add any combination of
Beads and Charms
from both ends of the watch band (chain) to create your own look.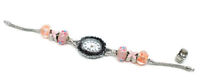 Step 2.
If you are already add all your prefered charms and beads onto the chain, you can attach the
Snap Clasp
onto your bracelet now.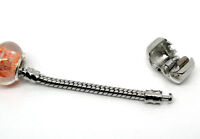 Here is a picture to show you how to attach the snap clasp: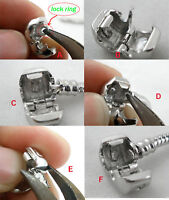 Instructions:
use bent nose pliers to open the lock ring to outside.
Put one end of the snake chain into the "lock ring".
Again use your pliers to close the lock ring tightly.
Step 3.
Close the clasp and holding the two bands together. Then your watch bracelet will look like this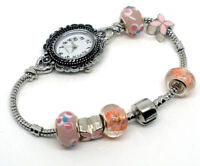 May you have a happy shopping and jewelry making time! ^_^
Sincerely
Hong (Lisa)