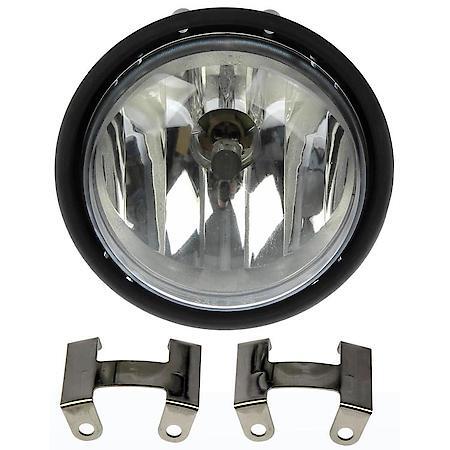 Fog lights are often equipped on vehicles for use while driving in low light conditions including fog and falling snow. The lamps can be yellow and white although many people only consider yellow lamps to be fog lights. These lights can come pre-installed on vehicles but are also available as purchasable options or extras with most cars on the market. For anyone who does not already have fog lights on the car, it can be a good idea to install them, especially if that person drives often in lower light and foggy conditions.
Importantly, fog lights are sometimes prohibited from use in normal light conditions. They should not be used as auxiliary headlights. Fog lights are mounted low on the vehicle to light up the area directly in front of the car. Buyers should consider the size, the colour, the style, and the compatibility of the fog lights before making a purchase in order to ensure that they are right for the car they are being installed on.
Check Which Types of Foglight Assemblies Are Compatible with Your Car
There is a range of different types of fog lights including different shapes, sizes, colours, and types of lights. There is also a range of installation methods that might require different vehicles. In general, it is important to check the vehicle to see if it is compatible and where the fog lights should be installed. Some vehicles allow for easy installation of fog lights while others require external lights such as those mounted on a bracket or frame. Check the following considerations before purchasing the lights for your car.
Foglight Assemblies Colours
Fog lights come in yellow and white, which can be confusing for many drivers. Either colour is acceptable for fog lights in most areas so it is possible to choose based on preference. Drivers who believe that they might be confused by having two sets of white lights on the vehicle should instead go with yellow fog lights because they are easier to recognise. Both colours can be purchased in most auto parts stores as well as online shops.
Foglight Assemblies Types
There are three basic types of lights used in foglight assemblies.. These include halogen, LED, and HID lights. Each type has its advantages and disadvantages so buyers can essentially choose anything they like or that goes well with the vehicle. Some lights, especially those produced by the original equipment manufacturer are made specifically for a make and model of vehicle and, in this case, the type of light is always compatible.
| | | | |
| --- | --- | --- | --- |
| Foglight Assembly Type | Features | Advantages | Disadvantages |
| LED (Light Emitting Diodes) | Semi-conducted light production | Energy efficient, no filament | Cheap LEDs can flicker as they age |
| HID (High Intensity Discharge) also called Xenon bulbs | Xenon gas | Long lifespan, no filament | Dim compared to other bulbs |
| Halogen | Pressurized halogen gas | Can be tinted in different colours, long lifespan | Very warm, not energy efficient |
Choosing between types of fog lights can be a personal choice. Most buyers can simply select one type of light bulb or another for their vehicle. However, anyone who is replacing fog lights in a vehicle should check to ensure that the lights are compatible with the parts already in place in the vehicle. Some lights are also made to be brighter than others. Fog lights sold as 'daytime' are less bright, while off-road fog lights are often very bright and may not be suitable for road use.
Front Fog Lights
Front fog lights are very common and are normally round or shaped to fit into a recess above or on the car's bumper. Front fog lights can be external and mounted on brackets or designed to fit into the frame of the vehicle. Front fog lights are the most useful and should be chosen based on the fit of the vehicle, the model, and the size.
Rear Fog Lights
Rear fog lights are not always necessary but are sometimes installed on cars. These lights should be unobtrusive and dim enough so as not to blind other drivers. Rear fog lights can be installed on the rear bumper or in a light slot intended for the lights. Importantly, most rear fog lights should be red rather than yellow or white.
External Fog Lights
External fog lights are popular options on many vehicles that have aftermarket fog lights installed. External lights are mounted onto the vehicle using brackets rather than installed directly in the car's frame. While the appearance is often not as nice as that of factory-installed fog lights, they are more practical options for anyone who would like fog lights but who does not want to modify the front of a car, or who cannot install fog lights with the existing headlights. Other options include choosing headlights that fit the model of car but feature the option to switch between driving lights and fog lights with the push of a button or switch.
One type of external fog light is the bracket of multiple lights on a single bar. These lights are easy to attach to a vehicle bumper; however, they must be positioned carefully in order to avoid blinding other drivers. Usually, fog lights should be pointing directly forward or slightly down from a low position. Fog lights mounted on the bottom of the bumper are only useful in heavy fog so most fog lights should be installed on the top of the bumper or just above it.
Choose the Right Lenses and Reflectors for Your Car
Lenses are sold in a variety of beams, mostly in 70 to 120 degree beams. The lights' colour and angle mostly depend on the lens and the reflective capabilities of the headlight. The cuts in the lens are called fluting and help to shape the light beam. Low quality lenses are made of plastic, which blocks much of the light, medium quality are made of standard glass, and high quality lights are made of lead crystal, which allows the most light through. Depending on the area, a brighter foglight might be necessary.
The reflector is the silver backing in the back of the light. Most fog lights should use aluminised vapour coating for optimum reflection quality. The better the reflectors, the brighter a lower quality bulb can be, so this is important. For most cars, any lenses or reflectors are suitable, although some vehicle owners might want to consider the brightness and quality of the lamps.
Choose Foglight Assemblies that Are Compatible with Your Car
It is extremely important to choose fog lights that are compatible with the vehicle the lights are to be installed on. For example, many lights are made for specific models of vehicles. These lights might only be compatible with that type of vehicle. Other lights are sold as 'universal', which means that they can be used with any vehicle with compatible sizing or wiring. Usually, it is important to check the vehicle make, model, year of release, brand, and placement on the vehicle. A good example would be fog lights for a 1998 Hyundai Accent for front placement.
Measure the lights to ensure that they fit in any frames or lamp fixtures, check the brightness, the wattage, the colour, and the type of light before replacing any fog lights. Fog lights are relatively simple to remove and replace as long as they are the right size. Most people replacing bulbs can simply check the wattage and size from the old bulb and sometimes from the car owner's manual. Anyone installing lights themselves should measure the lights, and check for compatible wiring, the maximum power that the car battery can support, and any local regulations about the installation of fog lights.
Notes for DIY Foglight Assemblies Installations
Car owners who plan on installing their own fog lights should definitely consider having a professional help them. Fog lights must be connected to the battery, a switch for the lights must be installed in the vehicle, and the lights must be properly positioned on the vehicle to avoid interfering with other driver's line of sight. There are sometimes legal considerations regarding the placement of lights on a car, so it is important to check before simply purchasing and adding them to the vehicle.
Purchasing Foglight Assemblies for Your Car on eBay
Purchasing foglight assemblies on eBay requires knowing which lights you are looking for, as well as what style, and what size. Fog lights are often made for specific models of vehicles but some are universal so it is possible to purchase either any light, or an original factory light. eBay is an excellent place to look for either option from the comfort of your home. You should consider the car, the style of lamps, and the attachment method before searching.
Search for the foglight you need based on what you need it for. 'Rear fog lights' brings up fog lights intended for the back of a car, 'Honda Civic fog lights' brings up lights for that model of car, 'universal fog lights' brings up lights intended to fit a wide range of vehicles. Search for the lights that you need, read the description to ensure that they are compatible with your vehicle, and then make your purchase.
Conclusion
Foglight assemblies are an excellent addition to any car for safety reasons. When installed properly, fog lights can help drivers to see better in poor visibility conditions. However, fog lights are produced in many styles, sizes, and for a range of different vehicles so it is important for buyers to check their vehicles to see which lights are suitable for their car. For example, anyone who is replacing fog lights should measure the frame for the lights, check the wattage, and usually check the type of bulb for the car.
Anyone who is installing fog lights on a vehicle that has never had them before must decide between external and built-in fog lights. It is also a good idea to consider having a professional install the necessary electronics as well as the switch to turn the lamps on. Buyers who want to make sure the foglight assemblies they purchase are right for their vehicle should simply check the make and model of the car, the year of production, and then measure any frames as necessary.