Whether you're building a decoupage kit or looking for a premade kit with versatility, it helps to know the usual crafts and tools of the trade. At the very least, beginners need decoupage paper, brushes, and finish. For more complex projects, artists can buy assorted trim or make their own cutouts.
Decoupage Paper
Decoupage artists use several types of paper, including 110lb cardstock, sticker sheets, and bright white 24lb paper. The ideal decoupage paper depends on the project. Sticker sheets are quickest to apply, whereas white paper can make a base for the rest of the project. A pre-made decoupage kit generally comes with three or more pages of decoupage paper and sometimes dozens of cutouts. Most people can create their own cutouts using scissors and any type of thick paper, but cutouts make for a simple introduction to decoupage art.
Matte and Glossy Decoupage Finish

Also known as decoupage glue, decoupage finish comes in matte and glossy. Their differences are purely aesthetic. If you want a shiny finish, go with glossy. If not, a matte finish works just as well. Almost all decoupage kits come with glue. It should also be included in kits you put together yourself. For a versatile kit, buy both matte and glossy decoupage finishes. Remember to work on a clear surface because it can be tough to clean up the glue after.
Lace Trim for Decoupage
Decoupage trim is similar to ribbon but usually made of lace or some other delicate fabric. It is especially useful for decorating lampshades, photo frames, and shoes. Many decoupage kits come with at least one length of lace trim. Unlike glue and decoupage paper, lace trim is purely optional.
Decoupage Project Sheets
Decoupage sheets are transparent pieces of paper. They are essentially high-quality sheets of tissue paper. Most often, they are printed with a design. Floral designs are common, but holiday and special occasion designs are available too. Decoupage sheets are used to finish a project by layering it over the back. Not all decoupage projects require a finishing tissue paper, however.
Decoupage Brushes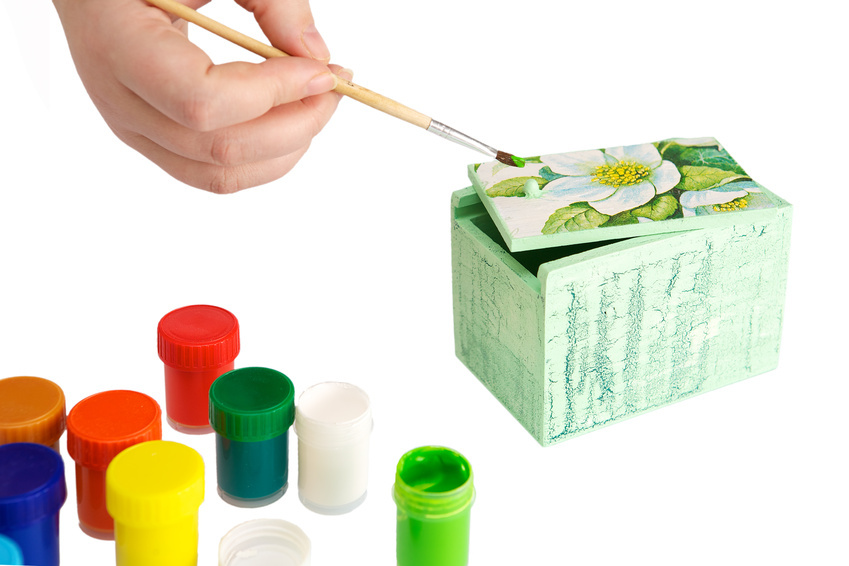 You might need more than one utility brush for a hobby in decoupage. In general, three brushes are ideal: flat, round, and utility. These three brushes should work for most beginners' decoupage projects. In the future, consider investing in different sizes of the same types if you work with a wide variety of mediums. It takes less work to decorate a table with a large brush than with a small brush, for example. Depending on the decoupage kit, you may also need scissors.