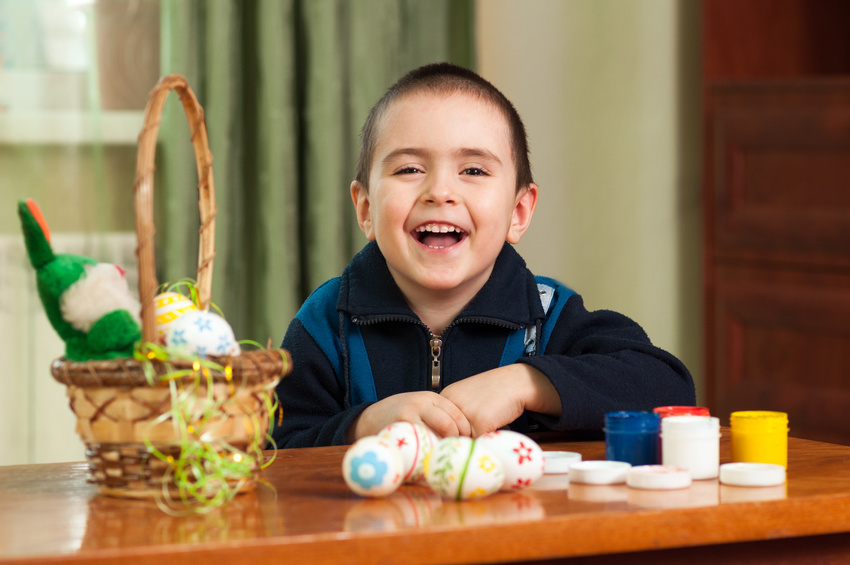 Whether hosting an Easter dinner or throwing an Easter party, homemade decorations are a simple and inexpensive way to set the tone. When making Easter decorations, take into account your skill level, as perfectly executing simpler crafts results in better decorations than more complex or difficult projects done badly.
Easter Bunny

Consider making Easter bunny decorations, such as bunny flower pots. Bunnies are adorable and symbolic of spring. Their faces also prove easy to draw. Using white craft paint, paint a clay flower pot of any size. Acrylic and latex paints tend to work best. Next, turn the pot upside down, and paint a bunny nose, mouth, and whiskers. Alternatively, you can create whiskers from pipe cleaners and attach them for a 3D effect. Use googly eyes or paint big eyes onto the pot. Let it dry. Cut out bunny ears from thick cardstock or felt and glue gun them to the top of the pot. Place the bunny in the centre of fake Easter grass, and surround it with small chocolate or plastic eggs. Bunny flower pots make for great table top decor.
Eggs
Dyeing eggs is a popular Easter pastime. You can purchase an egg dyeing kit or make your own using a simple solution or warm water, distilled white vinegar, and food colouring. After dyed your Easter eggs, decorate them using glitter and stickers, and arrange them in an Easter basket. Alternatively, consider using plastic eggs to create a table centrepiece, or poke holes in either end and string them on yarn to fashion an Easter garland. Still, glue plastic eggs to an Easter wreath and hang the Easter egg decoration on your front door or interior wall space.
Flowers

Using daisies from your garden or the florist, make your own daisy chains, then drape them from your banister or railings, or arrange them as a table top centrepiece. Alternatively, fashion your own floral arrangements using pastel-coloured tissue paper or craft paper and pipe cleaners. When finished, place the flowers in a vase, and tie an Easter-themed ribbon around it.
Chicks
With fluffy yellow pom-poms, felt, googly eyes and crafting glue, you can make small chicks. Begin by cutting small diamond shapes out of orange felt, then fold the felt in halves to fashion beaks. Next, attach the beaks to the yellow pom-poms using liquid crafting glue. Glue two googly eyes above each chick's nose. To complete the look, arrange a small amount of plastic Easter grass in a plastic crate, or use it to make an Easter table decoration. Lastly, place the pom-pom chicks inside.