Many dog owners worry about the dog food and dog treats they serve to their best friends and want healthy snacks free of preservatives and additives. One of the best ways to be sure your dog is getting healthy and nutritious dog treats is to personalise treats to your dog's individual tastes and needs. Whether he is a hunting dog that lives in a dog kennel or the family pet that sleeps on the bed, you can make him treats that are healthy and satisfying.
Easy Treat to Freeze
One of the easiest treats to make at home is peanut butter and yoghurt combinations that you can store in the freezer and thaw before giving them to the dog. All you need is a large carton of plain vanilla yoghurt, about 900 grams, without fruit or granola, and 250 grams of peanut butter. Using natural peanut butter without added sugar is best. Combine the yoghurt and peanut butter in a bowl and mix until well blended. Pour or spoon the treats into cupcake papers and place them in the freezer until frozen. You can store them in a plastic food bag for up to three months.
Yummy Treat to Bake

You can make a yummy baked treat at home. Start by peeling a soft banana and thoroughly mashing it in a bowl with a potato masher. Add 240 grams of oat flour, 200 grams of rolled oats, 120 grams of dried parsley, 50 grams of peanut butter, and a beaten egg. Allow the mixture to rest for about 5 minutes, then scoop it into spoon-sized bites and place them on a baking sheet with a parchment paper lining. Press each roll down with a fork and bake in a preheated medium heat oven for 40 to 45 minutes. Store in an airtight container or dog treat tin in the refrigerator for up to 30 days.
Allergen and Gluten Free Treat
For the sensitive dog, a carob treat is just right. Combine 240 grams of white rice flour, with 120 grams of carob powder, and 25 grams of cinnamon. Add a capful of vanilla extract and 180 grams of water. Heat the oven to medium and line your baking sheet with parchment paper. Knead the dough, smooth it, and place it on a heavily floured bread board. Roll it with a rolling pin until it is about 6 mm thick. Cut it into squares or use a small cookie cutter and bake for 10 to 15 minutes.
Training Treats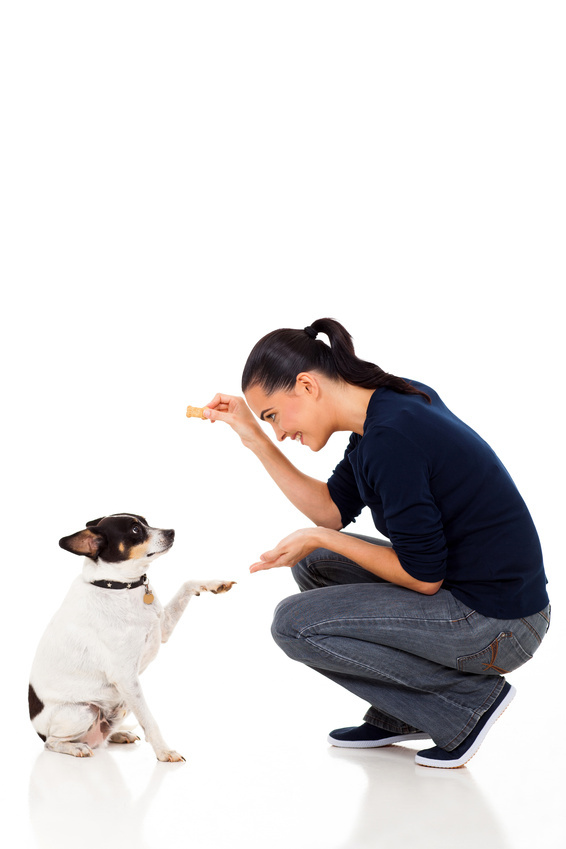 Dog training treats should be a small bite that the dog can consume immediately when she performs a command properly and should be part of your dog accessories for training. Small sausage-like treats are a favourite of all sizes of dogs. An easy way to offer your dog an extra incentive is to add a little bacon flavour to any dog treat recipe.