A joyous event for the entire family, a christening celebrates a new baby in a deeply meaningful way. The party following the ceremony is an opportunity for friends and family to gather and have fun together in honour of the baby. Christening decorations personalise the event for the special little one for a beautifully themed event. Crafting a personalised christening banner puts a unique touch on the party and creates a treasured keepsake.
Gather Materials

When planning personalised christening decorations, establish a colour scheme to help choose effective, appealing, and well-coordinated options. For baby girl christening decorations, you might choose pale pink and white, while pale blue and white is a classic choice for a baby boy christening decorations. At least two colours of crafting materials are necessary, though you can use more for elaborate banners. Find acid-free paper in your colours, decorative craft scissors, craft glue, a craft knife, stiff templating plastic, a hole punch, and satin ribbon.
Create Templates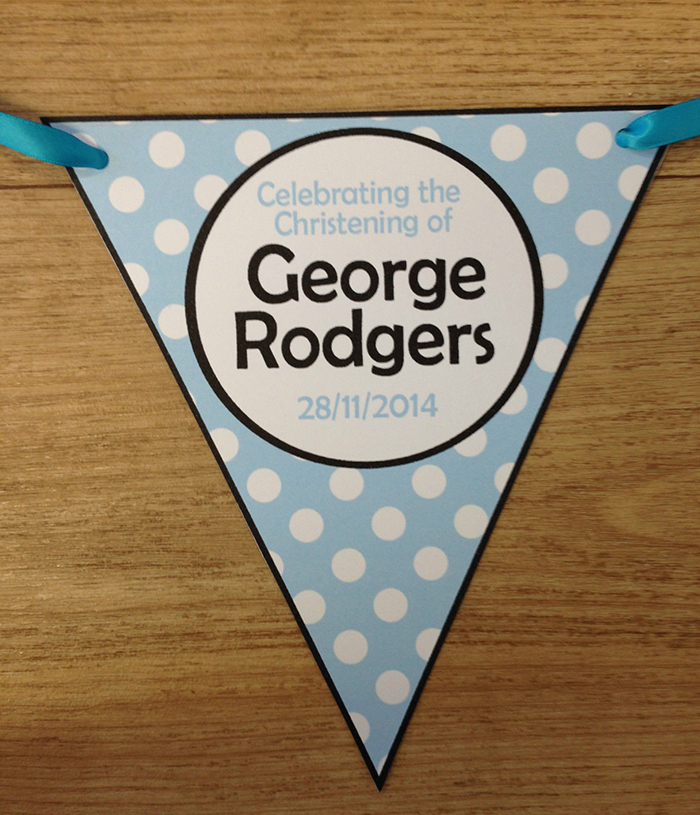 Use a word processing program to choose an appealing font and increase the size to the largest a single sheet of paper can accommodate. Choose a simple font, as these letters are the template for the banner lettering. Print the letters of the baby's name individually, as well as the letters of any desired greeting. Use sharp craft scissors to cut these letters out and place them on the sheets of templating plastic. Carefully trace the letters with a craft knife, cutting through the plastic to create templates. Lastly, create a 15- and 13-cm circle template.
Assemble Letters
Follow the larger template to create a circle out of one colour for each letter. Use scallop decorative scissors to follow the smaller template to create decorative circles for each letter in the second colour. Use the letter templates to create letters in the first colour, and cut them out with sharp scissors. Assemble each letter of the banner and use acid-free craft glue to layer the smaller circle on top of the larger circle, and the letter on top of the smaller circle. Allow them to dry completely before assembling the banner itself.
Create the Banner
Use the hole punch to make a hole on both sides of the letter, slightly above the centre point. A decorative punch, such as a heart punch, adds a cute detail to the finished banner. Moreover, you can reuse the resulting heart-shaped pieces as confetti for the tables. Tie a knot at the end of the satin ribbon or string and another 15 cm in. String the assembled letters onto the ribbon in reverse order, tying a knot after each, and spacing them equally. Finish with another 15-cm gap and a final end knot.