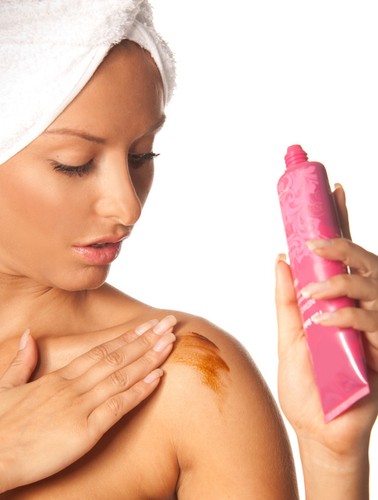 Most people look better with a healthy glow and some colour to their skin. Tans are known for making people look skinnier and create definition where there is none. Tanning outdoors or in sunbeds causes skin damage, which leads to skin cancer and wrinkles. Luckily, there are many safe options to fake your tan, including at-home tanners and salon treatments. Sunless tanner is available in both lotions and airbrush forms. Different salons also offer personalised options for spray booths and airbrushing by technicians. Unfortunately, fake tans only typically last five to six days. Fake tans fade when the outer layer of the skin is shed. Once the desired tan is achieved, many want to know how to keep and maintain the look. Although skin shedding is natural and inevitable, there are a few things to do to make a fake tan last longer. Essentially, it is important to take special care of the skin.
Sun care is available at different venues including tanning salons, retail shops, and online at eBay. Consumers need to research the best fake tanning system, exfoliate before fake tanning, keep showers short, avoid pools and hot tubs, apply moisturizer, and re-apply fake tanners when a tan fades.
Fake Tan Research
There are various different ways to achieve a fake tan. The means of achieving the perfect tan are broken into two categories, which include home tanning solutions and salon options. There are a range of tanning lotions, foams, and airbrush sprays available by different brands from various shops. Decide which application type is best for you, and whether a lotion is preferred versus a spray. Lotions, foams, and sprays are all effective methods to apply sunless tanners; it is just a matter of personal preference. Some find that sprays are a quick and effective method to apply fake tans, while others like to ensure that every area is covered with a lotion. There are studies that have shown that sprays, gels, and lotions work best for those with oily skin, while heavier lotions and creams work best for people with dry skin.
Most self-tanning solutions require a setting period, in which an area of the skin is kept away from moisture. The solutions vary in the time period required to build a fake tan. Fake tanning solutions come in a couple of different shades geared toward fair-skinned to darker-skinned people. Some tanning moisturizers gradually build a tan over a week, requiring daily application. Generally, the most expensive and best fake tan is achieved by a technician. Skilled technicians employ bronzing techniques to make the body look slimmer and toned.
Exfoliate
Before tanning, exfoliate the skin using an exfoliant scrub in the shower. There are exfoliants designed for tanning but consumers may choose to purchase any scrub. Use a loofah with an exfoliant to better scrub the skin. Exfoliating the skin removes dead skin cells at the surface and allows for better absorption of a fake tan. Take care to properly exfoliate the rough skin around the elbows and knees. Shave before tanning, since shaving also removes the top layer of skin cells with the hair.
Avoid Moisturizer Before Fake Tanning
Avoid lotion or any other moisturizer before applying a sunless tanner. Sunless tanner is applied most evenly without anything else on the skin. Lotions, even deodourant, block the tanning solution from working effectively. If applying any lotion, wait at least an hour before applying a sunless tanner. The exception to this rule is applying lotion to elbows and knees, since they tend to absorb more of the pigment from a sunless tanner.
Keep Showers Brief
Sunless tanners typically need four to six hours to set before showering. After a fake tan is achieved, keep showers quick to avoid any unnecessary drying out of the skin. Long, hot showers and baths dry out the skin, shedding more skin cells. The more that skin cells shed, the faster a tan fades. While in the shower, use a moisturizing body wash to counteract the skin's drying.
Pat to Dry
Instead of getting out of the shower and rubbing the body with a towel, gently pat the skin with a towel. Patting the skin, as opposed to rubbing it, reduces skin cell shedding. The key is to remove moisture with a towel, using the least amount of friction.
Avoid Pools and Hot Tubs
The chemicals in pools and hot tubs disrupt the chemical reaction of a tanning solution. Sunless tanners contain the chemical dihydroxyacetone (DHA), which reacts with chlorine. Pool and hot tub chemicals also dry out the skin and cause a tan to fade. Go swimming in the ocean if that is an option, because it does not cause a fake tan to fade.
Moisturize Skin
Maintaining a regular skincare routine creates healthier skin, which is a better base for a fake tan. After showering, apply a good moisturizer to the skin. Consider applying a bronzing moisturizer to enhance the colour of your fake tan. There are even some specific after sun, tan-prolonger lotions. Moisturizing is the key to healthy skin and maintaining a fake tan. This is the most essential part of keeping the skin tan and healthy. Apply a moisturizer at least twice a day to keep the skin moisturized and healthy.
Re-Apply Tanner
Although following the steps above helps to maintain the life of a fake tan, the tan inevitably fades. In order to keep a fake tan year round, keep a consistent skin care routine and re-apply the chosen tanning solution when the colour fades. Before re-applying any sunless tanner, exfoliate the skin well to ensure that the next application of tanning is evenly applied without any blotches.
Budget
There are sun care products available in all different price ranges. Consumers first need to determine the budget for tanners, exfoliants, and moisturizers, and then compare prices available at different venues. The most expensive tanning systems are at salons and spas. Some people like to go to salons for fake tans on special occasions. There are many affordable at-home treatments that are easier to use and maintain on a tight budget. Healthy skin is important, and fake tans are easily integrated into a skin care system. Real outdoor tanning is free but in the long-term, presents dangerous health risks.
How to Buy Products to Make Your Fake Tan Last on eBay
There are thousands of options when it comes to purchasing sun care products on eBay. Although, it is not necessary, set up an eBay account to enhance your shopping experience. Input a description of the sun care products that you desire into the search box on any eBay page. Browse through the listings and check out the product descriptions and comments from other purchasers from the seller. eBay's Top-Rated Sellers generally have excellent ratings and favourable shipping and return policies. Top-rated sellers are more trustworthy since they already have a good reputation on eBay.
No matter who the seller is, look at the feedback and ask any questions you have about the product. There is a feedback rating system that uses stars that change colour by the number of ratings. If you are overwhelmed by the number of results, narrow them down by selecting options that describe your criteria for the product. Selecting options, looking at the product descriptions, and ensuring that the seller is trustworthy are all important to effectively shop for items on eBay. Entering specific, descriptive words into your search is likely to provide you with fewer results to search through. Sometimes, less is more on an eBay search, if you know the product for which you looking.
Conclusion
Fake tans fade when the outer layer of skin sheds. Although this skin shedding is inevitable, there are some things to do to make a fake tan last longer. In order to make a fake tan last longer, consumers need to research fake tanning systems, exfoliate before fake tanning, keep showers brief, avoid pools and hot tubs, apply moisturizer often, and re-apply fake tanners when a tan fades. UV rays are damaging to the skin and cause skin cancer and wrinkles.
Fake tanning is a healthy and safe way to darken the skin's colour without exposure to any UV rays. There are a variety of different sunless tanning options available in different forms. The two major categories are at-home tanners and salon tanning treatments. Fake tans typically last only five or six days. Whichever sunless tanner is chosen, consumers always look to maximise and lengthen a fake tan. Moisturizing the skin often and maintaining a good skincare routine is important to create a good base for a fake tan. Consumers need to purchase an exfoliant to apply before a sunless tanner, a good sunless tanner, and a moisturizer.
No matter how you are willing to spend on sun care products, there are products available in a range of prices. eBay offers a wide selection of sun care products, no matter which brand and form you are looking to purchase.