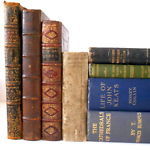 How to Make Your Old Books Look Better
Old books easily collect flaws over time. Pencil prices and annotations, pen inscriptions, price labels, bits of sticky glue from old labels, dirt, and torn dust jackets are all common. While there are lots of expensive methods of treating these there are things many people already have in the home which can help.
Blue tack rubbed over pencil writing will often remove most of it and is more gentle than even an art eraser. If you do use an eraser just rub in one direction, then lift and rub again. If you rub in both directions you will find that you crease or even tear the page sometimes.
Old labels and sticky glue residue will usually come off easily with a generous drop of lighter fuel. If you find this doesn't work on some labels then a hairdryer may melt the glue and let you peel it off.
You can remove dirt from books with a shiny cover with a careful rub with a baby wipe and then dry with kitchen towel. This is best done carefully, testing a small piece first, as it may stain cloth and matt covers. Baby wipes will leave a book smelling nice too. If your books have been in a heavy smoker's home or are just smelly then put them in a plastic bag with a generous dose of bicarbonate of soda for a week or so. This will get rid of some of the smell.
Torn dust jackets really need archival tape which you can buy on Ebay. This is almost invisible and, if you apply it to the back of a jacket, wil keep it going for years longer. It may be tempting to use sellotape on books but that will leave nasty brown marks on your books before long and will drop off eventually.
Pen inscriptions are difficult. Some are pretty and add to the antique look. Experts use a small piece of soft sandpaper to try to remove them.
I 'm sure you may think of other domestic items that can help but I hope these ideas give you a start.
http://stores.ebay.co.uk/terry6082booksandcollectibles