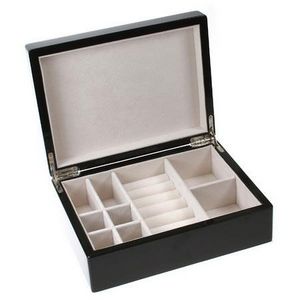 Jewellery boxes are practical, but they can also be an interesting accessory in a room, and they make great gifts. In some cases, a woman may prefer to make a jewellery box to help her organise her own collection or as a gift to give a friend. When deciding on the design of a jewellery box, a woman needs to consider how many pieces of jewellery the box should hold. She may also want to match the style of her jewellery box to her bedroom. It is important to select a theme before starting on the project.
Jewellery boxes can be made from a variety of different materials, including cardboard, wood, and resin. Almost anything can be used to decorate a jewellery box, including beads, paint, fabric, and paper. There are many creative things a woman can do when making her own jewellery box. This includes building a wooden box from scratch, decoupaging a box, and making one that plays music. Most supplies that would be used to make a jewellery box can be found in craft and hobby stores and discount stores. Alternatively, buyers can purchase supplies on multipurpose websites like eBay.
Purpose of a Jewellery Box
One of the first things to consider when making a jewellery box is its purpose. This is because the purpose determines a lot of other factors, including the size and shape. If the user only has a few pieces of jewellery, she may want a small box. If she has many pieces of jewellery, then she should probably go for a large box. The size of the pieces also affects how big the box and the shelves should be. Boxes come in many different shapes, including square, rectangular, round, and more unique shapes. It is best to have a jewellery box that works with a woman's specific jewellery collection and maybe with some extra space for more pieces.
Necessary Materials to Make a Jewellery Box
A woman also has to consider what kinds of materials she wants to use to make the jewellery box. It is possible to get very creative when decorating a jewellery box, which is why it is so much fun to make one. This is also the reason that handcrafted jewellery boxes make such great gifts.
Box
Jewellery boxes can be made from a variety of different materials, including wood, leather, cardboard, and resin. It is generally more complicated to make a jewellery box out of wood, but it can also be very sophisticated. If a woman wants to start with something simpler, she might get a thick cardboard box that is already made and simply decorate it.
Trimmings
A wide variety of trimmings can be attached to a jewellery box for decoration. Some of the many options include ribbon, fabric, decorative handles, paint, and rhinestones. Due to all the choices, a woman may be tempted to use a little bit of everything, but she should resist this urge, or the box may end up looking too cluttered. Before gluing anything onto the box, it is a good idea to lay out a design. That way, items can be rearranged to find the best design before they are permanently attached.
Decorations

Description

Photos

Easy and inexpensive way to personalise a jewellery box

Ribbon

Very feminine option

Can be glued around the edge of the box as a finishing touch

Fixtures

Includes intricate handles or shaped hinges

Fabric

Can be used to line either the inside or the outside of the box

Offers some protection to jewellery when used as an inner lining

Rhinestones and Beads

Can be used to create various fun and glitzy designs

Mirrors

Can be a helpful accessory for putting on jewellery

Small mirrors can be used as a decorative touch

Paint

Can be used with stencils or for freehand designs

Numerous unique designs are possible
These are some of the many items that can be used to decorate a jewellery box, but this list is by no means exhaustive. You should feel free to experiment with other materials, as well.
Ideas for Jewellery Boxes
There are numerous design options for a woman who wants to decorate her own jewellery box, but sometimes it is hard to come up with ideas to get started. Choosing a theme and deciding on your favourite materials may help open the imagination to all the possibilities.
Repurposing a Box
One design idea is to repurpose an old box and turn it into a jewellery box. This can be done with many different types of existing containers. Some interesting options include small cabinets, hat boxes, and small trunks. Cigar boxes are also a good option for small jewellery boxes, as many of them are made from quality wood. With all the options that are available, a woman does not actually have to make the box itself unless she enjoys making boxes.
Decoupage Box
Decoupage is an easy way to spice up a pretty plain box. The necessary supplies include a paintbrush, glue, varnish, and some photos. The photos can be from a magazine or any other colourful, printed material. The sky is the limit on creativity when it comes to finding photos or other materials, including stickers or even wallpaper.
Decoupage can be used with boxes that are wood, as well as boxes made from cardboard or other materials. First, the box has to be cleaned, and then the photos can be arranged on the box until the best layout is found. After that, the photos are glued onto the box. The final step involves applying a layer of varnish or watered down glue that covers the entire surface of the photos and the box.
Making a New Box
A truly ambitious and creative woman might want to make a jewellery box from scratch out of wood. For a basic box, she can start with a few pieces of sanded wood cut to the appropriate dimensions. The main thing to remember is that all sides do not have to be equal, but opposite sides on a box always have to be equal.
All it takes is a few small nails to craft a simple box and a couple of hinges to attach the lid. As an alternative to nailing the box together, wood glue can be used to connect the pieces because it does not leave any marks. Depending on how adventurous a woman feels, she can add a number of drawers with handles. However, this generally requires more advanced knowledge of woodworking than the simple basics. After the box has been completed, it can be stained, if desired.
Music Box
Jewellery boxes that play music are very popular, and adding a music box to a homemade jewellery box is relatively easy to do. A music player can be purchased and inserted into a box that has already been decorated. This is also a great way for a woman to get a jewellery box that plays a song she loves. Wind-up music boxes are also available for jewellery boxes.
Girl's Jewellery Box
If a woman is making a jewellery box for a little girl, she can take the opportunity to make it girly and fun. For instance, the box could be pink with tulle and a ballerina on top. Alternatively, the box can be glitzed up with rhinestones or beads. Young girls who love animals may adore a jewellery box with decoupage animal photos or stencilled animals on top.
Finding Jewellery Boxes on eBay
You can always find jewellery boxes for sale on eBay that can be embellished and tweaked with your own personal touches, or you can look for the supplies to make your own jewellery box from start to finish. To search for items, you can type keywords like 'jewellery box' into the search box. If there are too many product listings and you want to further refine your search, you may have to add additional keywords to accomplish this. Alternatively, you can use the various filters on the results page to narrow the results based on criteria like materials.
You should also learn about eBay's feedback feature. This feature allows you to read what other buyers have had to say about a seller. You should consider both the amount of feedback as well as the level of feedback for a particular seller. This is an especially good thing to consider if you are unsure about making a purchase. After you have purchased an item from a seller, you can also leave feedback about your own buying experience in order to help future buyers.
Conclusion
A jewellery box has remained popular with women of all ages over the years. Jewellery boxes come in many shapes and sizes, and it is important to think about a woman's needs before deciding on the size and shape of a box. Jewellery boxes are made from many different types of materials, especially wood and cardboard. With all the decorating options that are available, a woman may find it difficult to know where to start with decorating. This is why it is important to plan out a decorating theme ahead of time in order to create the perfect design.
When creating a jewellery box, various styles are a possibility, including creating a decoupage box, building a wooden jewellery box from scratch, or using flashy rhinestones and beads for a little girl's first jewellery box. The examples in this guide merely scratch the surface of the design possibilities that exist for creating a jewellery box. Handcrafted jewellery boxes can be given as gifts or designed and created purely for personal use.