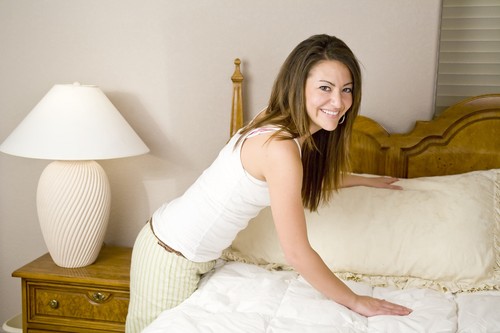 A well-made bed looks as inviting and cosy as it feels, and making it that way is an art in itself. With fitted and flat sheets, bed skirts, the numerous pillows of various sizes, duvets, and other accessories available, making the bed might seem complicated. Nonetheless, selecting matching colours, sizes, and patterns of the various accessories in different fabric types to make an appealing, well laid out bed makes it a task that is well worth one's while.
A perfect bed begins with the right bedroom furniture. A good mattress forms the basis on which one builds up to create an enticing space to retire, night after night. The flat sheet forms the top protective layer, if the blankets and duvets are not used. There are ways to make the bed with attractive flat sheets laid out well, and here the colour, design, and texture of the flat sheet all matter. Different types of fabrics may be used for creating flat sheets, and learning about these will allow the shopper to make an informed choice.
One can purchase flat sheets from stores that sell bed linen, from departmental stores, or better still, at reputed online stores such as eBay. Online shopping saves the person trips to the numerous stores, saving fuel and is currently, the most favourite way to shop.
Basic Components That Make a Good Bed
Even though the bed appears to be a single unit, numerous components fit together to comprise a well-made bed. These separate parts include a bed frame, mattress, and bed linens.
Bed Frame
The basic feature is the wooden or metallic bed frame within which the mattress is placed. The bed frame may have a headboard, which gives each unit its unique character, whether it be highly decorative or plain, metal or wood. The footboard is another design feature on some bed frames.
Mattresses
Mattresses are the sleeping surface of the bed frame. People cover their mattress with a fitted sheet and a flat sheet as well. The flat sheet may be tucked away at the sides to give a neat appearance or left hanging loose, according to one's preferences.
Bed Linen
These are important accessories that make a bed attractive and inviting. Fitted and flat sheets, pillow cases, pillow shams, blankets, duvets, throw blankets, and throw pillows all contribute to the convenience, comfort, and style of one's bed.
Types of Fabrics for Flat Sheets
Weight, texture, and appearance of the flat sheet fabrics all play an important role in determining the appearance of the bed and the comfort of its user. Flat sheets may be luxuriously silky, wafer crisp, or super-soft, with each look contributing to the overall room decor. As for the feel of the fabric, users can choose according to preference, with many choosing heavy, warm sheets for winter and autumn and breathable, moisture-wicking, lightweight sheets during summer. The quality and longevity of flat sheets are measured by thread count, which is the number of threads per square inch of material. The higher the count, the better the sheet quality.
Cotton Sateen
This fabric has weave of natural fibres and cotton in a four-threads-over-one-thread weaving method that gives these sheets a soft, silky texture and a lustrous appearance. Light- to medium-weight, these sheets are machine washable. Flat sheets of cotton sateen are ideal for summers and effectively wick away moisture from the body.
Cotton Percale
A close weave and combed yarns of pure cotton or cotton polyester blends create cotton percale, a light, fine, and soft fabric with a crisp texture. The fabric drapes elegantly and does not wrinkle, making it ideal for flat sheets. Ability to wick moisture is amongst this machine-washable fabric's features that make it a favourite choice for sheets.
Cotton Batiste
Cotton batiste is a plain weave fabric made from blends of cotton, polyester, and wool. Soft, breathable, and lightweight, batiste is opaque as it is not subjected to an acid wash during the manufacturing process. Cotton and polyester blends compose Imperial batiste, while plain batiste is derived by blending cotton and wool.
Egyptian Cotton
With a worldwide reputation of being the strongest and most beautiful cotton, Egyptian cotton is a staple cotton grown in the Nile River valley. Egyptian cotton fabrics that have a high thread count are lustrous and of extraordinary quality, and sheets of this fabric generally have a thread count of 200 and above.
Pima Cotton
Made from cotton grown predominantly in Peru, Australia, and the USA, pima cotton is a durable, thick, and highly absorbent superior blend of cotton that is closely comparable with Egyptian cotton. Machine washable, pima cotton sheets usually have a thread count between 200 and 400.
Cotton Seersucker
The fabric is woven to produce a bunched-threads texture, creating a wrinkled, puckered appearance. Soft and breathable, cotton seersucker fabric texture facilitates air circulation to dissipate body heat and wick away moisture, so the fabric remains dry and cool. Flat sheets of cotton seersucker are ideal for use during summer.
Cotton Jersey
Cotton jersey flat sheets are lightweight, breathable and have a good drape. The fabric is extremely soft, luxurious, and stretchy, and is made using cotton or silk blended with synthetic fibres.
Flannel
Derived from cotton, wool, or even synthetic blends, flannel fabrics are soft and loosely woven. Created using the twill weave, parallel diagonal lines are visible on the fabric, which has a fuzzy, napped surface. Flannel flat sheets are fairly heavy, making them ideal for cooler climatic conditions.
Linen
Linen is made from flax fibres and the resulting fabric is sturdy and of medium weight. Linen has a tendency to soften with every wash and wrinkles easily. The fabric should be ironed when damp, which brings out its inherent lustre. Linen flat sheets wick moisture, are hypoallergenic, and adjust to body temperature, providing warmth during winters yet keeping the body cool in warmer temperatures.
Muslin
Muslin is finely woven, tough cotton fabric that takes dyes and paints well. These prints, however, fade over repeated washes and the fabric tends to pill.
Silk
Luxurious and rich to the feel and look, silk fabrics are the ultimate in textiles. The fibres are delicate but extremely strong and silk is measured by momme weight, which is a unit of measurement for silk, and not graded by thread count. A piece of silk fabric 100 yards long and 45 inches wide is used to measure momme weight. The weight of that piece of fabric is the momme weight of silk used in it. The higher the momme weight number, the higher is the quantity of silk used in that weave. Silk sheets may be used to decorate the bedrooms during events that are celebrated at home.
Steps to Making the Bed with Flat Sheets
Spread out the flat sheet over the fitted sheet, so that all the fours sides have enough fabric. Tuck in the flat sheet at the foot of the mattress, and tuck in the fabric on either side of the mattress. Next, make hospital folds with the loose edges of the sheets on the corners near the foot of the bed. For hospital folds, crease the fabric to make a triangular tent and tuck inwards, in a manner that one would use to crease wrapping paper when wrapping a square box. Fold the flat sheet at the head of the mattress is backwards once, and then fold it forward again to form a narrow band. Finally, tuck in the edges of this band.
Washing and Caring for Flat Sheets
In general, all cotton and cotton blended fabrics are machine washable using a mild detergent and lukewarm water, while silks and other dyed fabrics must be dry cleaned. However, following the washing and care instructions on the tag is recommended for best results and the longevity of the flat sheets. All machine washable sheets can be ironed, and damp sheets ironed till they dry have a neat and lustrous appearance.
How to Buy Flat Sheets on eBay
eBay has a vast variety of flat sheets in every type of fabric and for every bed size. A number of top-rated sellers have beautiful flat sheets up for sale or for auction. You can find these listings by typing out the keyword "flat sheets" or other relevant keywords in the search bar. Once the listings appear, browse through and select suitable listings and click on them to get detailed information about the flat sheet. Images with zoom are also available that allow close scrutiny.
If you choose, you can place the selected flat sheets in the shopping cart and review the products once again at your leisure before proceeding to checkout and making the payment. eBay offer numerous payment options, from which you can select the one most appropriate for you. Upon making your purchase, you will likely receive emails regarding the purchases that confirm the order and notify you when payment has been successfully made.
Conclusion
Most households need bed linens of various types in different fabrics and for varied bed sizes. These bed linen sets generally comprise the fitted and flat sheets, pillowcases, and sometimes duvets as well. Most households change their bed linens on a weekly or fortnightly basis. A flat sheet is the top sheet used over the fitted sheet which covers the mattress. Flat sheets are draped over the mattress and tucked in from the sides and at the foot of the bed. At the head of the bed, the flat sheet is folded twice over to form a band, the edges of which are again tucked inwards, giving a neat and compact appearance.
Most homes have several sets of flat sheets in a variety of materials. Flat sheets are available in several cotton blends or even pure cotton or silk. Egyptian cotton, Pima cotton, and silk sheets are soft and luxurious and add a pleasing touch to a home that is decked up to celebrate any event. Other materials include cotton blends such as batiste, percale, sateen, seersucker, Jersey, and muslin. While flat sheets made from cotton blends keep the user cool and comfortable during summer, wicking away moisture from the body, the winter sheets will provide warmth and cosiness on cold nights.