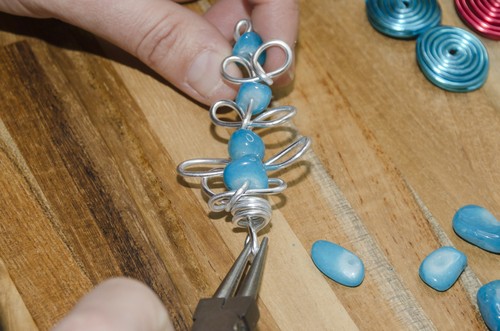 Do-it-yourself bracelets are unique, affordable way to add flair to any outfit. Homemade bracelets allow the wearer to customise the bracelet to fit their unique taste and style. Bracelets are also affordable to make, so they work great as gifts. Homemade bracelets also make great friendship bracelets, since the bracelets can be made to match or complement each other. Many people stack multiple homemade bracelets for an affordable, one-of-a-kind look.
String and beads and the most common material for making bracelets, but thread, cord, and rope are also popular options. Materials for making bracelets are purchased at brick and mortar craft stores, or online using eBay. Unlike brick and mortar stores, eBay has thousands of options for bracelet materials, making it easy to customise a bracelet to any specific style. Before making a bracelet, the buyer must consider the bracelet type as well as the materials needed for making a bracelet.
Types of Do-It-Yourself Bracelets
Before purchasing materials to make a bracelet, it is important to consider the different types of do-it-yourself bracelets that exist. Some bracelets are made solely with string or rope, while others are embellished with beads or charms. Deciding on a type of bracelet should be based on personal preference as well as budget. String bracelets are more affordable since they usually consist mostly of string. While some beads or charms are expensive, there are many affordable options for beaded bracelets as well.
String Bracelets
String bracelets are one of the most popular types of do-it-yourself bracelets, especially for friendship bracelets. The most common type of string bracelets are made with embroidery floss. Multiple colours of string are often used for an individualised look, and the buyer can choose colours to match their style or wardrobe. Many friendship bracelets feature matching string patterns with similar colour combinations. String bracelets are also very affordable and durable. String is often very inexpensive to purchase, and string bracelets easily withstand everyday wear. String bracelets are often tied around the wrist and worn until the bracelet falls off.
Materials Needed for String Bracelets
String, scissors, and a safety pin or tape, are the only materials required to make a string bracelet, making them one of the most affordable types of bracelet to make. Six-strand embroidery floss is recommended for most types of string bracelets. Some people choose to use a measuring tape when making a bracelet, but a simple way to measure a string bracelet without a measuring tape, is to measure the string from the top of the shoulder to the bottom of the fingertips. When the string is braided together, it loses most of the length, which is why it is important to begin with a long enough piece. After choosing the colours of string, the buyer can begin making the bracelet.
How to Make a String Bracelet
The number of threads used on a bracelet will vary based on the type of string bracelet. Most commonly, six to eight threads are used per bracelet. Bracelets with more strings will be thicker than those with less string. After choosing the colours and measuring the string, the string should be tied in a knot at one end and safety pinned or taped to a solid surface. String bracelet types range from simple braids where strings are simply crossed over each other, to more complex designs with zig-zags or stripes. Specific instructions for different string bracelets are often easy to find, and follow, to make the best string bracelet. The design and colours of the bracelet should be chosen to represent the wearer's unique taste and style.
Beaded Bracelets
Another popular type of do-it-yourself bracelet are beaded bracelets. Beaded bracelets are bracelets made with string or thread that are embellished with beads. Beads can be chosen to fit the individual's style, or customised to match a specific outfit.
Materials Needed for Beaded Bracelets
Beading thread is one of the most commonly used types of threads for homemade beaded bracelets due to their durability and strength. A typical beaded bracelet length is 18 cm, but vary based on the wrist size. Typical ankle bracelets are five to seven centimetres longer. When making a bracelet, take the recipient's wrist size into consideration to aid in measuring the size. Beaded bracelets require a clasp to close the bracelet, and are generally made with bead tips and metal clasps.
Aside from thread, the buyer should choose the beads for the bracelet. Some people prefer the beads to be uniform, with the same shape, colour, and size. Others prefer beaded bracelets with multiple colours, sizes, and shapes. Charms are often added to beaded bracelets as well as beads to give personalised flair to the bracelet. Charms can be customised to represent a special milestone or occasion in the recipient's life, such as graduation or a new baby. Choosing the types of beads and charms should rely on the individual's preferences.
How to Make a Beaded Bracelet
After measuring and cutting the bracelet thread, the clasp and bead tip should be knotted to one side of the thread. Putting a dab of craft glue on the knot helps to ensure the knot stays tied. Beads should then be strung onto the bracelet in a specific pattern, or random order based on individual taste. Once the bracelet is filled, the second bead tip and clasp should be tied to the other side. Some people prefer string bracelets adorned with beads in a specific pattern. These types of bracelets are often tied around the wrist similar to string bracelets, or secured with a two-hole button and a loop.
Decide on a Bracelet Closure
After deciding on a type of bracelet, it is important to determine which type of closure for the bracelet. Many string bracelets are simply tied around the wrist, or are hooked using a button clasp. Beaded bracelets are most often hooked with a clasp, since the bracelet is not as durable and cannot withstand constant wear.
Tie Closure
Bracelets with tie closures are simply tied around the wearer's wrist. However, if the bracelet is not large enough to slip over the wrist, it may have to be cut off the wearer's wrist. String bracelets are generally tied closed, since they are durable and can withstand constant wear. When making a tie closure bracelet, no additional materials are required beyond the string or beads.
Button Clasp Closure
Another way to secure string or thread bracelets is by a button clasp closure. Button clasp closures are made by tieing a two-hole button on one side of the bracelet, and a loop on the other side. The bracelet is then secured by placing the button through the loop on the opposite side. Button clasps are an affordable closure option that allows the bracelet to be easily put on or removed. The downside to button clasp closures, is that the bracelet may fall off easily if the loop is too big.
Clasp Closure
Many beaded bracelets require clasp closures tied to the beading thread. Clasp closures are small metal clasps that can be linked together to secure the bracelet. Metal clasps must be purchased, but are usually inexpensive. Like button clasps, metal clasps allow the bracelet to be put on or taken off quickly and easily.
How to Buy Materials for Making a Bracelet on eBay
After deciding on the type of homemade bracelet, the buyer should browse different material options to find materials that fit their personal style. eBay offers a multitude of options, making it easy for the buyer to customise a bracelet from the comfort of their own home.
Keyword Searching on eBay
To begin your search, you can start by searching specific keywords on the eBay home page. To browse different materials, you can start with a broad search, such as 'beads'. If you have a specific type of bracelet in mind, you can search a more specific search, such as 'rope bracelet materials.' When making the bracelet as a gift, eBay makes it easy to customise bracelets for any style. eBay has different beads and charms for different occasions and styles, making it easy to find something for everyone. No matter which type of bracelet you are making, eBay makes it easy to find exactly what you need to make it.
Conclusion
For decades, homemade string bracelets have been the most popular option for friendship bracelets. Friendship bracelets are great gift ideas, that truly show someone how important they are. Unlike many other gifts, friendship bracelets are unique gifts that are made from the heart, and can be personalised to fit any style. Aside from friendship bracelets, string bracelets are worn as casual outfit accessories, and are often stacked to create a young, unique look.
Beaded bracelets are another type of homemade bracelet that makes a great gift or a stylish accessory. Beads and charms are often customised for the individual, featuring a birthstone or initial. Like string bracelets, multiple beaded bracelets are often stacked for a bold fashion accessory. Making a beaded bracelet is often much more affordable than those found it stores, and allows the buyer to design the bracelet for their unique style. Regardless of the type of bracelet, making a bracelet is a fun way to inexpensively personalise anyone's wardrobe.