After all the drinks and socialising on your party night, playing a fun card game is a sure way to keep the night interesting and upbeat. Having an attractive card table can further enhance the playing experience especially if it looks unique. You can play almost any game on a card table including poker, go fish, and other trivia card games. While you can buy antique or pricey specially-made card tables, it is quite easy to build one yourself or just customise one you already have.
Cover it With Coloured Felt
One easy way to decorate a plain card table is to cover it with a piece of felt of your favourite colour. Just measure a good sheet that can cover the whole table and staple it to the bottom of the table, just like upholstering other furniture. Alternatively, you can purchase covers such as for bridge tables which are available in a number of colours from black to navy to silver. If your game room has a theme, you may also cover your card table with a suitable piece that complements the theme.
Use a Glass Top
A glass table top is a simple way to enhance the look of your card table. To create a fun party look, place photographs, cards, and other party-themed images underneath the glass top. This way, your table can really look like an exciting game table. Another idea is to buy a stained glass panel to place on the table. A clear plexiglass sheet is a good alternative to glass since it does not break easily and is lightweight. If you have a folding table or antique folding table though, using a glass top may not be a very good idea.
Decorate or Upholster the Edges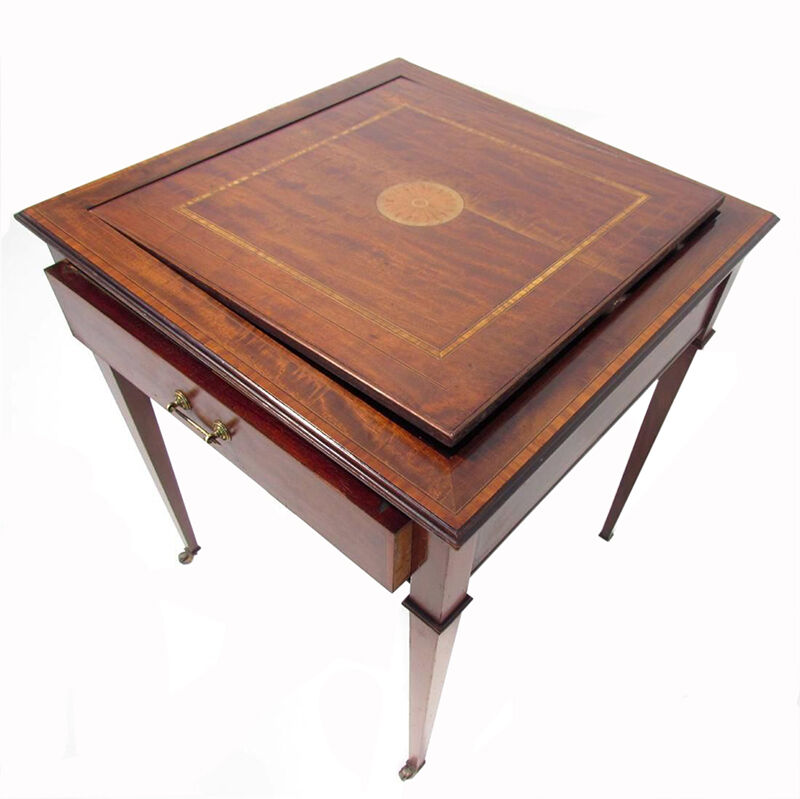 If you have a large, antique card table, upholstering its edges with plush leather is a sure way to turn your party or game night into a classy one. Plus, it is a great way of protecting the wood from scratches. To highlight its antique or vintage value, use gold or silver trim along with the upholstery and you will have a poker table to rival those in the finest casinos. Besides leather, you can decorate the edges with bright, colourful fabric depending on your preference and party company. You can also decorate your card table with ornaments or even a trophy and prizes to make it interesting. Just remember to keep the ornaments to a minimum so as to not disrupt the game.
Use Attractive Chairs

Forego the boring chairs and use attractive ones instead. If you have the budget, get comfortable cushioned chairs with armrests for your poker games. Alternatively, you can use bright coloured plastic chairs or bean bags for players to sit on. When choosing suitable chairs, keep in mind the height and width of the table so players can sit comfortably during the game.