It is very easy to give your entire home a fresh look by simply changing the cushions because you can make them in any design or colour. Chenille cushions are quite soft and nice to touch thanks to the velvety fabric. With some time and the necessary tools, you can make chenille cushions at home.
Gather Your Fabric and Tools

Before starting with the project, buy some chenille fabric or try making your own faux chenille. You also need something to put inside the cushion. You can buy a simple pillow or use the stuffing from any old pillow. If you buy the pillow, you could select from a wide array of materials, including synthetic and natural feathers. As for tools, you need thread, needle, scissors, pins, cloth chalk or old soap for drawing the pattern, measuring tape, and a sewing machine.
Make Your Own Chenille
With flannel fabric you can easily create your own fake chenille and save money. For this, you require four layers of flannel fabric in the same size. Use contrasting fabric for the best visual results. Stack the fabrics with right sides up and then turn the other way round to start marking the lines. It is best if you do it diagonally, from one corner to the opposite one. You can have the lines about a centimetre apart. Sew the marked lines, starting from the middle to avoid the fabric from shifting. Cut through the three upper layers in the middle of the stitches. Afterwards wash and dry the fabric to give it the chenille look.
Sew the Pieces Together
Cut out the pieces for the cushion, leaving some extra centimetres for sewing. Pin the pieces of the cushion together, right sides facing, and sew, leaving a small opening on one side. Use this opening to turn the cushion cover inside out.
Finish the Cushion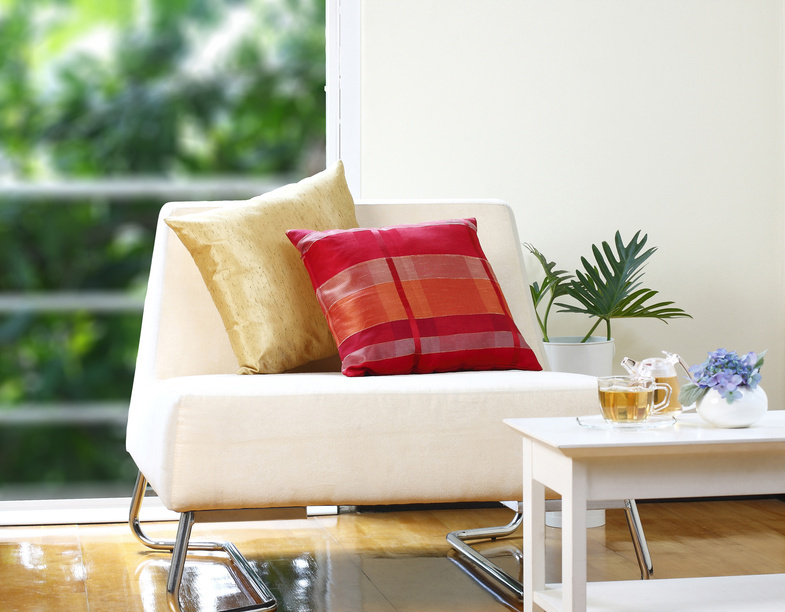 Stuff the cushion with stuffing from any old cushion or use fabric scraps to fill the cushion. Proper cushion stuffing, such as cotton batting, is generally the best option because it feels smoother and results in a more even-looking cushion. However, you could also use a pillow form, a basic pillow that you can fit inside the cover. In this case, make sure you measure the cushion according to the form, so it fits. Finally, stitch the opening by hand and hide the thread.
Chenille Cushion Designs
If you are already comfortable with the basics, you might try adding some appliques to your cushion designs or some ruffle at the edges. Apply them before sewing the two pieces together. You could create quite intricate patterns, although chenille itself is also rather elegant.