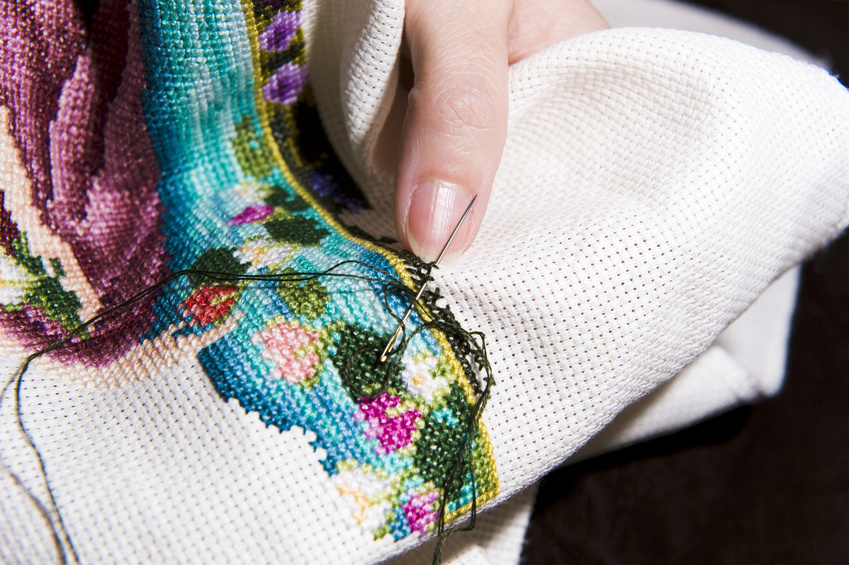 You only need to be able to count and make stitches in order to complete a counted cross stitch pattern from beginning to end. Sometimes seasoned stitchers and even novices want to create their own design suitable for cross stitching. Once you know how to make a cross stitch pattern, you may even want to publish your designs to share with the world.
Purchase Grid Paper and Colouring Pencils
Cross stitch designs contain tiny blocks, each filled with an 'X' indicating where to place a stitch using cross stitch thread. Grid paper also contains blocks and serves as an appropriate template for your design. Unless you intend to make counted cross stitch patterns frequently, you only need a small pack of paper. Use colouring pencils to fill in the blocks once you transfer your image to paper.
Decide What Size to Make Your Pattern

You stitch your pattern on Aida cloth which contains a certain number of squares per inch depending on the cloth size. The cloth size indicates how many squares per inch. The most frequently used size is Aida 14 count cloth mainly because the squares are easier to see, and the cross stitches do not bunch up like smaller stitches could. If you want a larger finished image, choose a small fabric such as 8 or 11 count. Always remember that using a higher number cloth, 18, 22, or 32, makes the image smaller.
Sketch Your Design

Sketch your design freehand using a pencil with an eraser for making changes. Once satisfied with the outline, use your colouring pencils to designate each block to detail the image. As an example, should the image be a calico cat, use a white colouring pencil to colour blocks where the cat's coat is white (face, neck, and paws). Use several shades of grey colouring pencils for the coat, a pinkish-red pencil for the tongue, and yellow or green for the eyes. This is when your image comes to life so keep making changes until you get it just right. In this example, you may use a shade of green under the cat to indicate grass. Add whimsy by working in a butterfly or a bumblebee within swatting distance of the feline.
Buy Aida Cloth and Thread
Since you are not buying a cross stitch kit, you purchase all the materials separately to complete your counted cross stitch pattern. The coloured sections on the grid paper are approximate shades for choosing the actual embroidery thread or floss. Choose a colour that matches as close as possible to your coloured blocks, and buy more thread than necessary.