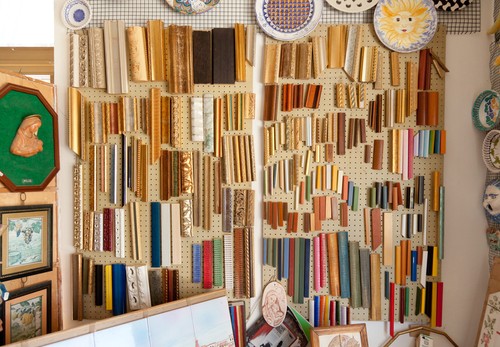 Picture frames are great for displaying memories. Frames are used to hold photographs, art, and posters. Picture frames do not only hold and display pictures, they also give the picture a more finished appearance. Creative picture frames draw the attention of onlookers, and better show off photographs to friends and family. Picture frames make great gifts for a number of occasions including birthdays, anniversaries, graduations, and Valentine's day. While most people purchase their picture frames from a shop, homemade picture frames are a great option to save money or to create personalised frames. Whether for decoration around the house or for gifts, homemade picture frames are a fun and practical project. Choose to start from the beginning using wood or cardboard, or decorate a basic, plain picture frame. Decorating a plain frame is the easiest option, since it still allows for creative design. Whether decorating a plain frame or making one from scratch, purchase accessories to decorate the frame. There are a variety of creative choices available including gluing beads, painting, or decoupage.
Consumers should compare the prices for wood, frames, and other accessories available at different venues including craft shops, department stores, and online at eBay. Choose to decorate a plain frame or purchase accessories to decorate a homemade wooden or cardboard picture frame.
Starting With a Plain Picture Frame
This is the easiest way to create a picture frame, since it does not require any measurements or cutting of any wood. This is a good project for kids, and simply requires adult supervision when working with any small pieces. Keep in mind that the wider the frame, the more space to decorate. Use a picture frame already in possession, or purchase one from the shop or online.
Purchasing Decorative Accessories
Use accessories to decorate either a plain picture frame, a homemade wooden picture frame, or a homemade cardboard picture frame. Make sure to have a proper adhesive for the frame type, which includes wood glue for wooden frames, regular glue for cardboard frames, or super glue for any type of frames. Decoupage is also a popular adhesive that creates a unique look. There are many different artistic choices for decorating frames. Popular decorative choices include gluing beads, painting, or decoupage.
Beads
There are all different types and sizes of beads to glue onto a picture frame. Choose whichever beads fit the style of the frame desired. Apply glue to the picture frame and adhere the beads to the frame at random, or in a pattern. Make sure to allow the beads to dry fully before moving the frame.
Painting
Sometimes an old frame just needs a little colour. Choose to paint with a brush or with a sponge to create different textured looks. Use different colours or create patterns; the options with paint are endless. When the artistic frame is completed, spray it with a clear finish.
Decoupage
Decoupage is used to glue paper-like material to a surface. Use decoupage, or a diluted glue mixture, as the adhesive. Cut out magazine pictures, scraps of tissue paper, photographs, or ribbons. Spread glue on the frame and place the pictures on the frame. Next, use the decoupage or diluted glue mixture to cover the outside of the pictures on the frame. Make sure there are not any pieces hanging off of the frame. The decoupage dries clear and creates a glossy finish. Decoupage is a great way to personalise a frame with pictures and scraps lying around the house.
Making a Wooden Picture Frame
Before starting the project, consider the desired picture frame dimensions. Measure the size of the picture if unsure about its dimensions. The size of the picture determines the inside dimensions of the frame. Remember the that outside length is longer because of the corners. Think about the thickness and width of the frame. An easy way to determine its length is to remember that outside length is twice the width of the board. There are also many videos available on the Internet to demonstrate how to make a wooden picture frame.
Purchase Materials
Select either picture frame moulding, builder's moulding, or lumber to make the frame. Purchase these materials from a variety of places, such as art shops, craft shops, or online. Purchase any other decorative accessories for the frame including paint, buttons, or glitter. Also, purchase any adhesive needed to create and accessorise the frame, such as wood glue, super glue, and decoupage.
Creating the Frame
Use a handsaw to cut the moulding. Cut the moulding into four pieces for each side of the frame. Cut each piece into the desired length of the side, plus twice the width of the wood. Use a mitre box and handsaw to cut each end at a 45-degree angle. The 45-degree angle is important for fitting each piece together. Use a wood adhesive on the angled edges, and use corner clamps to keep the pieces together while they dry completely. Allow the frame to dry overnight. Remove the corner clamps when the frame has dried and sand any of the rough spots on the frame.
Decorating the Frame
Use any paint, accessories, or decoupage to decorate the picture frame. If painting the frame, let the paint dry completely and apply a clear coat of paint or spray to protect against dust. After the paint has dried completely use the wood glue to attach any other decorative pieces to personalise the picture frame.
Finishing Touches
Before moving the frame, make sure all of the glue has dried. Attach any hanging hardware to the back of the frame. Hanging hardware is available in hooks, rings, or kits. Also, insert a piece of glass that fits the dimensions of the picture.
Making a Cardboard Picture Frame
Make a cardboard picture frame using the same steps as the wooden frame. Most people have cardboard lying somewhere around their house. Cardboard frames are even easier to make and are child-friendly. These frames only involve the use of scissors to cut the cardboard, and not a saw. Measure the picture intended for framing. Place the picture on the cardboard and mark where the hole for the frame should be. Mark the hole just slightly smaller than the picture, so the picture does not fall through. Then, cut out the marked out middle, and add some length to give width to the frame. Decorate the frame accordingly. Depending on the colour of the cardboard, some choose to use crayons or markers to decorate the frame. Others decorate by gluing decorative accessories, such as buttons, beads, pictures, or tissue paper. Consider attaching ribbon to the back of the frame with a strong adhesive to hang the picture frame.
How to Buy Materials to Make a Picture Frame on eBay
When you are ready to make any type of picture frame go online to eBay. eBay offers thousands of materials and accessories for making the perfect picture frame. Use a broad search if you are unsure which type of picture frame materials you want to buy. If you have a specific vision in mind for the frame, use specific keywords to describe the item for which you are looking. For example, input "oak picture frame" if you are looking for a plain frame to decorate without building. No matter which type of frame you are looking to build and design, browse through different listings before making a purchase. Pay attention to price and shipping costs of the listed items when making a decision. eBay listings also contain important seller information. Look at the feedback of the seller to determine the seller's reliability. The feedback also contains a score and comments from previous buyers. Each listing has a description of the item and lists the seller's delivery and return policies. If you have any questions about the condition of the item, ask the seller before making any purchases. eBay is a great venue to purchase supplies to make a picture frame since it offers so many options in a wide range of prices.
Conclusion
Framing any piece of art gives it a more finished look. Picture frames are also a great way to decorate a room. Frames are used to hold photographs, art, posters, and more. Although picture frames can easily be purchased at a variety of different shops, some people choose to make their own picture frames. Homemade picture frames add more of a personalised touch in comparison to those purchased at a shop. Homemade picture frames are great gifts for birthdays, anniversaries, graduations, and other occasions. There are a couple of different options from which to choose when making a picture frame. First, some people choose to simply purchase a plain picture frame and decorate it themselves. Others looking for more of a project can make a frame completely from scratch using wood or cardboard. Either way, purchase accessories to decorate the picture frame. There are a lot of options when it comes to designing a picture frame. Popular decorative choices include gluing beads or buttons, painting, or decoupage. Consumers should compare different venues with eBay for wood, frames, and other accessories to create a picture frame. Choose to decorate a plain frame or purchase accessories to decorate a homemade wooden or cardboard picture frame.
eBay offers a huge selection of materials to make picture frames no matter which type or design of frame you wish to create.