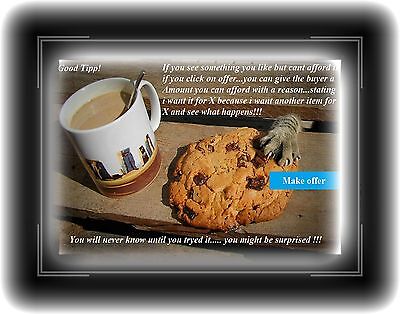 How to make Best offer work for You!
Step 1) Work out your budget and friend you want to buy for...Example...
Suzie £10 Brian £10 and Dad £20...
Now go search for best offers... and send messages to all of them with the price you willing to buy it for not the price they asking for... and see what happens!
Why use it!!
It will save you money..stops you from going over budget!
You can do all your present for the year with best offers now don`t wait for Christmas or for there Birthdays then you know you done for the year.
If you have not tried you will never know if you could have had the item for less or not!
We all struggling for cash send a message to see if he might keep item till pay day!
Nobody will think otherwise if you did not try!!

How to...make offer.
1) Click on Make offer button...it will take you to next page to enter amount!
2) Enter your amount you willing to pay.
3) Enter a short reason why.... say wanting to buy another item from you!
4) Submit your offer... it will then state to review your offer...look it over once you send it its gone...
5) Don`t worry you have 3 time ...that you can make a offer on the same item.
6) whey might come back with a counter offer... which you can accept or decline.
7) Wait there is a time period!
8) Done.