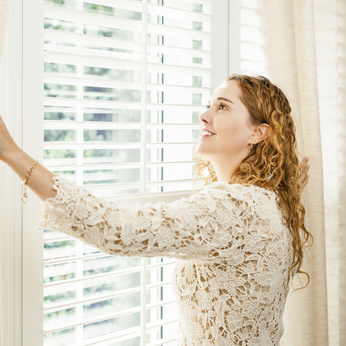 A c urtain is a length of fabric that is designed to control the amount of light that enters a room. It also adds a degree of privacy to the home. Curtains can complement the interior decor and establish an ambiance for the room. Curtains may be opened and closed by hand or controlled with a cord, press-button pad, or remote-controlled device. Curtains are available in various colours, patterns, and designs. They can also be found in a wide array of styles. Curtain sizes differ substantially, so finding the appropriate size for a window depends on both the dimensions of the window and the type of curtain. Therefore, taking proper window measurements is vital to ensuring a good fit. Curtains can be bought from specialist shops and department stores, as well as online at eBay.. When buying curtains it is helpful to consider the various types, the different fabrics, and how to measure for the width and length of the curtains.
Types of Curtains
Before measuring for curtains, it is important to be familiar with the various types. The type of curtain determines how it should be measured.
Cafe Curtains
Cafe curtains are are hung from a tension rod or a strong cord across the centre of the window instead of at the top. Cafe curtains are known for letting in large amounts of sunlight and are often used for kitchen windows. This style of curtain offers limited privacy, as the upper half of the window remains uncovered. Cafe curtains are often used more as a decorative feature than for practicality. They add style and flare to plain windows. Some types of cafe curtain include a header section, or valance, that hangs at the top of the window. Cafe curtains can be held open with tie-backs at each side of the window or left closed. They are ideal for use in casual settings, although some are made of fabrics that are more formal than others. The fabrics range from sheer to opaque and can include lace, velvet, gingham, and cotton. Patterned cafe curtains are popular, with checked designs providing a rustic look, and animals and fruits also featuring. Cafe curtain edges can be straight, ruffled, scalloped, or trimmed.
Floor Length Curtains
Floor length curtains are ideal for large bay or picture windows and can add both elegance and privacy. Thick fabrics such as silk, taffeta, or chenille best complement these types of windows.
Tab Top Curtains
Tab top curtains have plain, bow tie, or button loops at the top that slide over the curtain rod. Bow tie tabs may tie over the curtain rod for a more decorative look. Button tabs may fold over the rods before buttoning on the front of the curtain. Tab top curtains are ideal for use in bedrooms. They are usually plain as opposed to ruffled or embellished for a more casual feel. Tab top curtains come in a wide array of fabrics including cotton twill and polyester cotton blends that provide insulation.
Panel Curtains
Panel curtains are similar to tab top curtains. However, they contain a single or double pocket at the top in which the curtain rod is slid through, rather than using tabs. These curtains are ideal for windows that are not opened regularly.
Types of Curtain Fabric
Curtains are available in a wide array of fabrics, each one having its own benefits. Buyers should choose a fabric that matches the interior of their home and other fabrics in the room. The colour and weight of the fabric can also help to set the mood of the room.
Type of Fabric

Description

Lightweight

Lace,, linen, or sheer cotton

Lets in large amounts of light

Can be layered over heavier fabrics for added style

Best used in rooms other than the bedroom

Patterned

Comes in many different styles: floral,, striped,, plaid, or animal print

Pairs well with minimalistic decor

Ideal for the living room, bedroom, or bathroom

Medium Weight

Cotton or canvas

Keeps out the cold and the light

Pairs well with any home decor style

Heavyweight

Suede, denim,, tapestry, tweed, or velvet

Keeps out maximum light

Keeps the heat in during the winter

Adds texture to a room
Those who enjoy sleeping in should opt for a heavyweight fabric that keeps out the maximum amount of light during the day. Conversely, lightweight fabric allows light to shine in, even when the curtains are closed, and is ideal for those who prefer a well-lit room.
How to Measure Curtains
Windows and curtains come in various shapes and sizes. So, it is important to measure the windows before buying curtains to avoid incorrect sizing. When taking measurements, buyers should always measure to the nearest eighth of an inch. Buyers should also clearly differentiate which measurement is the width and which is the height. The width measurement should be indicated first, followed by the height. Buyers must decide which type of curtain they want to hang at the window. Standard sized curtains all follow a set of measuring guidelines, while floor length and cafe curtains need special consideration during the measuring process.
Standard Curtains
Standard curtains should hang six inches above a window frame, three inches beyond each side, and three inches below the bottom. However, buyers may change the look of the room by experimenting with different dimensions. Hanging the curtains beyond the sides of the window hides the frame successfully, prevents the curtains from blocking out sunlight when opened, and makes the window appear larger. When measuring a standard size window, decide where the curtain rod should be placed. Hanging the curtain rod higher adds visual height to the ceiling and creates a more dramatic look for the window.
Curtain Width
To find the right curtain width, buyers should measure the window frame from side to side, adding three inches to each side. Curtains should contain enough fabric to create fullness so that they drape well, so buyers should multiply the width measurement by two. For a more dramatic look, multiply the measurement by three.
Curtain Length
To find the right curtain length, the window frame should be measured from six inches above the window frame to where the hem of the curtains should rest.
Non-Standard Curtains
Unlike standard curtains,, floor length and cafe curtains require alternative measuring techniques. Floor length curtains should be flush against the floor, with no visible space showing. These curtains typically come in standard sizing, meaning that the height of the curtain rod needs to be adjusted to accommodate any extra length.
Cafe curtains come in pairs with two rods. The top rod typically holds the valance and is designed to be positioned inside the window frame. The lower rod should then be placed halfway down the window or at the height of the bar of a split window. The length of the curtain can be determined by measuring from the placement of the lower rod to the bottom edge of the window opening; the width is determined by measuring the window from side to side and multiplying by two for added fullness of the curtain.
Buying Curtains on eBay
A range of curtains are available to buy on eBay. Buyers simply need to navigate to the appropriate category by using the keyword search. Typing in curtains is likely to render a large number of search results. For a more selective search, buyers should type in more specific key terms, such as tab top curtains.. Alternatively, eBay's advanced search feature allows buyers to narrow down listings by price. Read the item listing carefully for information about the curtain type and fabric. Buying curtains can be tricky when it comes to determining proper measurements. Buyers should communicate clearly with the seller through eBay's "Ask a question" feature if they are unsure about how measurements should be taken.
Once buyers find the curtains that they wish to buy, it is important to always check the seller's feedback rating to see how other buyers have rated their service. If a seller is an eBay Top-rated seller,, that means that they have a good reputation for dealing fairly on eBay.
Conclusion
Curtains can increase privacy while shielding the home's interior from high levels of sunlight. Curtains are available in various types and can be found in a style to match every room of the house. Some curtains provide maximum coverage while others, such as cafe curtains, are used more for decoration than function. Choosing the right curtain fabric is important. Heavyweight fabrics block out large amounts of light, allowing late risers the luxury of sleeping in; medium weight fabrics can block out the cold air to add warmth to the room. Additionally, using proper curtain measurements ensures an optimal amount of light can enter the room. Choosing the right curtain size is a straightforward task once a few quick measurements of the width and length of the area to be covered have been taken. Before measuring, determine how the curtains should look. eBay sellers offer a wide range of curtains for all window types.