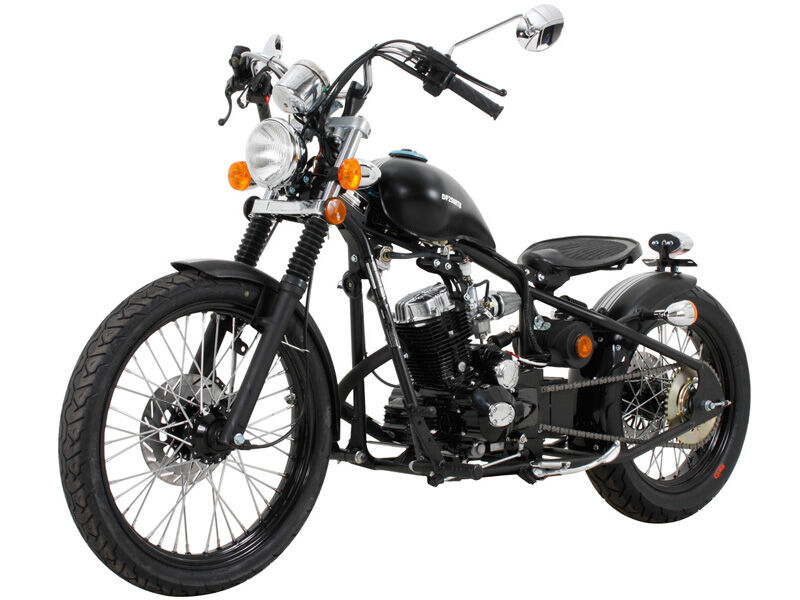 To many riders, owning a motorcycle represents freedom and a sense of individuality. However, a new Kawasaki bike may cease to be exciting when it has the same look and feel of everyone else's. Motorbike riders on a whole tend to always modify and customize their motorcycles shortly after acquiring them. Some modifications are drastic to the point where a professional mechanic is needed, while others keep it simple enough that they can do the modifications themselves.
Most riders start out simple, by removing or replacing detachable items that do not appeal to them. Modifications can focus on parts, accessories or a combination of both, but they almost always include the handlebars, removal of factory stickers, new paint job or decals, exhaust accessories and fender accessories.
Before buyers attempt to transform their Kawasaki motorbikes, they should first acknowledge the type and purpose of their motorcycle. After which, buyers should determine the types of modifications that they are interested in and the types of parts and accessories that are available to complete these upgrades.
Types of Kawasaki Motorbikes
There are approximately five types of Kawasaki motorbikes, and buyers need to know that not all types can get the same modifications and upgrades. The classification is largely based on how the motorcycles are used or the intent that the designer had in mind.
Street Kawasaki Motorbikes
Street motorcycles can be defined as motorcycles that were specifically designed for paved roads. Their tyres are smooth with light treading, and their engines generally range at 125 cc and over. Most of these street motorbikes are able to muster speeds of up to 160 km/h, and many others are capable of speeds exceeding 200 km/h.
Cruiser Kawasaki Motorbikes
The cruiser motorbike design is similar to the American made motorcycles during the 1930s and 60s. The most popular design of that era was the Harley-Davidson motorcycle, but other popular designs at that time included Excelsior-Henderson and Indian. Cruisers are normally constructed with large displacement, V-twin engines, but some designs do include other types of engine configurations and smaller displacements. The cruiser motorbikes also demands less from its rider because their engines are designed for low torque, which means that less shifting is needed for acceleration and control maintenance.
When riding a cruiser motorbike, the rider has to place his feet forward, and his hands upward. This design allows the rider's spine to remain erect, which make a comfortable ride at slow to moderate speeds. However, with long riding periods at high speeds, riders have to pull back on the handlebars to minimise the wind force against their chests, and this may result in fatigue.
Adventure Touring Kawasaki Motorbike
Technically, all motorbikes can be used for touring with the right equipment, but riders who want to excel at covering long distances often select a touring motorbike because that is what they were specially designed for. Similar to most cruisers, touring motorbikes also have large displacement engines. Additionally, these bikes comprise large fuel tanks, which minimises the need for frequent refills, and they also have screens that fares well against wind and other weather conditions.
Touring motorbikes are often equipped with accommodations for passengers and luggage. Some large touring motorbikes are based on cruiser platforms and are generally referred to as "dressers".
Dirt Kawasaki Motorbike
Dirt motorbikes are off-road motorcycles that are designed specifically for off-road riding and events. These motorbikes are generally designed lighter and simpler than road machines, and they often include high ground clearance, long suspension travel, and no fairings as they may cause more harm than good if the bike topples. The wheels use knobby tyres and usually measure approximately 53.5 cm for the front and 46 cm for the back.
ATV Kawasaki Motorbike
ATV or All-Terrain Vehicle motorbikes are also known by a variety of other names, including quad bikes and three-wheelers, based on the number of wheels in the design. These motorbikes are not made in the typical design; they resemble an uncovered golf cart but travel on low pressure tyres with a seat for the rider and handlebars instead of steering wheels. In essence, the rider sits and operates the motorbike similar to a regular cruiser or touring, but the additional wheels on these bikes offers more stability on more rugged terrains.
Popular Areas of Kawasaki Motorbike Modification
When modifications are considered for motorbikes, some riders focus on the sound that their motorbike makes, while others focus on its appearance. However, riders do not have to compromise if they know how to make good modifications and customizations. The addition, modification, and subtraction of certain parts and accessories can accomplish satisfaction in both areas.
Performance Modifications
Performance modifications are often the forefront of motorbike modifications. Good performance changes are those changes that can be done without increasing the size of the engine and still increase gas mileage. For instance, a motorbike running at 150 horsepower but with a 110 horsepower engine can be more efficient than 150 horsepower engine by simply upgrading the exhaust and filter. In essence, the exhaust and filter is always a good place to start for performance upgrades.
Kawasaki Exhaust
The exhaust on a Kawasaki can be responsible for people turning towards the general direction of a traveling bike, even before it comes into view. If the rider is going for the sound factor, he or she may choose to change the muffler to one that allows more sound to be released. However, riders should be considerate with the sound factor or at least find out their local sound restriction laws before making that modification.
An exhaust upgrade does not have to be purely for sound effect, it can also be done for its aesthetic quality, or more importantly, to increase performance. The fact is, if more air is let out of the engine, more air can be returned, thus increasing power.
Kawasaki Air Filter
Changing the Kawasaki motorbike air filter is probably the easiest performance modification. Modifications should be made to include a higher flow air filter, which increases the amount of air, and subsequently re-jet the carburettors to increase the amount of gasoline and thereby increase power.
Kawasaki Engine Parts
Modification to the engine parts may not be as simple as changing the air filter, but it is not much more complicated either. The aim is to upgrade the valves and cams, and possibly adjust the timing mechanisms. These small upgrades can increase the motorbike's horsepower by as much as 10. However, if riders are not familiar with making these upgrades personally, a professional is recommended.
Aesthetic Modifications
Aesthetic modifications are not necessarily important, but they are almost always done. These motorbike upgrades are done to change the appearance of the motorcycle to suit the rider as well as to please onlookers. Aesthetic upgrades often involve a new paint job or the addition of decals. Some other changes include the replacement and adjustments of mirrors, handlebars, fenders, and even gas tank caps.
Kawasaki Paint Job
A new paint job is not always necessary, but if riders want to make their own personal statement, this could be the way to go. Whether it involves flames, dragons, or just a solid bright colour, a new paint job and personalised decals can improve the "look" of their motorbike.
Kawasaki Handlebar
Changing the handlebars is not as drastic as it may sound. Riders simply need to remove the grips, levers, and then the master cylinders from the native handlebars, and then disconnect it from the top triple trees. The new handlebars can then be bolted back together with the same parts, but if the new handlebars differ in size, new cables may become necessary. The new handlebar style selected can change the way a motorbike looks by making it seem more fierce or more laid back.
Kawasaki Gas Tank Caps
Changing the gas tank caps is not that big of a deal, but adding a new chrome or coloured cap can add a little uniformity to the new paint job or a little sparkle to the bike overall.
Kawasaki Fender
Fender modifications can be as simple as bobbing the rear fender, making it shorter. Shorter fenders give a bike a more vintage hot rod look without the rust, dust, and worn parts. Riders can also go in an opposite direction and lengthen the fender instead. A longer rear end can also provide a vintage design similar to an old style "tail dragger" street rod.
Kawasaki Lights and Reflective Items
Some aesthetic modifications can also function as safety tools. These upgrades include anything that makes the bike stand out to other motorists, such as reflectors and additional lights.
Personal Modifications
Many bikers upgrade their motorcycles for the sole purpose of showing it off, but some bikers also do modifications and customisations to make their bikes more personalised and comfortable. These types of modifications often involve the addition, subtraction, or replacement of certain physical components, such as the motorcycle seats and shocks.
Kawasaki Seats
Changing the seat is the simplest way to improve comfort. Most standard motorbike seats are not always as comfortable as the rider would like, and they become more uncomfortable as they become worn. Many companies have taken it upon themselves to make replacement motorbike seats with various padding and upholstery options.
Kawasaki Shocks
Shock modification may vary by rider because modifications to the shocks can mean replacing them with stiffer ones or removing them altogether. Bikers have to consider if they want a softer or a stiffer ride before deciding on new struts or springs for the front or rear suspension. This is another modification that is best done by professionals unless the rider has the knowledge and patience to do it themselves.
How to Buy Kawasaki Motorbike Parts and Accessories on eBay
Buying modification parts and accessories on eBay is pretty simple even if you are not yet sure of the types of parts needed. The first thing to do is perform a search for Kawasaki motorcycle parts and accessories. The result from this search is a large collection because it includes parts and accessories for all types of Kawasaki motorbikes, including scooters and ATVs; therefore, you should select a filter option that only includes the type of motorbike that you own.
Once you have filtered the list of Kawasaki motorcycle parts, you can start to browse for more specific items to complete your upgrades. At this point, you can also narrow down the options further by filtering for motorbike model or the specific type of parts that you are interested in buying. However, if you were already certain of a specific part or accessory, you could also perform a specific search, which includes those keywords. For instance, you could type "Kawasaki ZX filters", and the results would exclude other bike brands, models, and parts. With different keyword searches and various filters engaged, you simply need to select the part or accessory that appeals to your personal taste and budget, and then proceed to make your payment.
Conclusion
Modifying your Kawasaki motorbike can be a simple or daunting task depending on your taste, but with the a little guidance, you can easily make a bold statement without spending too much time and money. The first thing you should do is confirm the type of motorbike that you own and its intended purpose. With that done, you can move on to deciding the type of modifications that inspires you; this could be performance, aesthetic, or comfort modifications, or maybe a combination of all three.
Once you have decided on the purpose of your modifications, you can then decide which parts of the motorbike you want to upgrade to fulfil these purposes. The next stop would then be to find a store with a wide collection of accessories and parts that can be used in your modifications. eBay is a top store choice, not based solely on their wide variety but also due to their compelling search engine and filtering options.