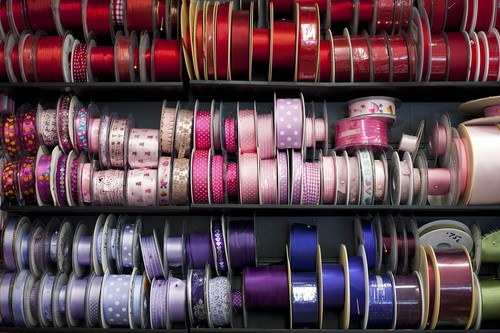 A ribbon is a long and narrow strip of fabric that can be used for decoration, mainly in the form of bows, or in order to tie something, especially when wrapping presents. The ribbon can be arranged in any way, with only the dressmaker's or decorator's imagination as the limit. Therefore, ribbons can be used on virtually anything, from dresses and hats to blankets and curtains. The design of a ribbon generally has a romantic overtone and is therefore favoured by women, and ribbons are also often used in home decoration, especially in young girls' bedrooms. Ribbon is also often used for various wedding decorations.
Ribbon fabric can be bought from high street fabric shops, although a wide choice is also available on online auction sites, such as eBay. Ribbon fabric is produced in an array of widths and colours, and everyone can find a suitable type of fabric. After the fabric is bought, it is worth delving into the many ways to organise and store the ribbon material, in order to find the most best method for keeping it neat and easily accessible when needed.
Organising Ribbon
Ribbon can be organised in several different ways, according to personal preferences. The more spools of different ribbons there are, the more systemising they require. The appearance of the ribbons is most commonly used for categorising them. Therefore, ribbons can be organised in terms of their colours, patterns, length, or widths. Another way of organising ribbons is to sort them by material or even by occasions on which they may be used.
Organising Ribbon by Colour
Organising the spools of ribbon by their colours is one of the easiest ways to categorise them. All the different tones of green or red, for example, can be gathered into one group so that finding the correct shade or tone is a simple task to perform.
Organising Ribbon by Pattern
Although most ribbons are monochrome, some ribbons are also decorated with patterns, such as hearts, tartan, or polka dots. Striped and checked versions are also available. One pattern can be used on many different colour bases, and the patterns themselves may also come in different colours. It may not be convenient or useful to organise such ribbons by colour, because of this.
Organising Ribbon by Width
A ribbon can be quite narrow or wide, depending on its area of use. The narrowest ribbons are less than 3 mm wide, while the widest ribbons measure more than 24 mm in width. The common ribbon widths between these two extremes are included in the following chart.
| Ribbon Width (mm) | Common Materials |
| --- | --- |
| Less than 3 | Satin, grosgrain |
| 3 | Unwired chiffon, satin, polyester, organza |
| 4-5 | Satin, polyester, silk |
| 6 | Unwired chiffon, satin, grosgrain, polyester, organza |
| 7-11 | Unwired chiffon, satin, polyester, grosgrain, organza, velvet |
| 12 | Satin, polyester, organza |
| 13-17 | Satin, grosgrain, polyester, organza, velvet |
| 18 | Satin |
| 19-23 | Grosgrain, satin, organza |
| 24 | Satin, polyester, grosgrain, organza |
| More than 24 | Satin, organza, wire edged, velvet |
| 100 and above (extra wide) | Wired chiffon, organza, satin |
Different materials are popular for different ribbon widths. The flexibility and stiffness of the material largely determine the available widths. However, this list is only a guide, as additional varieties exist.
Organising Ribbon by Length
Ribbon lengths can vary a great deal, from small leftover pieces to whole spools of ribbon. Therefore, some people prefer to keep the spools in one place and the shorter pieces in another.
Organising Ribbon by Material
Ribbons can be made of a variety of materials, and some people prefer to organise their ribbons by the material, although the exact composition of the material may not always be known. Ribbons can be made of either natural or synthetic materials. Natural ribbon materials include silk, glossy and smooth silk-based satin, and cotton. Synthetic ribbon materials are generally made of resin-based polyester.
There are also many fabrics that can be either synthetic or natural. Stiff and transparent organza can be made of either synthetic yarn or natural silk. Grosgrain, a heavy and ribbed fabric used for ribbons, can also be either silk or rayon-based. Viscose, the main component of rayon, is generated when treating cellulose, and is considered a synthetic fibre because of its thorough processing. Chiffon also borders between natural and synthetic, as this transparent and light fabric can be made of either silk or nylon. Various soft and luxurious materials we identify as velvet can consist of cotton, silk or synthetic nylon.
The advantage of organising the ribbons by material is the ease of finding the proper material when using ribbon for decorating a dress, for instance. However, if the type of material used in the sewing process does not play a significant role, categorising the ribbons by material may be unnecessary.
Organising Ribbon by Occasion
Organising ribbons by occasion is similar to organising them by colour and pattern. However, organising by occasion can lead one to collect more different colours and patterns together. For example, if the colour-based categorisation fits all the greens into one category, then the occasion-based organising may separate the greens by saving the lighter tones for Easter and the deeper greens for Christmas. If the ribbons are organised by occasion, it is easy to find the right ribbon to wrap Valentine's Day or Christmas presents or to decorate for Easter or St. Patrick's Day. Some people may also have special ribbons that they use for packing their children's presents. Organising ribbons by occasion is useful if the ribbons are commonly used for holidays and celebrations.
Storing Ribbon
Ribbon is sold in spools, or in the form of loose pieces, depending on the length. Ribbon can be also stored in these two ways. Spools generally take up more space than loose ribbons, but they are useful for storing longer pieces.
Storing Ribbon in Spools
Spools are cylinders on which the ribbon is coiled. When buying lengthy ribbons, they are usually arranged on spools that help to keep the ribbon neat and easily accessible. However, if the ends are not secured properly, the ribbon may start to uncurl and tangle. Therefore, the ends should be secured with a straight pin or tape. The spools can be kept in a drawer or on a pegboard that has hooks for each one of the spools. Paper towel holders can also be used for storing the spools.
Storing Ribbon Loosely
Shorter pieces of ribbon may be sold individually. In order to prevent them from becoming tangled, they should be looped, and then the loops should be secured. Plastic clothes pegs are some of the best devices for securing loose ribbon, because they leave no marks on the ribbon and also do not rust as other pegs may do. Bulldog clips can also be used to hold loose ribbons together, although these may rust. Loose ribbons can also be tied into knots or arranged into boxes that have enough slots for all the different ribbons.
Buying Ribbon on eBay
If you are looking for ribbon on eBay, there are several ways to word your search terms. You can start by looking for the perfect ribbon by the colour, pattern, material, or width, depending on your needs. After you have performed the first search, you are presented with a list of search results that you can further narrow down by price and auction time. For more inspiration, you may also click on related searches to see related results. If you have a very specific type of ribbon in mind and know the characteristics you require, try to include this information in your first search.
You can buy single spools of ribbon or acquire bags of mixed ribbon that allow for many surprises. These bags contain many different colours, lengths, widths, and patterns, but you may not necessarily know the exact contents of such a package and whether the piece of ribbon that you specifically require is included. In order to get a better picture of a mixed ribbon selection, always browse the photos in the item listing and ask the seller for more details if necessary. Other things you may enquire about include payment methods, refunds, exchanges, and delivery options.
Conclusion
Ribbon is a long and narrow fabric that is used for sewing decorations and wrapping presents. The number of ways that ribbon can be used is endless, and it is applied to various items, including hats, blankets, and wedding decorations. Many people have large quantities of ribbon in their homes, and in order to find the necessary piece at the right time, the ribbon should be organised and stored neatly.
The best way to categorise and store types of ribbon at home depends on the needs of the user. Besides the obvious categorising by colour and pattern, ribbon can also be organised by its material, length, width, and the occasions for which it is commonly used. Sorting the ribbon by occasion is especially useful when there are traditions of decorating the home with ribbons for different holidays and events.
Once the categories for the ribbon have been chosen, the ribbon should be secured, so it does not tangle. Ribbons are often coiled on cylinders called spools. When storing the ribbon in spools, the ends should be firmly attached in order to keep them from uncurling. The spools can be stored in a drawer, on a pegboard, or stacked on a paper towel holder. Shorter pieces of ribbon are usually loose, but even these can be arranged in a more compact form to avoid tangling. Loose ribbon should be arranged into loops and then secured firmly. If the ribbons are organised and stored properly, it is easy to find the necessary piece when necessary.