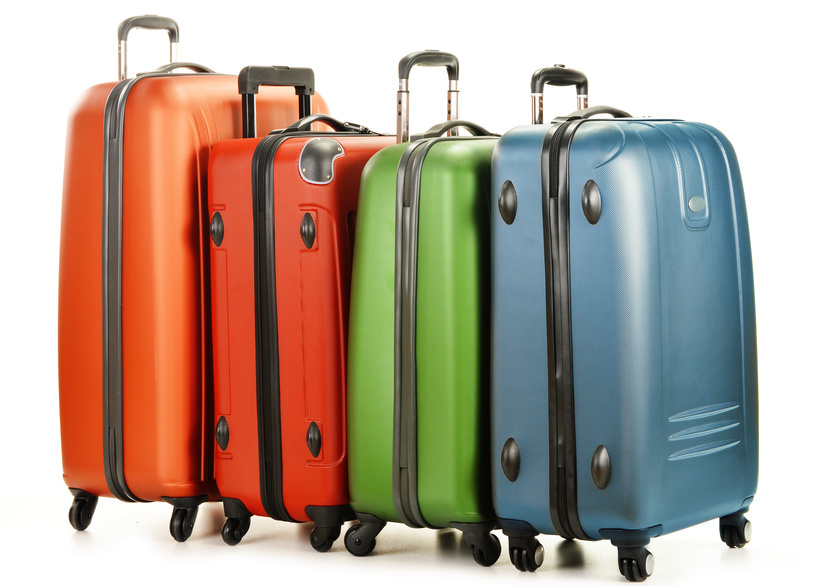 The most important factor in any trip, no matter how long or short, is proper planning. Without a solid plan to follow, any trip can fast become a nightmare experience. When planning a short trip, once the where and when are settled, the next consideration is what to bring. Preparing in advance means less chance of forgetting something essential or bringing along unnecessary items.
To successfully pack for a short trip, travellers need to consider several things. The type of trip and the weather at the destination have the most influence on what to pack. Depending on the mode of transportation, there may be size restrictions on luggage, another consideration for travellers. The vast majority of travellers bring along a fair amount of unnecessary items, which not only takes up valuable space, but creates more work for the traveller. However, this can be avoided by making a list of the essentials and sticking to it. Knowing the best way to pack a suitcase or bag is as important as knowing what to pack. With a few tips on packing, travellers should be on their way to enjoying their trip, no matter how short it is.
Consider What is Needed for a Short Trip
While there are essential items, such as medication and toiletries, that every traveller needs, many of the other items needed for a trip depend on the destination and the activities of the traveller at the destination. After identifying the basic items that are essential for any trip, travellers should choose other items according to the type of trip planned.
Packing Basics for a Short Trip
Every traveller needs to pack a sufficient number of undergarments, something comfortable to sleep in, and everyday toiletries such as toothpaste and toothbrush, deodourant, and products for showering. An adequate supply of any prescription medications is also a necessity, and travellers may want to pack extra in the event of a travel delay. A cell phone charger is a must, and a GPS if driving is part of the itinerary. Money and credit or debit cards, travel documents such as passports and visas, photo identification, and a list of emergency numbers round out the list of essential items that all travellers should have on hand.
Pack According to the Type of Trip
Weather and activities dictate the rest of items needed on a short trip. The chart below gives suggestions as to what to pack based on a few types of popular trips.
| Type of Trip | Recommended Items |
| --- | --- |
| Beach | Sandals or flip flops, sunglasses, hat, swimwear and cover up, sunscreen, lip balm, towel, and a small bag for carrying these items to the beach |
| City | Comfortable, sturdy walking shoes, nice outfit for going out, layers for unexpected weather changes, small day bag to carry essentials on outings |
| Road Trip | Comfortable travel clothes, nice outfit for going out, spare set of car keys, emergency road kit, snacks and drinks, trash bag, paper towels, GPS, maps for backup |
| Ski Trip | Ski jacket, ski socks, ski pants, gloves and goggles, snow boots, long underwear, sweater, extra socks, an outfit to wear when not skiing, and skis and poles or snowboard if bringing own |
These essential items should be adequate for most travellers on a short trip. While there are plenty of other items that might be useful, it is important to keep in mind that extra luggage can add to the stress of travelling.
Make a Packing List
The best way to tackle packing for a short trip is to make a list of everything that is needed or wanted. The sooner the list is started, the more time travellers have to make necessary changes based on plans and weather. The list can then be used as an inventory when travelling to ensure nothing is left behind, or worse, for making a claim in the event a suitcase is lost along the way. When making a packing list, travellers need to base decisions on weather, length of stay, and the size and type of luggage being used.
Check the Weather Forecast for the Destination
Although weather forecasts are not always accurate, it is nevertheless a good idea to get a general idea of what types of weather to expect on the trip before packing. Travellers can decide whether to bring a heavy coat, light jacket, umbrella, or sun hat based on the expected weather pattern. A quick check a day or two before leaving ensures a traveller is prepared come rain or shine.
Pack Only Enough for the Length of Stay
Short trips usually mean travel time needs to be kept to a minimum, and taking along as little as possible helps reduce the amount of time needed to get to a destination. Consider the exact number of days and nights the trip is to last, and bring only enough clothing and toiletries for the duration. The only exception is undergarments. It is a good idea to bring an extra set of underthings in case the return trip is delayed and laundry service is not available. Savvy travellers pack clothing items that can mixed and matched, and often bring fewer bottoms than tops, since it is possible to wear pants or a skirt multiple times before they need laundering. For short trips, it is a good idea to bring travel size toiletries to save on space.
Choose a Suitcase or Bag for a Short Trip
Most short trips should require only a carry-on size suitcase or medium duffle. This is especially beneficial when flying, as it saves the expense and hassle of checking a bag. Travellers taking trips that require an excess of bulky clothing, such as ski trips, may need something larger. Commit to as small a bag as possible and take only what fits in it, provided all the essentials make it in. The lighter the suitcase or bag is, the lighter the load on the traveller.
Tips for Smart Packing
There are numerous tricks and tips travellers can take advantage of when trying to pack for a short trip. Try the following tactics to reduce the amount of stuff and the size of the suitcase needed when travelling.
Make it a challenge to pack less. Set out everything that is needed, and then put away at least five items.
Lightweight travel pants and other travel clothing items resist wrinkles, dry quickly, and take up little space.
Cram underwear, socks, and other small items inside shoes before packing to use all available space.
Roll clothes rather than folding them to save space and reduce wrinkling.
Pack travel size toiletries.
Find Travel Necessities and Accessories on eBay
Travellers headed off on a short trip can find everything they need on eBay. A simple search can yield thousands of results for a single item, giving shoppers the advantage of competition and selection when purchasing. Benefits such as free shipping, offered by a number of sellers, local pick up, and seller feedback make eBay a first-rate choice for online shopping.
To find travel necessities and accessories on eBay, simply type the name of the item needed into the search box, found on any eBay page. Travellers looking for travel clothing can type in "men's travel pants" to return a page of all the listings associated with those key words. A shopper who needs new luggage can do a search for "carry-on suitcase" to find all the listings for carry-on luggage.
eBay lets buyers get to know a seller before making a transaction through the seller rating and feedback system. Buyers can use a seller's rating to decide whether to purchase from them or not, and can read through the comments of other eBay purchasers regarding their transactions with a seller. Sellers with a great deal of positive feedback from previous buyers are likely to continue to provide good service and quality merchandise, so they are your best bet when choosing amongst multiple sellers. Once a transaction is complete, the buyer is given the opportunity to rate the seller and leave feedback, and the seller is able to do the same for the buyer.
Conclusion
Short trips can be fun if travellers avoid spending too much time and effort packing and too much energy dragging along unnecessary items. Whether a business trip, a trip to the beach, or a weekend road trip, knowing how to pack for a short trip makes travel easier and more enjoyable. Sticking to the necessities means a smaller, lighter suitcase and fewer items to keep track of while travelling. By paying attention to weather forecasts and taking into account the specific activities one plans to take part in, travellers can pack only the necessary items and avoid bringing along extra stuff.
Knowing how to pack a suitcase is as important as knowing what to pack, and there are numerous tips and specialised items designed to making packing and travelling more convenient. With the right strategies for packing, travellers can bring exactly what is needed, pack everything in a small suitcase or bag, and ensure there is ample room left over for those treasured souvenirs.