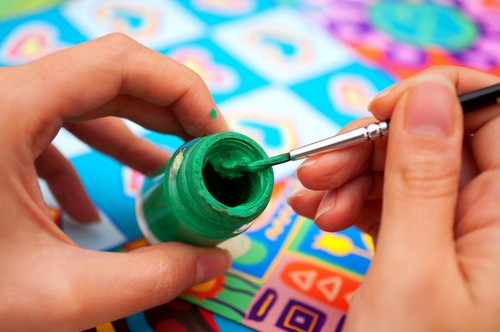 Gouache is a type of paint similar to watercolours, and is used with water. Gouache is a considerably heavier paint than watercolours and is a popular choice amongst both casual and professional artists, and a common choice for posters, illustrations and comics. Gouache paint and accessories can be found on eBay.
The Characteristics of Gouache Paint
Gouache paint is a popular choice among many artists, including illustrators and comic book artists. For some, gouache is a brief and interesting diversion from their usual medium, be it watercolours or acrylic, while for others it is their main medium, and they become familiar with the unique properties of Gouache. There are a few key things to remember when painting with gouache;
Gouache dries at a different 'value'. This means that darker shades of the paint dry lighter, and lighter shades of the paint dry darker. It can be important to bear this in mind to achieve the desired final effect when painting with gouache, and can make painting over multiple sessions a challenging prospect.
This kind of paint also dries very quickly. The rapid drying time of gouache makes it easier to store after painting, but may be frustrating for painters used to paints which dry more slowly, such as oil paint.
Gouache is often referred to as 'opaque watercolour'. Gouache can be considered a kind of watercolour paint, but is a much heavier paint than traditional transparent watercolours, offering a higher pigment to water ratio. Gouache paint offers a matte, suede like finish, which many find attractive.
An interesting characteristic of gouache paint is that it remains 'live' for a very long time after trying, potentially for years, unless it has been 'fixed' somehow. This means that paint can be reactivated with the application of water, usually via a wet paintbrush or wet paint, and allows the wet paint to mix with the dry. Many painters who use gouache incorporate this into their painting technique.
Like many kinds of paint, gouache can crack if applied to thickly.
Mixing Gouache with water creates a softer tone, whereas mixing it with white paint can create starker, bolder colours.
Gouache paint is available in wide range of colours and is available to purchase in containers such as jars, tubes and bottles.
Painting Surfaces
There is a wide array of painting surfaces and supports available on eBay, and each are suitable for different painters. The right painting surface for a painter depends largely on how they paint, and how they want to display their work. There are a few commonly used surfaces with gouache paint. Painters often apply gesso themselves.
Gessoed and Un-Gessoed Surfaces
Many types of surfaces are available as either gessoed or ungessoed versions.
Gesso is a white paint mixture, often made with combinations of chalk, gypsum or other materials. The gesso is a primer used for many kinds of paint, and can often produce better results than working on painting surfaces. Paints such as oil paints require a primer of some kind to be used.
Gessoed surfaces come with this primer already in place, which can make painting easier. Some painters prefer this, while other find the surface can be too slick for their work.
Un-gessoed surfaces come without this treatment, and the painter will need to prime the surface for their work themselves.
Illustration Board
Illustration boards are a popular choice for use the gouache paint, as well as with acrylics. They are available in different colours, and in gessoed and un-gessoed forms. Different weights of illustration board can sometimes be found to have a slightly different texture, which can affect some painters. Illustration boards should be taped down when being used with gouache paint, as the surface can warp when it becomes wet. Un-gessoed illustration boards can sometimes offer the paint a softer appearance.
Masonite
Masonite is often used for acrylic and oil painting, but is also a popular choice for gouache. Masonite is a strong solid material that has two sides, a rough side and a smooth side. The smooth side is most commonly used for painting, though sometimes those using very thick paints may use the rough side. Masonite is often a less porous surface than other materials, and absorbs less of the paint, meaning it can take painters some practice to get used to the way paint behaves on masonite. Some consider gessoed masonite to have a particularly slick surface, which can have an impact on painting.
Paper
Paper, used with a watercolour pad, block or other support, is another possibility for use with gouache. Paper with a weight of at least 140 is recommended for use with most paints. Specifically made watercolour paper is also available.
Paintbrushes and Accessories
There are numerous types of paintbrushes available which are suitable for different techniques, paints and surfaces.
Paintbrush Material
Soft hair brushes have bristles made of animal hair. These can include ox hair, as well as rare types such as squirrel and badger hair. A cheaper version of this kind of brush is camel hair brushes, which are often used. These brushes are generally used with oil based paints, though are sometimes used with gouache and other water based paints.
Hog bristle brushes are similar to soft hair, except they are harder and stiffer.
Synthetic brushes, commonly made of nylon, are among the most widely available type of paint brush. These brushes are particularly popular amongst those who paint with watercolours and gouache, and are considered to work well with these paints. It is often recommended that cheaper brushes be used when a painter is practicing with a new medium such as gouache.
Paintbrush End Types
There are a number of different types of paint brush ends, which are suited for different uses. Most painters will maintain a versatile collection of a number of different brush types, and there are a few key types that are commonly used with gouache.
Some painters prefer to varnish their work after it is completed. A great deal of this comes down to personal preference. Some do not like the glossy finish that varnish leaves and a work, and varnish can also sometimes alter the shades of some gouache paint. On the other hand, varnish protects a completed work and can give the colours of the work a revitalised, more colourful appearance.
A palette is often considered a necessary accessory to painting with gouache. These allow for an easier mixing of the different paints in order to create desired shades and colour. Some painters also find it easier to paint using an easel.
Painting Techniques
There are a few key techniques which are commonly recommended when painting with gouache.
Start with red, blue, yellow, white and black gouache paints. These are the primary colours required to make any others. After some time spent painting adding other commonly used paints to this set can save time that would otherwise be spent mixing it.
Always test the thickness of the paint before use, adding more water and paint until the desired consistency is achieved.
Wait until previously painted surfaces are dry before adding more, and remember that wet paint will re activate dry gouache paint, causing it to mix and run. Many more experienced painters include this in their technique.
If a work is to be varnished, it is sometimes recommended to varnish each colour at a time, to prevent different colours mixing and running. It is highly recommended that a clean brush be used for varnishing, as brushes may hold colour.
How to Buy Gouache Paint on eBay
eBay offers a wide variety of gouache paints and accessories, including brushes and painting surfaces. The full listing of available items can be found under Painting Supplies, in the Painting, Drawing & Art section. These can be found under Crafts. Items can be arranged by conditions such as price, condition and distance to seller. Auction and Buy it Now buying options are also available, offering flexibility in how paint can be purchased.
Prominent information, such as the colour of the paint, will generally be displayed prominently in the item listing, making it easy to quickly identify if a particular item meets and specific requirements. Further information about an item can be found on the item page, along with information about the seller including feedback ratings and item reviews, allowing a purchase to be made with confidence. It is also possible to ask the seller a question about the item on this page.
If a specific paint, brush or accessory is required, it may be easier and more effective to use the search function available at the top of every page. More information of effective use of the search function is available on the Search Tips page.
Conclusion
Gouache is a popular paint, known for its thick nature and smooth finish. Whether a painter is experienced with the medium, or is just beginning to experiment with gouache, a wide range of suitable paints and accessories can be found on eBay.