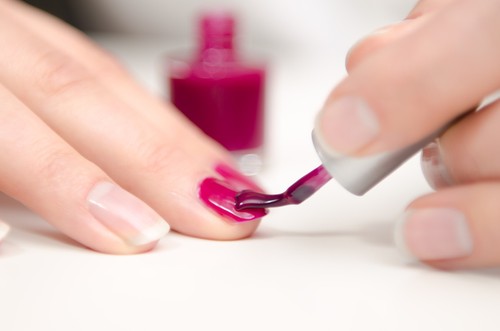 Whether you choose pastels or neon hues, painting your nails is a great way to add a special touch to any outfit. Long gone are the days when people were limited to just a small range of colours of nail polish. A glittery nail polish can accentuate a dress for a club, and neutral colours are a sophisticated choice for business wear.
Although some women choose to have their nails painted professionally, many prefer to paint their own nails in the comfort of their home. You can create a variety of designs easily, including the traditional French manicure, stripes, and intricate patterns. A few simple techniques and supplies can ensure that the final result is clean and neat, and that the process of painting nails is as pleasurable at home as it is at the salon. Nail polish and accessories are available from nail salons, department stores, chemists, and online from eBay.
Essential Supplies for Painting Nails
Before painting your nails you need to gather the essential supplies. You need nail polish, a nail file, and other manicuring equipment, as well as a nail polish remover.
Nail Polish
There are several types of nail polish to choose from. Each has its own advantages, and in many cases the right polish is a matter of personal preference. The first factor to consider is the finish of the nail polish. In addition to the traditional glossy finish, many manufacturers now offer a matte finish for an understated appearance. Nail polish with a pearl finish has a faint shimmer, whereas metallic and glitter finishes have a pronounced shimmer. Shoppers can choose from quick-drying polish, long-lasting polish,, and a special growth-enhancing polish that promotes healthy nails. Quick-drying polish is the most convenient, but may chip more easily than long-lasting polish, and may require more than one coat.
Base Coats and Top Coats
In addition to the colour itself, buyers may wish to purchase base coats and top coats, which are applied before and after the actual polish. They work to protect the nail and to keep the polish intact for longer. A base coat may also have components that work to strengthen the nail to prevent it from breaking, which is beneficial for those with brittle nails.
Manicure Tools
Investing in some manicure tools makes it easy to care for your nails at home. A manicure kit should include nail scissors, cuticle nippers, and a file. A kit may also include an orange stick used to push back cuticles, which further manages the appearance of the nails. Finally, a nail buffer leaves nails smooth and shiny.
Nail Polish Remover
Nail polish remover is essential for taking off old polish and for a quick clean-up after painting nails. Nail polish remover comes in two forms: acetone-based and non-acetone. Acetone nail polish remover is strong and works quickly, but it is not always advisable for use on false nails because the acetone can dissolve the bonds that hold the nails in place. Non-acetone nail polish remover is gentler, but works more slowly. Nail polish remover is typically used with cotton wool balls, a make-up sponge, or cotton buds.
Preparing to Paint Your Nails
Before applying a fresh layer of nail polish, remove any old polish. Then, trim the nails to the desired length and file them into the preferred shape. When filing, move in only in one direction, rather than a see-saw motion: start at the edges and move towards the centre of the tip of the nail. Next, soak the nails in warm soapy water for a few minutes. Dry the hands and apply a cuticle treatment. This softens the cuticles so they can be cut, trimmed, or pushed back, as required. You can also apply an exfoliator or a moisturising hand lotion. Gently wipe the nails with a damp cloth to remove any residue that can prevent the nail polish from adhering to the nail. As an option, apply a clear base coat to the nails to provide a smooth surface to paint on. This can also prevent the nail polish from staining the nails.
Designs for Painting Your Nails
After allowing the base coat to dry completely, chose a design to use to paint the nails. There are many to choose from, including single colour, french manicure, and decorative designs.
Single Colour Nail Designs
For nails with a single colour, the easiest approach is a three stroke method. Dab some nail polish at the base of the nail, slightly above the cuticle. Push backwards slightly to coat the nail near to the base, then swipe towards to the tip of the nail in one smooth stroke. Lift the brush and return to the left at the base of the nail. Swipe the brush again to coat the left edge of the nail. Repeat on the right side and allow the polish to dry before applying another coat.
French Manicure
The French manicure is a timeless, sophisticated choice for painted nails. It consists of a pink, nude, or beige polish on the body of the nail, tipped with white. A French manicure takes more time, and in many cases it is easier to invest in a kit so that you can achieve perfectly shaped tips. A kit includes adhesive pads that attach to the nail to separate the two parts of the nail for easy painting. Those who feel confident in their nail painting skills may be able to accomplish the effect freehand.
In either case, apply a coat of nail polish on top of a clear base coat. Only one coat of nail polish is necessary. After it is dry, add the white tip, which should only cover the part of the nail that extends beyond the skin. When painting the tip freehand, apply the white polish in one smooth stroke from one side of the nail to the other. Another way to create the white tips is to use a white nail pen. After the polish is dry, apply a top coat.
Variations on the French Manicure
The French manicure has moved in and out of fashion, and now there are several ways to vary this classic design. Consider choosing swapping the colours, for example, using a white body with pink tips, or even using a different colour: for a bold statement, try black or red. You can even experiment with where the different colours meet. For a straight line, consider using tape instead of the adhesives found in a French manicure kit.
You can also abandon the white nail polish completely and try a monochromatic look by using a matte polish and a glossy one of the same colour: black would create a stunning look. Apply the matte polish at the body of the nail and use the glossy polish for the tips. Alternatively, choose two shades of the same colour, such as a pastel and a jewel tone.
Decorative Designs for Nails
For a bolder fashion statement that goes beyond a solid colour or a French manicure, apply stripes, splatters, gradients, or other patterns. In most cases, these looks require nothing more than tape or a straw, in addition to the nail supplies.
Striped Nail Designs
To achieve a striped look for nails, apply a base layer of a light coloured polish and allow it to dry. Then, apply thin strips of tape across the nail at any preferred angle. Apply a coat of darker polish over the top and allow the nail to dry completely before removing the tape.
Splattered Nail Designs
Splatters are messier than most other methods of painting your nails, so plan accordingly. A disposable paper or plastic plate serves as a palette, and is a good way to control any mess. When applying the splatters, you can also wrap your fingers in tape to make cleaning up easier. In addition to the nail polish and tape, you need a thin straw cut in half.
Start by painting the nail white or another light colour and allowing it to dry. Pour a small amount of two to three other colours onto the disposable plate. Dip the straw into one of the colours and hold it for a few moments to give it time to coat the opening. Hold your nail over the plate and position the straw several centimetres above the nail, then blow into the straw, making a "two" sound. Repeat with the other nails and allow the colour to dry. Repeat with the other nail polish colours, then use a cotton bud dipped in nail polish remover to tidy the cuticles, if necessary.
Gradient Nail Designs
To create a gradient effect, use a make-up sponge and chose three or four different shades of the same colour. After applying the clear base coat, add a layer of the lightest colour polish. Then apply the paint directly onto the sponge, creating stripes of colour. Dab the sponge on the nail, gently rubbing it up and down to help blend the colours more effectively. You can add a layer of clear glitter, but this is optional. Seal the nail with a clear top coat.
Other Nail Designs
There are a number of ways to create fun nail art. Nail stamps are an easy way to apply patterns and pieces of art to nails, but you can also create many effects with nail art brushes and dotting tools.. Tape and toothpicks can be effective and affordable alternatives. Consider a combination of chevrons, stripes, and dots, or go for music notes, flowers, or anything that interests you.
Tidying Painted Nails
After you have finished painting your nails, there may a few messy spots that need to be tidied. A paint brush, make-up brush, or cotton bud can be used with some pure acetone or an acetone-based nail polish remover. Dip the brush or cotton bud in the solvent and trace around the edges of the nail gently. This can be done before or after the top coat is applied. Finally, apply some cuticle oil because acetone can have a drying effect on the nails.
Buying Nail Polish and Nail Supplies on eBay
eBay offers buyers the convenience of a large selection of products, so you can always find exactly what you are looking for. Start by entering a keyword in the search box on the home page, such as "professional manicure set&" or "purple quick-dry nail polish&". The results page displays all of the items that match your query. To pinpoint what you are looking for more precisely, filter the results by category. You can also use eBay's advanced search function. Learn more about how to get the most out of the advanced search by visiting the eBay Help Centre..
For convenience, consider the delivery options offered by sellers. Sellers who offer free postage and packaging may allow for cost savings, and express delivery means that your items arrive faster. Be confident in your purchase by checking a seller's feedback history before you buy. Feedback is left by others who have bought from the seller, so good ratings and positive comments are a good indication that you are dealing with a reputable seller. Visit the eBay Help Centre to learn more about how feedback works..
Conclusion
Painted nails are the perfect way to accent any outfit, and can be done at home without a lot of fuss. To paint your nails, invest in the right equipment. In addition to nail polish, you should have a manicure kit and nail polish remover. The simplest technique to paint nails is the three stroke method, which uses just three strokes to coat the entire nail in a single colour. However, there are several ways to create a more elaborate look for nails.
Consider a traditional French manicure with a pink base and white tips. For a modern twist, you can invert the colours, replace the pink with another hue, or choose two shades of the same colour. Tape and straws can be used to create stripes or splatters. For more decorative designs, invest in equipment, such as stamps, brushes, and dotting tools, to create nail art. Whatever tools you need, eBay is an excellent shopping destination.