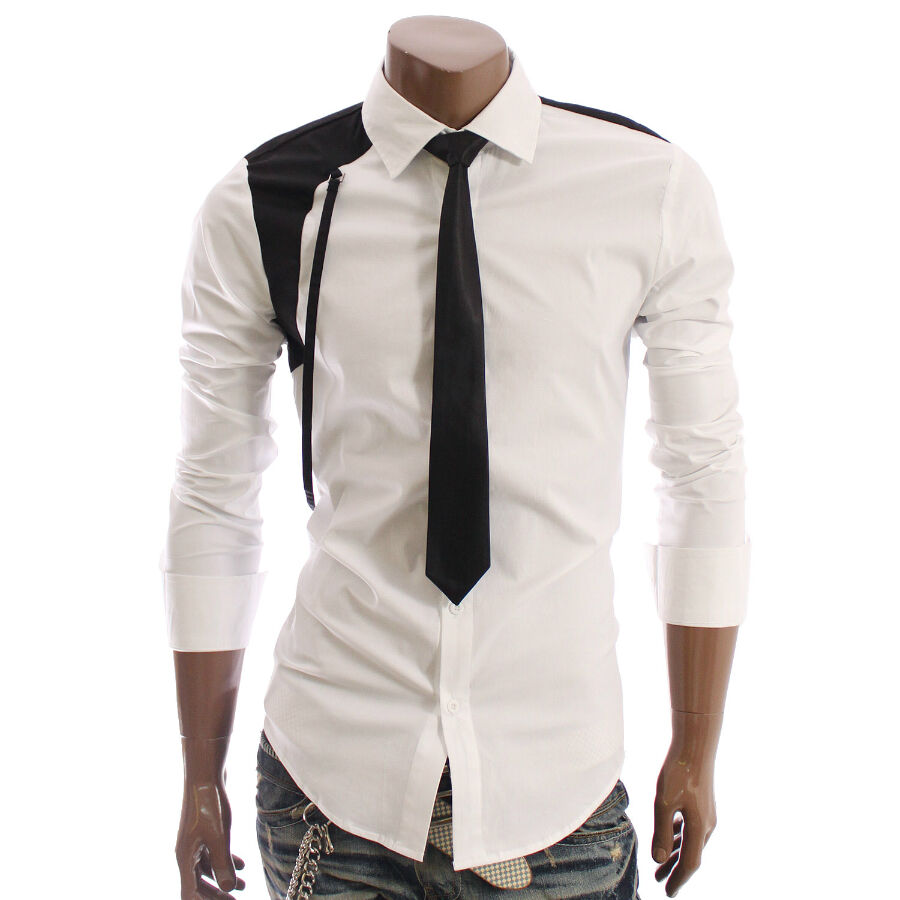 Fashion rules for shirts are complicated all by their lonesome. From what type of fit to select to whether to wear cuffs buttoned or unbuttoned, relatively few men are counted on to always have the answers to these questions on hand. Adding a tie only serves to complicate the rules, especially when degrees of formality are considered. Luckily, there are a few fashion tips and tricks to help fellows avoid floundering among the options, or worse, committing a fashion faux pas. Certain classic colour combinations are known to work well, while a realistic assessment of mens' figures and body types help determine what width of tie for them to gravitate toward.
Whatever the ideal shirt-and-tie combination winds up looking like, individuals should consider shopping for them online at websites such as eBay. Shopping at eBay will substantially save pounds, compared to shopping at more traditional brick and mortar retail stores.
Starting With the Shirt
Finding the perfect shirt-and-tie pair will take some time. Whenever possible, shoppers should try on a potential shirt-and-tie combination before making a purchasing decision. But since ties are generally more expensive and in some cases difficult to find, it is recommended for individuals to shop for a well-fitted and complimentary shirt before looking for a tie.
Selecting the Proper Fit
Custom-tailored shirts are often fitted close to the body, snug but not restrictive around the shoulders, chest, and waist. Of course, custom-tailored shirts are prohibitively expensive, so rather than shucking out big money, a rule of thumb is to purchase dress shirts as closely fitted as possible without becoming uncomfortable or restrictive. Shirts which are well fitted are more comfortable to wear under sweaters, waistcoats, and blazers.
Selecting a Shirt Colour
When looking for a shirt, the colour should be dictated by the colour of the suit or blazer it is intended to be worn with or the formality of the situation which it will likely be worn. More formal situations call for paler shirts, usually in white or off-white. Whites and off-whites are also safe for any other occasion, and well-dressed men should have several. Otherwise, a shirt colour should contrast well with its blazer while also highlighting other accent colours. Pale shades and pastels are advisable for this reason, as most blazers tend toward the darker end of the spectrum. Yellows, light greens, pinks, pale blues, and creams can all be paired with black, grey, or navy blazers. Beige or khaki blazers, by contrast, may be matched with a navy or dark red shirt.
Selecting a Shirt Pattern
Only the very bold should attempt to match a tie with a patterned shirt. Most patterned shirts should only be worn in casual situations or without a suit jacket or blazer. Chambray, pinstriped, or plaid shirts are all excellent options, but should only be worn with a plain coloured tie.
Ending With a Tie
Once buyers have decided what shirt to wear, the hunt for a matching tie can begin. It is important for shoppers to remember that a tie is meant to ground an ensemble by tying disparate elements and accessory colours together. What a tie should not be is so loud or disjointed from an outfit that it becomes a centrepiece. When in doubt, buyers should always go for the more conservative option.
Selecting Tie Colours
Tie colours should play off the shirt colour, blazer colour, and/or accessory colours. Individuals should consider the following rules of thumb before settling on a tie colour.
Blacks and Neutrals
Black ties should be a natural inclination for formal occasions, especially those of a more sombre nature. Other neutrals, such as greys and silvers, are acceptable alternatives, and are kind to men of every complexion and are well paired with black, grey, or navy blazers.
Warm Colours
Warm colours, such as yellows, oranges, reds, and reddish-purples should be used primarily in fall and summer. Wearers with pale shirts in any of these colours should select a tie several shades darker in the same colour. Conversely, a shirt in a dark warm colour could carry a tie several shades lighter in the same colour.
Cool Colours
Cooler colours should be used in winter and spring, and this cover blues, greens, and blue-purples. As with warm colours, individuals with pale shirts in a cool colour should consider a tie several shades darker in the same colour. Alternatively, men with shirts in a dark cool colour should reach across the colour wheel for a good tie pairing. A dark blue shirt is an ideal pair with gold, orange, or yellow, while a dark green shirt paired with red contrasts nicely.
Selecting Tie Patterns
When in doubt, patterned ties should be avoided in favour of plain options, which look classic and do not carry nearly as much a risk of clashing with an outfit. But when used correctly, some patterns will give an outfit a sharper look.
Regiment Striped Ties
Regiment striped ties are almost as formal as solid coloured ties, and are used to coordinate two or more accent colours. Regiment striped ties tend to look best when one colour in the stripes is the same as the blazer colour.
Geometrical Patterns
Geometrical patterns, such as houndstooth, herringbone, triangles, and plaid are used one of two ways. They complement a blazer which features the same pattern, such as herringbone or houndstooth, or add interest when there is no blazer or suit jacket.
Paisley and Medallion Ties
Paisley and medallion print ties should be considered carefully before being worn. As with geometrical ties, they often feature several colours and are used to highlight several different accent colours. However, this also means it is easier to inadvertently clash through their use.
Selecting Tie Width
Ties come in a variety of widths, and some men struggle with selecting the appropriate one. In general, the width of a tie should be matched to the width of the lapel of any coordinating suit jacket or blazer. However, if no blazer is worn, individuals should instead look to body size as the more correct indicator. Men with a more slender or slim physique should gravitate toward thinner ties, while broader men should stick with wider ties.
Selecting Tie Fibres
Thanks to improvements in the machining process, ties are available in as nearly as many fibres and fibre combinations as the shirts they are worn with. This allows tie wearers an additional level of experimentation, not just with colours and patterns, but with textures.
Silk and Silk-Blend Ties
The mainstay of ties, silk and silk-blend varieties, are the staple of the industry. Ranging from soft, smooth matte finishes to ultra sleek varieties, these ties are very smooth looking, and for that reason match the super smooth look of silk-blend suits very well. As a rule of thumb, a super glossy tie is worn with a more matte suit, while a more matte tie pairs better with a glossy suit. Too much shine all at once gives a tawdry, varnished look, while just a bit of it adds a subtle suggestion of class.
Wool Ties
Wool ties are rough looking and a little nubby, inspiring mental images of winter weather and comfortable sweaters. Wool ties are best employed in winter weather, and often look excellent in plain colours, bold stripes, or plaid patterns. Wool ties are paired with wool blazers for overcoats to add a nice effect.
Cotton Ties
Cotton ties lack the smooth finish of silk-blend options, while not looking quite so rough as wool ties. This makes them a solid choice for summer or spring weather, especially when paired with a slightly glossy silk-blend dress shirt.
Buying a Shirt or Tie on eBay
Whether buying a shirt or tie, shopping on eBay is likely to help shoppers save considerably. To begin, first go to either the eBay homepage or an eBay internal page, and find the search bar. Click the search bar and type in the words which describe the item you are looking for. A few examples of this include, "wool plaid tie" and "slim fit yellow dress shirt". To ensure a large number of matching results, always remember to make the search as general as possible. Once eBay returns the roster of the listings which match your search, it is time to refine them based on your personal preferences.
To refine your results, eBay allows users the option to view the cheapest items or the listings which are ending soonest first. Other options include the capability to display only the items in a completed search which are a certain colour, brand, size, or style.
Conclusion
Despite the complex assortment of fashion rules which govern pairing shirts and ties, selecting the perfect pair is relatively easy if individuals stick to a few well-known rules of thumb. For example, wearing shirts which conform to wearers' figures does a great deal to get a slimming effect, while likewise matching the tie's width to the shoulder and waist width compounds this effect. Sticking to a few colour matching schemes also helps shoppers pair a shirt with a complementing tie colour, and avoiding loud patterns reduces the risk of clashing. Alternatively, using ties in patterns which adhere to a few strict rules results in a powerful, good-looking payoff.
Whether needing to purchase a tie or shirt, buyers wanting to find the perfect match may want to look into heading to eBay before shopping at retail locations, for the simple fact that many major brands are found at eBay, often listed at cheaper than retail prices.