An uneven skin tone, dark circles, and blemishes diminish the skin's healthy glow. Fortunately, cosmetics, such as concealers, help to correct these problems. You can choose a Collection 2000 concealer that suits your skin tone and covers any marks and discolouration.
Overview of Collection 2000 Concealer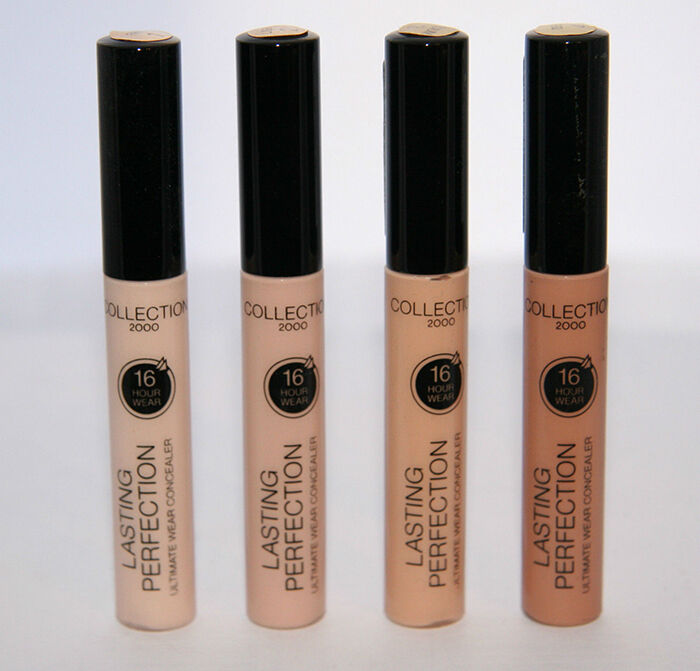 Collection 2000 is a liquid concealer that works particularly well for covering blemishes without creating visible lines. The thin texture of the liquid also helps to fill in slight wrinkles to even out the surface of the skin. Collection 2000 products are suitable for all skin types. Its light finish prevents clogged pores, which can lead to more blemishes.
Shade of Collection 2000 Concealer
Yellow-based concealers flatter all skin tones, whereas orange-based concealers work best for darker skin. Many make-up artists recommend choosing a concealer that is two shades lighter than the skin for the area under the eyes and a product that matches the skin tone for covering blemishes on other parts of the face. This helps the concealer to blend in under foundation. Dark spots on the skin and other discolouration require a peach or pink-toned corrector. Green concealers help to neutralise redness on the face, while lavender concealer helps to combat a sallow complexion. Other marks, such as heavy scars or tattoos, require a specific, heavy-duty concealer.
Types of Collection 2000 Concealers
Collection 2000 offers a few choices of concealers. The Lasting Perfection concealer is fragrance-free for sensitive skin and available in four palettes for light, fair, medium, and dark skin tones. The concealer is water-resistant and does not transfer to clothing. The Collection 2000 Illuminating Touch concealer is available in three shades: glow, naked, and neutral. It is ideal for combating blemishes and discolouration. The concealer contains special light-diffusing particles to help to brighten the eyes.
Applying Collection 2000 Concealer

For a smooth look, apply moisturiser to dry skin before applying concealer. Dab liquid concealer onto a blemish or dark circle with the tip of the finger, concealer brush, or sponge and allow it to settle before applying powder foundation with a blending sponge until all visible lines disappear.