Chinos usually present a casual appearance but women can pair them with tops, such as a crop top or vest crop, to create a dressier look. Designers have moved away from exclusively using 100 per cent cotton in Chino trousers, which allows women more flexibility in finding Chino trousers that match their figures, so choosing the right Chinos for any figure is easy nowadays.
Chino Trousers Sizes
Picking the right Chino trousers for any figure starts with an accurate measurement of the hips and waists. Women should remember that Chino trousers that stretch slightly can still feel tight around the hips and waist.
| | | | | | | | |
| --- | --- | --- | --- | --- | --- | --- | --- |
| Size | 4 | 6-8 | 10-12 | 14-16 | 18-20 | 22-24 | 26 |
| Waist (cm) | 60 | 67 | 74 | 81 | 88 | 98 | 108 |
| Hips (cm) | 84 | 91 | 98 | 105 | 112 | 120 | 128 |
To measure the hips and waist, you should use a tape measure and simply wrap it around your hips and waist. Measure the waist around the narrowest section and measure the fullest area of the hips. You can ensure accuracy by seeking the professional services offered by a tailor who specialises in women's clothes.
Choosing Chino Trousers for Petite Women

Women who wear petite clothes are typically less than 150 cm tall and possess hip and waist measurement are also below average. Petite women should wear slim to tight fitting Chino trousers and avoid any petite trousers with even a hint of a baggy appearance. Tight fitting Chino trousers can make you look taller.
Choosing Chino Trousers for Plus Size Women
Plus size women possess curvy figures and wear Chino trousers in the extra large size or larger ranges. Their voluptuous figures require wider leg Chino trousers with a straight cut. In addition, a relaxed fit complements the plus size figure and creates the appearance of flatter legs.
Choosing Chino Trousers for Rectangular Shaped Women
Women who have rectangular figures have little to no curve in the hips or waist. They have upper torsos that measure similar in width to the hips and waist. The figure goal with Chino trousers is to add curves by purchasing trousers that include pleats and nipped waists. Boot cut and flared Chino trousers present the image of additional curves.
Picking Chino Trousers for Tall Women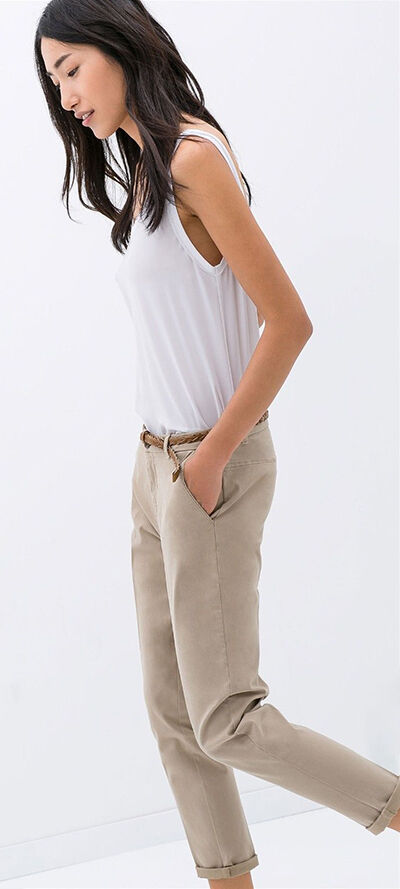 Tailors consider women who measure at a 175 centimetres and above as tall. Tall women should avoid tight Chino trousers that present lanky appearing legs. They can find the right shape fit by choosing straight cut Chino trousers or boot cut trousers.
Picking Chino Trousers for Triangle Shaped Women
Triangle figured women have lower bodies that are proportionately larger than the size of their upper bodies. Women with triangle figures should avoid trousers that curve in after the hips. Straight cut Chino trousers produce lines that shorten the size of the thighs, buttocks, and hips.