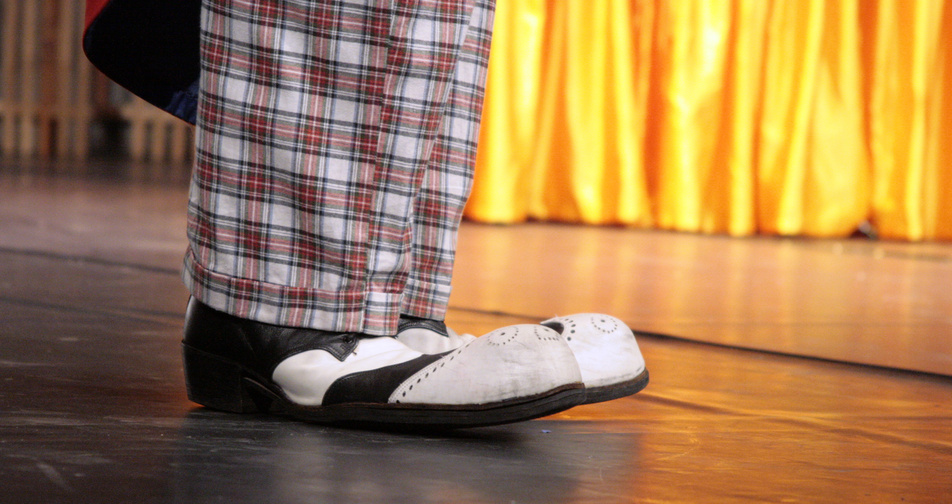 Clown shoes are an integral part of every clown character and costume, and the right pair will be sure to last you a lifetime. Traditionally, these shoes are super-sized and often proportionally larger than the rest of the clown's body. Whether shopping for big and floppy shoes or brightly coloured shoes, choosing the right pair adds flare and authenticity to your ensemble or fancy dress.
Clown Shoes Size
Height, weight, costume, and clown type best determines the exterior size of the clown shoes. Some are manufactured as one size fits all; these shoes are generally limited in colour and style. High-end options are custom tailored according to specific foot dimensions and come in a wide variety of design options. These shoes are generally more expensive than stock shoes and provide more comfort. In relation to size, consider the ease of walking in them. Professional clown shoes are designed for full-on wear, while costume versions may easily fit over your own shoes.
Material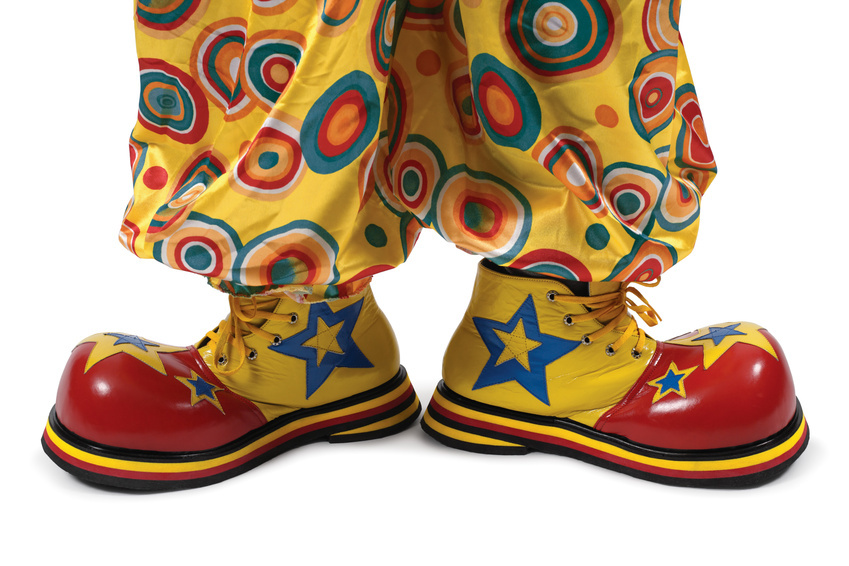 The material of the clown shoes can drastically change the look of the ensemble. Lightweight, plastic shoes typically fit over the wearer's shoes, while those made of heavy rubber or vinyl offer increased durability. High quality leather clown shoes are ideal for long-term use; both amateur and professional clowns prefer these clown accessories, which owners can have re-soled as needed. Generally speaking, leather clown shoes tend to cost more than other types.
Style

The right clown shoes should complement or match the clown costume, including your clown trousers, wig, and hat. To help you decide, think about your clown character. Face-painting clowns may opt for polka dot, glitter, or chequered shoes, while those who walk around entertaining may consider two-toned clown shoes in yellow in red. Still, juggling clowns may prefer the simplicity of block coloured options, as to not draw attention away from their main act. Generally speaking, most clown shoes feature lace-up styling; however, some varieties may feature buckle or zip closures. Additionally, keep in mind shoe height. Those that resemble Converse or other high-top canvas tennis shoes continue to grow in popularity, while traditional low top varieties remain a common trend.
Heel Type and Vamp Style
Clown shoes come in several heel types, including mid-length, short, and tall. Tall ones provide wearers with the highest foot arch, while short models offer the lowest. Women's clown costumes may feature high heel versions. The style of the upper part of the shoe also tends to differ significantly amongst clown shoes.