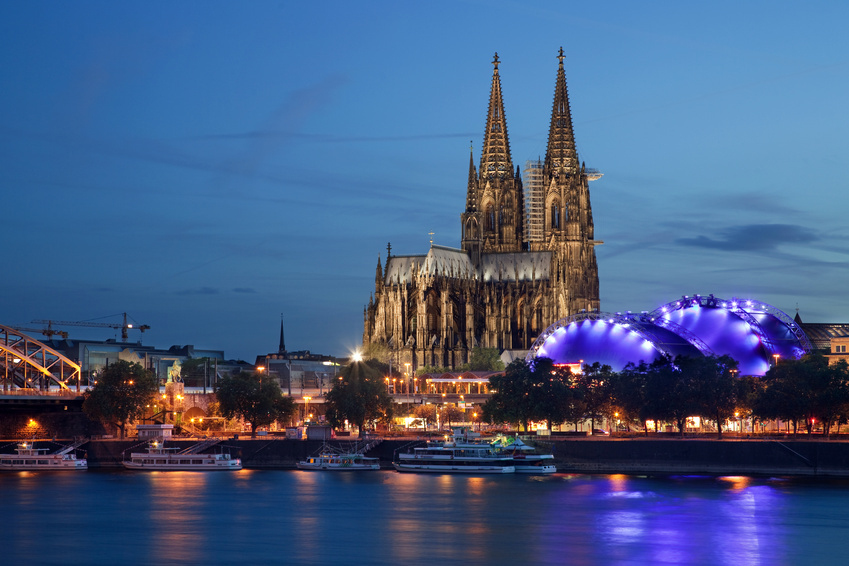 Cologne is located on the Rhine River in North-Westphalia in west central Germany. Originally established as a Roman trading post in the first century, Cologne remained vital after the fall of the Roman Empire. The city was taken over by the Franks in the fifth century and became a major trade centre during the Middle Ages and Renaissance. Many of its most noteworthy buildings, particularly the church spires which dot Cologne's skyline, are from these eras. Although Cologne was originally a walled city and still retains a strongly delineated city centre, including some of its gates, modern Cologne has grown significantly outside its early boundaries.
A major cultural centre, Cologne offers travellers a wide array of activity options that can be enjoyed during a short break. To help plan a short break to Cologne, tourists can visit their local travel agents or utilise the travel deals offered online at eBay. Travellers can also use a number of steps to make visiting Cologne easier. Therefore, travellers should understand their transportation options, research Cologne's layout, and choose attractions based on their personal preferences to make the most of a short stay in this romantic German city.
Understand Cologne Transportation Options
Before travelling to Cologne, tourists need to make a number of transportation-related decisions. Chiefly, every visitor to Cologne must determine both how to arrive in the city and how to move around the city once he or she is there.
Getting to Cologne
Travellers from the United Kingdom can use a number of different ways to get to Cologne. For tourists who prefer to use their own cars, crossing the English Channel can be done either on ferries or through the Eurotunnel. If tourists want to leave their cars at home and still travel by land, they can take trains or buses to Cologne. Visitors can also travel by purchasing plane tickets to the Cologne-Bonn Airport which is about 15 km southeast of Cologne's city centre. Once at the airport, tourists can take a high-speed train into the city.
Travelling Within Cologne
Cologne and its environs are connected by an extensive network of buses and trams, so travellers hoping to rely on public transportation are in luck. When purchasing tickets for public transportation, tourists can choose between travel passes for various time lengths depending on the length of their stay. Travel passes can be conveniently purchased at vending machines located within public transport vehicles and at ticket machines at bus and tram stops throughout Cologne.
Private travelling options within Cologne are also available. One quick way to see all that Cologne has to offer is taking a guided bus tour of the city. These tours often allow passengers to pick and choose where to get on or off a bus throughout the day, so travellers on a short stay in Cologne can customise their trip. Taxis are available throughout the city but can be a costly transportation option. If tourists bring their own cars, they should understand that parking spaces within Cologne are often very expensive and hard to find, a fact that may compromise the limited time travellers have on a short break.
Know the Layout of Cologne
Navigating through a new city can be challenging and time consuming, so tourists with limited time in Cologne should know the general layout of the city before they arrive. Understanding where certain sites are in relation to each other also helps tourists plan the most efficient travel itineraries. Once visitors can gauge the distance between Cologne sites, they may need to exclude far-flung attractions because of time constraints. Luckily for tourists, guidebooks and travel sites focusing on Cologne include detailed maps so visitors can see where they need to go. Purchasing handheld GPS navigation systems is also a good idea to avoid lengthy mistakes that can make visitors lose valuable time when sightseeing.
Choose Cologne Attractions Based on Personal Preferences
Because time in Cologne is limited and the city has a lot to offer, travellers should prioritise which attractions to visit. This does not mean that travellers should only visit one type of attraction; rather, prioritisation can include a mix of the most preferred examples of a range of different types of attractions which visitors find interesting.
Cologne Architecture
Cologne has a wealth of both religious and secular historical buildings that are exemplary examples of a number of architectural styles. The most famous building is the Cologne Cathedral, which was begun in the 13th century and was not completed until the late 19th century. A World Heritage Site, the cathedral is a strong example of the Gothic-style favoured by the medieval Roman Catholic Church. To get panoramic views of the cathedral and the city, travellers can visit the observation deck of another one of Cologne's outstanding buildings, the modernist KolnTriangle. For fans of architectural styles earlier than the Gothic style, a trip to one or more of Cologne's 12 Romanesque churches may be in order. All of these examples of the Romanesque style are within the Old Town, or Altstadt, section of the city.
Cologne Museums
As a cultural centre, Cologne has more museums than typical travellers on a short break could possibly visit during a trip. Therefore, travellers should think about the types of art they would prefer to see and limit their museum trips to a museum that focuses on that type of art.
| Cologne Museums | Museum Focus |
| --- | --- |
| Museum Ludwig | Modern art museum with artwork from artists like Dali, Picasso, and Warhol |
| Wallraf-Richartz Museum | Fine art museum with collections ranging from the 13th to the 19th centuries |
| Schnutgen Museum | Medieval art museum focusing on stained glass, carvings, and religious artefacts |
| Roman-German Museum (Romisch-Germanisches Museum) | Large Roman antiquities museum featuring mosaics, sculptures, memorials, sarcophagi, and pottery |
Like many museums throughout the world, some museums in Cologne may be closed, particularly on Mondays, so travellers should plan their museum visits accordingly. Museums in Germany are often closed on major holidays as well. When visiting a museum, tourists should make the most of the visitor's materials that museums often provide and determine which sections of the museum to visit first. This allows museum visitors to keep on schedule, particularly if they need to complete their museum stay within a certain amount of time.
Cologne Open Spaces
For nature lovers, Cologne offers an abundance of open spaces. The Cologne Zoo features the largest elephant park in northern Europe, an aquarium, and extensive paths where visitors can see animals outside. The Melaten-Friedhof Cemetery combines a vast expanse of green with monuments to many notable Cologne citizens and common folk alike. The Cologne Flora and Botanical Garden is a free public garden on the banks of the Rhine that visitors can wander through leisurely. Lastly, the Rhine Park is a large public park on the east side of the Rhine River that includes facilities for inline skating or jogging, team sport areas, and the Claudius Therme thermal spa.
Buying Cologne Travel Items on eBay
Travellers should plan extensively for their short break in Cologne, and eBay can help them find everything they need to ensure a pleasurable trip. This includes doing research on transportation and activities options on eBay, as well as purchasing practical items that can withstand the rigours of travel. Leading up to the trip, travellers should make sure they check out eBay for reliable luggage options, which can keep the items that travellers carry secure and easy to transport. A short break in Cologne probably includes a lot of walking, so travellers can buy comfortable men's or women's shoes specifically designed to give extra support. Buyers can also browse eBay's clothing options for apparel items that are adaptable to different weather conditions.
eBay has travel-related offerings like car rental listings, as well as options for accommodations. Depending on travellers' preferences and lengths of stay in Cologne, they can opt for reservations for bed and breakfasts, cottages, or hotels. Buyers should carefully check eBay listings to make sure details, like dates available or cancellation policies, meet their expectations before initialising a purchase. Checking out what exactly is included in a sale is also a smart move and helps to avoid any confusion during a Cologne short break.
Conclusion
Cologne, Germany is a popular tourism destination because of its history, architecture, and cultural offerings. Before going to Cologne on a short break, travellers should visit eBay to see the valuable travel deals and trip-related items they can purchase. Planning an enjoyable short break in Cologne relies on travellers doing some preparations before they book their trip reservations and develop their itineraries, however. Understanding the different types of transportation options available allows tourists to choose affordable and convenient modes of transportation both going to, and travelling around, Cologne. Knowing the layout of the city helps tourists make the most of their limited schedules.
Since travellers have distinct personal interests, they can prioritise their activity options to customise their experiences in Cologne based on their preferences. Cologne offers visitors a range of activities that centre on architecture, museums, and outdoor spaces, which tourists can combine throughout their trip to have a well-rounded experience. Because tourists often follow rigorous schedules, they can visit eBay to purchase practical items like shoes, luggage, or comfortable clothing that can adapt to a wearer's needs as they are exploring Cologne throughout the days of their trips.