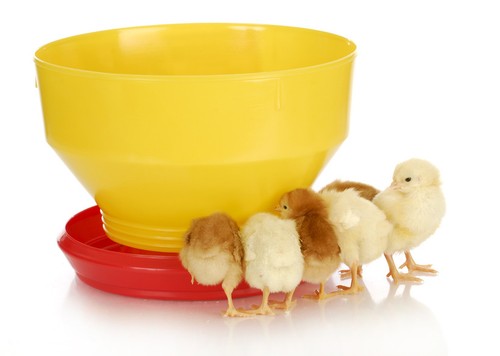 This eBay guide aims to show you that looking after chickens can be a very satisfying hobby. There is nothing nicer than a homegrown egg for breakfast. As with all animals and birds the rules for caring for a chicken are simple.
They must have a suitable place to live that gives them enough sunlight and shelter.
They must have constant access to water.
They must be fed regularly but not too much.
Chickens are, on the whole, straightforward to keep, providing there is enough room for them to scratch about and a good sheltered spot; ideally with a perch where they can roost. They also love to dust themselves; a dry spot under the hen house is useful and will help them preen and clean their feathers. Be warned that gardens and hens don't always go well together. The flower bed is a lovely place to dust and scratch and can soon be made to look pretty messy by a couple of chickens.
Location
The chickens need enough space to really stretch their legs and explore. They love to scratch about and find worms and grit outside their set food regime. Keep them outside in a garden or some rough ground. Ideally there should be both natural sunlight and shelter for them to enjoy.
Living Quarters
Depending upon how many hens there are, a good hen house is a worthwhile investment. It should be made of good quality timber and be designed
to be cleaned easily
to give access to the eggs without disturbing the hens
have a good roosting bar that gives the chickens a good perch to roost and sleep on
There should be small compartments where a sitting hen can lay her egg, which can be got to easily.
The most infuriating design is one that allows the chicken to lay in a corner which can't be reached unless the person lies on the ground and stretches into the hen house.
The design should also incorporate a dusting area. This is a simple addition and generally will form the underneath of the house where it has been raised off the ground. It only needs to be about a foot high but it must be boarded on three sides to keep it dry and sheltered. The chickens will lie under there and dust themselves.
The hen house must also be secure to prevent any foxes, cats, stoats or other predators from getting in at night. This is less important if the house is in a secure fenced area.
The design must allow for easy cleaning of the hen house so a big door or having the roof hinged to allow complete access is really useful. If the house is small and there are quite a few chickens it is as well to open the whole house up during the day in the summer months and let it have a really good airing.
The Chicken Run
If the chickens are simply going to range free, then it is advisable that they cannot get into other people's gardens or onto roads. Remember that foxes and other predators do operate during the day, especially in urban areas so chickens are not always safe in daylight hours.
The partially free range option is one chosen by many urban poultry enthusiasts. This involves a small electric fence around the hen house that can be moved with the house to different areas of the garden every couple of weeks. The chickens will be safe in this and also a have a good degree of freedom to range.
If the chickens are out all day, they will come in to roost at dusk. If there is no protective fence around their house they must be shut up securely before it gets really dark. Failure to do this will inevitably lead to disaster. A fox will patrol where he knows there are chickens every night waiting for the owner to forget to shut them up. He doesn't need much of an opportunity and be assured that he will make the most of it and kill every bird he possibly can. The time of year that is particularly dangerous is late summer / early autumn, when cubs have just left their parents. They are always looking for an easy chance. The vixen will also be hungry and will snap up an opportunity if she can.
Water
The most important aspect of chicken care is keep them well supplied with water.
In summer they will drink a great deal and so keep a careful eye on the amount of water they have.
In winter break any ice in the drinkers as they will die of thirst in very cold conditions where all the water available is frozen solid.
Good plastic drinkers are easy to obtain and are relatively cheap. They are made up of two sections; the container and the tray. The tray, when in operation is the bottom of the container and simply stays connected with a turn. To fill the drinker, unscrew the tray from the bottom fill the container and simply screw the tray back onto the bottom. Turn the whole unit back over so that the tray is on the ground and the water will release steadily as the chickens drink it.
TIP: Keep all drinkers and feeders about two inches off the ground on a brick or stand. This prevents the chickens from kicking dirt into the food or water and contaminating it.
Keeping all feeders and drinkers clean is very important and all equipment should be given a regular scrub. Disease is a problem in poultry and particularly when they are kept in confined conditions so watch out for any chickens that look unwell and remove them if they could infect the rest of the flock.
Chickens moult every year and when they do they don't look very good at all. They will look perfectly healthy with their fresh set of feathers. Do not waste money calling a vet if a chicken is losing all its feathers.
Food
If the chickens are simply there to provide family fun and lay a few eggs then a diet of hen wheat and layers pellets is all the sustenance they will need. Supplement this with a few scraps of leftovers from the kitchen and they will not require more than 100-120g of food per day. Be careful not to over feed particularly with bread and scraps as this can be detrimental to their health.
It is not advisable to feed layers pellets and corn together as the chickens will simply scratch and peck at the layers pellets rejecting them for the wheat grains. When they do this, the layers pellets get thrown out of the feeders and are then generally wasted on passing vermin.
The feeders available are wide ranging with plastic, medium weight galvanized steel and heavyweight galvanized steel being the main materials used.
The plastic feeders are generally the most compatible for the small flock and are easy to clean. They generally hold about 2kg of food which is plenty. Feeding hens is actually part of the fun of having them in the first place so it is sensible to have a couple of small feeders and keep the feed in a plastic dustbin with a scoop so that every morning, when the hens are let out, the correct amount of food can be distributed.
The heavier metal feeders are generally bigger. The great advantage of the metal feeders is that they don't blow over and will last a lot longer than the plastic models.
Chicks
If there is a cockerel in the flock then at some stage the hens may get broody and start to sit on their eggs. Quite often it may seem that one of the hens has been caught or has somehow disappeared but she is just as likely to have gone off to a quiet area in the garden in some thick cover and settled down on her clutch. There is nothing more exciting than when she suddenly reappears with her line of offspring sprinting along behind her.
If the chickens do successfully raise a brood, the little chicks will need some chick feed to bring them along. They can't digest wheat and will need something nutritious but easy to consume. It may be wise to separate the chicks and their mother away from the others until the chicks get a bit bigger; although it is amazing how if left to their own devices they seem to get along.
Conclusion
Properly caring for chickens is something that the whole family can enjoy. Providing there is enough space and the habitat is suitable, chickens are a relative straightforward thing to look after. They are vulnerable and remarkably unaware at times so make sure that they are kept in an environment that is secure.
How to Buy Chicken Feeders on eBay
Now that you know which chicken feeders you want you can find them quickly and easily on eBay. To start shopping, go to the Pet Supplies category then the Poultry/ Hatching/ Incubation portal. Click on the Dishes & Feeders sub-category portal.
While you shop, don't forget Hatching Eggs, Incubation, Chicken Houses, Grooming & Healthcare and Food.
Categories
The Categories list on the left side of each page will help you narrow down your listings by item type.
Product Finder
Use the Chicken Feeder Finder to quickly narrow down item listings by brand, model and condition (new or used).
Keyword Search
Search eBay listing titles for specific words. For example, if you want to find new chicken feeders, type the keywords "Chicken Feeders New" (without quotation marks) into the Search box. Click, "Search title and description" to expand your results. Visit eBay's Search Tips page for more tips on searching with keywords.
If you can't find exactly what you want, try browsing eBay Stores or tell the eBay Community what you're looking for by creating a post on Want It Now, or save a search on My eBay and eBay will email you when a matching item becomes available.
Buy Chicken Feeders with Confidence
Make sure that you know exactly what you're buying and understand how eBay and PayPal protect you.
Know Your Item
Read the details in the item listing carefully.

Remember to add delivery costs to your final price. If you're buying a high value item, check that the seller will insure it until it is delivered to you.

If you want more information, click the " Ask seller a question" button on the seller's profile or the "Ask a question" link at the bottom of the item listing page.

Always complete your transaction on eBay (with a bid, Buy it Now or Best Offer) otherwise you will not be covered by eBay Buyer Protection.

Never pay for your

eBay

item using an instant cash wire transfer service like Western Union or MoneyGram. These are not safe ways of paying someone you do not know.

Know Your Seller

Research your seller so that you feel safe and positive about every transaction.

What is the seller's Feedback rating?

How many transactions have they completed?

How many positive responses do they have?

What do buyers say in their Feedback?

Are they positive about the seller?

Most top eBay sellers operate like retail shops and have a returns policy.

Do they offer a money-back guarantee?

What are their terms and conditions?

Buyer Protection

In the very unlikely event that you do not receive your item or it is not as described, eBay Buyer Protection covers your purchase price plus original delivery cost.