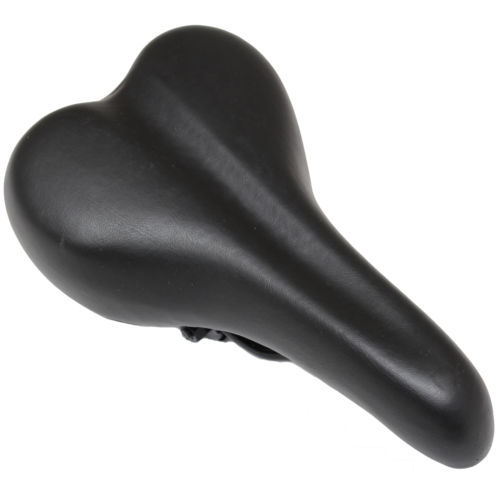 The saddle is one of the most important parts of any bike and can also be one of the most costly. Its necessity means that purchasing the right saddle tends to be an expensive investment. Like any other expensive investment it requires protection and preservation. Taking the correct steps in caring for your bike saddle will ensure that it remains comfortable for years to come.
This guide will take you through all the steps and materials that are required in order to keep your bicycle saddle looking and feeling great.
Saddle Materials
Before approaching the maintenance aspect of a saddle owners should understand what type of saddle they actually own. The following are the materials that manufacturers use to construct a bicycle saddle.
| | |
| --- | --- |
| Plastic | The lightest and cheapest form of material, and is considered the base option for most bike saddles. Plastic saddles don't require breaking in and are weatherproof in most instances. However for all the positive attributes, it is the most uncomfortable saddle and has little to no versatility. |
| Leather | Leather is the traditional form of bike saddle material. It is tried and tested; many believe that it is the most comfortable form of saddle once broken in. It requires a fair amount of maintenance to keep it in good condition. |
| Gelfoam | The gel moulds to the shape of a rider's inner legs and sitting bones. Its pliable feel and natural spring means that it temporarily compresses when under pressure. They are the least durable bike saddles available and require replacing regularly. |
| Kevlar | The most durable bike saddle material is kevlar , but its rough texture presents a variety of issues. It can be uncomfortable if sat on for a prolonged period of time. If choosing kevlar riders should choose a saddle with rear corners. This will reduce the amount of contact the sitting bones make with the saddle. |
| Lycra | Lycra is considered the premier choice for those who ride in high moisture environments. Soft to the touch, but susceptible to tears - not a good choice for those who go on long bike rides or compete in competitions. |
| Synthetic Leather | Synthetic (or imitation) leather is considered a budget option for riders. Not suitable for regular riders, but is fine for those who ride bicycles on a casual basis. Moisture can make synthetic leather slippery and can be detrimental to a rider's stability. |
Cleaning the Saddle
The next section will highlight some of the different cleaning techniques that are required for a variety of different saddle types.
Plastic
Plastic is a solid unit created from a single mold, this means that when scratches and cracks occur there is very little that can be done about them. Some riders use the plastic restorers that are regularly advertised on television. However, their effects are debated.
When it comes to cleaning plastic it couldn't be simpler. In fact, it is similar to the way in which you clean a car. Start by obtaining the following materials:
* Car Wax
* Shammy
* Cold Water
Clean the surface of the saddle before applying car wax; rub the car wax into the surface before washing off with cold water. Dry the saddle with a cloth before giving it time to dry.
Leather
Leather saddles require the most attention, and it is important to keep a close eye on their condition. Damaged leather saddles can cause problems to a rider and are potentially hazardous. In order to clean a leather saddle users will need the following tools:
* Leather Cleaner
* Leather Conditioner
* Leather Protectant
* Rags
Once you have what is required, lay the saddle down on scrap newspaper and take the following steps.
* Apply leather protectant and allow it to dry. This will protect the leather from all-weather elements.
* Rub in leather conditioner before lightly rinsing with cold water; follow up by drying with rags.
* Use leather cleaner to finalise the process; once again use rags to dry.
This process will keep a leather saddle in good condition and prepped for the rigors of intense bicycle riding.
Lycra
Lycra is an elasticated fabric that comes from the same family as rubber and latex. Its use on bike saddles is to aid airflow and flexibility, so in order to maintain such attributes users will need to clean it correctly using:
* Cold Water
* Cloth
* Waterproofing Spray
Cleaning a lycra based saddle is simple as no specialist cleaning products are needed. Simply moisten a cloth with cold water, wring it out and then wipe the surface area. Treat the saddle with waterproofing spray before letting it dry.
Kevlar
As the toughest form of bike saddle material, kevlar can go the longest without any form of cleaning or maintenance. It is designed for high-stress environments and is built to withstand weather damage. However, when the time comes in which cleaning kevlar is required, the following steps will help keep it looking like new:
* Clean Towel
* Rags
* Soapy Water
* Washing Powder
Place the bike saddle on top of a towel and wipe it down with soapy water. Then using the washing powder, target the stains and marks on the material before wiping down. Repeat this process as many times as required before allowing the material to dry.
Synthetic Leather
Even though it carries a similar appearance to leather it is important to remember that it isn't such material. Its cleaning requirements are different and much simpler. You will need the following:
* Microfiber Cloth
* Soapy Water
* Alcohol Based Cleaner
* Lint Free Towel
Start by wiping the surface down with a microfiber cloth; this should remove any dust and loose pieces of dirt. Then rinse the area with soapy water before using another cloth to dry. If there are persistent stains on the saddle, use an alcohol based cleaner to remove them; before rubbing dry with a lint free towel.
Preservation
Regular bicycle riders will testify that the importance of a bike saddle is often understated. It pays dividends to keep it clean and in comfortable condition. Taking the following steps will help preserve the condition of a bike saddle:
* If the saddle is in poor condition, use a damp cloth with mild soap to remove surface dirt.
* Don't soak or hose down a saddle. This will cause damage to the material, and may even leave it beyond repair.
* When the saddle gets wet from either rain or snow ensure it is best that it is wiped down before placing into a garage or rack.
* Don't use scouring pads or rough surfaces to remove stains, as it will scratch the saddles material.
* If possible let the saddle dry naturally in the sun after cleaning.
* Don't use chemicals or solvents on a saddle. It will eat away at the material causing the fibers to become weaker.
* Avoid using greasy and oily cleaning liquids, as they could end up staining the saddle.
How to Buy Saddle Cleaning Products on eBay
Cycling is a popular activity in both social and competitive environments. It provides an unrivalled total body workout that helps improve physical condition and lung capacity. The core element of a comfortable bicycle ride is the saddle and it requires consistent care. Those looking to improve the condition of their saddle need look no further than this guide, and the variety of implements that eBay has on offer.
* In order to browse the bicycle saddle cleaning tools that are available, log on to eBay's homepage and select sporting goods..
* From there, click on cycling,,bike parts and then saddles;; this will display all live auctions and allow shoppers to openly browse.
* If shoppers have a specific brand in mind they can use the keyword search to narrow down their results.
eBay Shops
Cycling is ever popular and this means that saddles are getting a lot of use both in social and professional situations. Trusted bicycle specialists have taken to the eBay shops format in order to sell their goods and help shoppers care for their saddles. Shoppers are sure to find special offers and great bargains in these mini-stores. To find what eBay shops are open, click the eBay shops link at the bottom of the homepage.
Completing a Transaction
When shoppers have found what they're after they'll need to follow through with a purchase. In order to do this they'll need to do one of the following on an item listing:
o Place a Bid
o Make a Best Offer
o Buy it Now
Once an auction has finished, the winning bidder will need to complete the checkout process. Doing this via PayPal means that the buyer protection program covers the purchase.
Conclusion
There are several elements that collectively help make the perfect bicycle saddle; one of those elements is condition. Keeping a bicycle saddle in top condition ensures lasting comfort no matter the weather and riding conditions. This guide provides basic instructions for cleaning and preserving the quality of a bicycle saddle regardless of what the material it is crafted from.
Protecting a saddle should be a top priority because a wet saddle can have damaging effects on more than just the bicycle. Poorly maintained saddles also suffer from discolouration and damaged fibers, at such point the saddle can be considered beyond repair. eBay has all that's required to care for a bicycle saddle, so you won't need to let your trusty bike saddle go untreated.