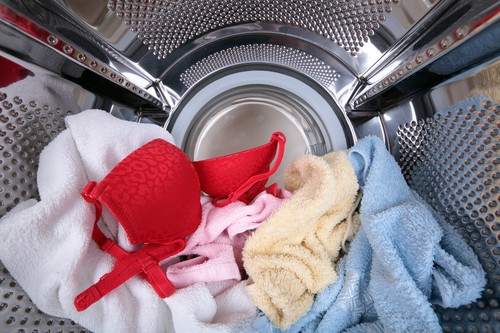 Purchasing a good quality bra from a high street or online retailer, such as La Senza or on eBay, is of the utmost importance for prolonging the life of a bra. Your bra gives you the support you need; the least you can do is return the favour. Bras are made from delicate materials and perishable elastic. To keep them looking their best and working correctly, take the time to care for them properly. In addition, correct care and storage extends the life of bras, and this means greater value for money. This is especially important for women with bigger breasts who buy more expensive bras. Bras should be washed after every second time that they have been worn unless they are heavily soiled, in which case they should be washed immediately.
To properly care for your bras, learn how to understand your bra's care label instructions. However, if the care label is illegible or has been removed learn how to hand wash bras, which is the preferred cleaning method. Although machine washing should be avoided generally, some precautions allow you to machine wash bras safely. Of course, drying your bras properly is as important as following the correct washing guidelines and correct storage should not be neglected. Learn how to store bras to keep them in the best condition possible. Bras and bra care accessories are available from lingerie, clothing, and department stores, and from online sources, such as eBay.
Understanding Your Bra's Care Label Instructions
Although care labelling in the UK is not required by law, most garments include information provided voluntarily by the manufacturer about how to take care of them correctly. A care label generally includes information about washing, bleaching, tumble drying, ironing, and dry cleaning, usually indicated by an icon and some writing. The table below lists and describes common washing instructions found on care labels.
Instruction

Description

Machine Washing

Number in the icon indicates the highest appropriate temperature

Delicate Washing

Item can be washed in a machine on the delicates cycle

Temperature should not exceed temperature indicated

Hand Washing

Hand wash only

Ironing

Dots in icon show how hot the iron should be

Cross through icon indicates that the item is not suitable for ironing

Can include instructions such as "cool iron only" or "iron on reverse"

Tumble Drying

Dots in the icon indicate the temperature to be used

Cross through icon means that it is not suitable for tumble drying

Bleaching and Dry Cleaning

Instructions are included, but few bras are suitable for these processes

Chemicals may damage delicate elastic or fabrics
These labels contain all the information that you need to take good care of your bras. However, the label may be faded or missing. In these cases, err on the side of caution and choose the most delicate care routine. Always keep an eye on care label instructions while shopping. If you do not have the time to care for items that require more attention, opt for easy care bras.
How to Hand Wash Your Bras
Hand washing bras is not as time consuming as you may think. Simply fill a basin or clean bucket with lukewarm water, add washing powder or liquid designed for delicates, and leave to soak. Follow the washing powder or liquid's instructions for the best results. Heavily soiled bras can generally be left overnight safely. When the bras have soaked long enough, gently rinse out the soap. Detergents specifically designed for delicates are usually easier to wash out. Pat the bras dry and reshape the cups. Never squeeze out excess water or wring bras out as this stretches the fabric and leads to warping. Allow bras to drip dry before storing them.
How to Machine Wash your Bras
Machine washing leads to fabric degradation, underwires twisting and poking through, and can damage delicate bras. However, when time is limited, machine washing may be the only option. Invest in a lingerie bag to protect your bras from being damaged by larger clothing items. Straps and bands can become entangled, stretching them and ruining bras in the process. If you do not have a lingerie bag, place the bras in a pillowcase or hook the clasps at the back and shorten the shoulder straps to minimise the chances of damage. If underwires become dislodged during the washing cycle they can damage the clothing in the machine with them or break the machine itself.
Once this has been done, make sure that the washing machine is on the delicate setting and the machine is set to a cool or cold wash. As with any load of washing, do not mix colours and whites. Remove the bras from the washing machine as soon as the cycle is complete. Do not wring bras out and reshape the cups before allowing the bras to drip dry.
How to Dry Your Bras
Bras should never be tumble dried. This is the surest way to ruin good underwear. Heat breaks down the fabric and causes shrinkage and fading, especially in delicate fabrics. Never hang bras over radiators to speed up the drying process, and avoid all kinds of home advice regarding drying bras with heat. Bras should drip dry, either by hanging on a washing line or on a clothes horse or other indoor drying facility. Alternatively, dry bras on a flat surface that allows adequate aeration.
How to Store Your Bras
Set aside a drawer or a portion of a drawer to store your bras. Bras that are stacked together tend to maintain their shape better. Never invert one or both cups when storing a bra as this leads to fabric deterioration and could cause dents and puckers in moulded bras. These irregularities tend to show through clothing. A bra storage box is a particularly handy storage solution, provided it is long enough to allow you to store your bras without folding the cups together. Alternatively, use a shoe or boot box to neatly store bras. Never shove them into a drawer in a tangled heap. Hooks can catch on delicate materials and cause pulls and other damage. If you prefer to hang your bras on hangers, make sure the cups are not inverted and the bras are not hanging in such a way that any material is placed under pressure. Fasten the hooks to ensure that they do not catch on other bras or garments.
Bra Care Tips
You should have at least three to five bras. Try not to use the same bra two days in a row as this wears the fabric out faster. Puckering, pleating, and pilling on the inside of cups indicate that bras should be replaced. Wearing bras that are in this condition may irritate the sensitive skin of breasts and nipples. Measure your bra size at least once a year, and replace bras that fit only on the tightest hook as they may no longer offer the amount of support that you need.
How to Buy Bras and Bra Care Accessories on eBay
Finding and buying bras on eBay is easy. Simply type a search word or phrase (like "bra storage box") into the search box that can be found on any page to see the listings available. Narrow your selection by choosing the most appropriate category and the features required. If you would like more control over your search results, use the advanced search feature.
Before You Buy on eBay
Before you buy on eBay, use the site's features to learn about the item and the seller. Check the item listing page and the seller's feedback.
Check the Item Listing Page
The item listing page is where you find details such as the item description, the seller's feedback score and contact details, postage and packaging fees, the terms of the seller's returns policy, and the seller's accepted payment methods. If you have any questions about a listing, use the "Ask a question" link to get in touch with the seller.
Check the Seller's Feedback
eBay's seller feedback feature allows buyers to leave feedback regarding sellers' products and customer service. Detailed seller ratings give additional information about aspects such as the seller's communication, whether the postage and packaging fees were reasonable, how long the seller took to dispatch the item or items, and the accuracy of the item description in the listing. To access this information click on the number next to the seller's username.
Conclusion
To get the best performance and durability out of your bras, take proper care of them. Heat and over zealous cleaning damages the delicate fabrics that bras are made of and shortens their useful life spans. Getting the most out of a bra is especially important when buying more expensive items that are designed to support larger breasts. These items have to work harder to keep you looking good and should be cared for correctly. Bras should not be worn or washed too often. A bra can be washed after every alternate wearing unless it is heavily soiled. If possible, avoid wearing the same bra two days in a row to give bras time to regain their form between uses.
Where possible, follow the bra's care labelling instructions. Take a moment to check how easy or difficult it is to care for a bra before buying it if you do not have the time or inclination to hand wash delicate items. Although machine washing is generally not recommended, wash bras in a lingerie bag, on a low heat setting and a delicate cycle for the best results. Heat damages bras and these items should never be tumble dried or hung over a radiator to dry. Flat or drip drying is best for delicates. Never invert bra cups when storing bras and consider using a drawer organiser or hanging bras to keep them looking good. eBay sellers offer a range of bras, storage and care solutions guaranteed to keep your lingerie looking its best.