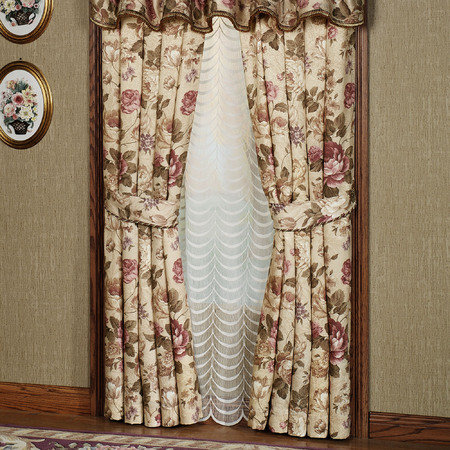 Curtains and drapes are important details when furnishing a home - not only are they a functional accessory, but they are also a key decorative feature.
They can provide much-needed privacy, extra insulation during winter months or even just provide a beautiful ornamental feature for a room.
When purchasing a set of curtains, caring for the material can often be overlooked. The process is simple, however, and one that will enable maximum life out of the materials.
Refer to this guide for essential tips in maintaining your curtains and materials. If looking to buy a set of curtains or accessories, there is a wide range available on eBay – including items such as fabrics, cleaners, curtain rails and many more.
Different Types of Curtains
There are many various types of curtains available and each with their own style and design. They can provide colour, definition and decoration to any room or window.
Curtains are either lined or unlined, with each having different attributes.
| Lined Curtains | Unlined Curtains |
| --- | --- |
| Effective at restricting large amounts of potentially harmful sunlight into a room. This can help prevent damage to sensitive objects. | Provide less resistance to sunlight, allowing for a brighter room if required. |
| Contain heat efficiently whilst providing insulation from outside cold air. | Air is able to pass through the curtains far easier than lined versions – an ideal feature during warm weather. |
| Heavier than their unlined counterparts. | Made of lighter material, which allows for easy maintenance. |
These curtains are attached to a curtain pole or rail that is fixed along the top of a window or doorframe. The way in which they are attached to the pole can differ, with styles such as the following:
Pleat Curtains
Table-Top Curtains
Grommet-Top Curtains
Sheer Curtains
It is important to note that lined curtains often require dry cleaning due to the thickness and style of the material. Remember to consult the care label before cleaning.
Light Curtain Care
Dust can be an unwanted irritant in the home, and preventing build-up is essential in order to properly care for curtains and drapes. The easiest way in which to avoid dust build-up is to use a vacuum cleaner.
Attach a brush tip to the vacuum cleaner or, alternatively, use a hand-held model.
Ensure each area of the fabric is vacuumed as unseen areas can also collect dust and dirt.
Clean windowsills to prevent unnecessary additional build up.
Take care when vacuuming curtains, as some may have fragile areas or delicate stitching.
Washing and Drying Curtains
Once curtains and drapes are assembled and have been in use for some time, it may become necessary to wash dirt or stains out of them. This will enable the material to maintain key features such as colour, texture and its insulation properties. The following tips will ensure maximum life from your window treatments.
Washing Curtains
Occasionally, curtains may need cleaning at home as they become dirty. Always check the label on the material before washing and take into account the manufacturer's recommended guidelines. Note:
It is advisable to test a small area of the curtain if unsure about the cleaning detergent that will come into contact with the fabric.
Be sure to remove solid items, such as hooks or hoops, which may be attached to the material prior to washing.
Wash curtains in cold water and apply a small amount of suitable detergent if not suitable for use in a machine.
Drying Curtains
Drying curtains is a simple process, with most washable materials being suitable for use in a tumble dryer (on a low setting) or to be hung on a washing line. Remember to consult the fabric's label for advice from the manufacturer. Before the curtains are completely dry, remove them from washing line or dryer.
Ironing Curtains
If the material is suitable, be sure to use an iron to get rid of any creases that may have formed in the washing and drying process. Remember:
Iron the material before it dries completely – this helps to prevent unwanted long-term creases in the fabric.
Once curtains are ironed, reattach any accessories such as clips, hooks or hoops.
Place curtains back on to the pole or rail.
Additional Tips for Curtain Maintenance
When looking after curtains it is also important to take other elements into consideration, such as:
Sunlight Damage – Some windows are exposed to more sunlight than others, meaning some materials may fade or become weaker over time. Light-coloured line curtains would perhaps be the most suitable here as they will not fade as rapidly and the lining protects the material.
Household Flowers and Plants Windowsills are a common area in which to place household plants or flowers. However, some pollen can stain when coming into contact with the fabric.
Is the Material Machine Washable? Always refer to the curtain labels for washing, drying and ironing information. Washing unsuitable materials can permanently damage the quality of the curtains. For example, lined curtains are often dry-clean only.
What to Consider When Buying Curtains
There are many different types of curtains and drapes, and each can have their own unique specifications and maintenance needs. It is therefore important to take the following requirements into consideration when caring for these window treatments.
Light: Consider the amount of light that the curtains will come in contact with. Choosing the correct type of curtain could significantly reduce damage and fading.
Cleaning: Some fabrics are higher maintenance than others and it is therefore important to purchase curtains that are suitable. Consult this guide for care information.
Curtain Style: It is important to consider the correct style of curtain when looking to make a purchase. Take into account colour schemes and designs when making a purchase.
Curtain Length: Different windows or doors require different lengths of curtain fabrics. Always check the size and requirements before purchasing.
Children and Pets: Young children and household pets are a common cause of dirt and stains. If this is a concern, consider darker colours or shorter curtain lengths.
Price: Be sure to shop around to find the best possible price when looking to buy curtains and drapes. If purchasing with eBay, do compare products from different sellers and take into account how much time is left on an auction – a great deal could be just a moment away.
Where to Buy Curtains
There are thousands of various curtain products on eBay and come in a range of different styles and sizes. These include pleats, table-tops, grommet-tops and many more.
eBay sellers are renowned for their reliability and the competitive prices offer excellent value for money - made even easier with flexible payment options.
In order to find curtain and drape products, visit the Home, Furniture & DIY portal. From there, you can search items such as 'curtains', 'curtain poles', 'lined curtains' and more.
In addition to this, you can also search for terms in the search box present on every eBay page. Buyers often use this tool if they have a clear idea about the item they wish to purchase.
When deciding to go ahead and buy from eBay there are a few tips that will ensure a smooth and safe transaction:
Always read the item description carefully and any conditions that come with it.
Are the delivery conditions acceptable? If it is a 'collection only' listing - make sure it would be possible to travel to collect the item from its location.
Be sure to ask the seller a question if there are any doubts in regards to the product.
Review the seller and their feedback rating in order to ensure that this is the best possible source to purchase the item.
When ready to make a purchase, there are various options available. Bid, Buy It Now, or put down your Best Offer to ensure you don't miss out on the product.
eBay users are protected by the buyer protection programme.
Decide which type is the most convenient and shop around online to find one at a price that is within a suitable budget. Be sure to read other reviews of the product, as learning about other people's first-hand experiences is always invaluable.
Conclusion
Curtains and drapes are an important part of home decoration and come in sizes and styles to suit everyone's needs.
They can act as a decorative frame around doors and windows, ensure privacy from the outside world and also aid comfort due to their insulation and material properties.
Once curtains have been purchased and installed, they are straightforward to maintain and easy to clean. Following a few simple tips will ensure the maximum use from the material and will ensure the colour and strength is sustained for longer.
If looking to purchase curtains, take into account this guide and consider the correct methods which are necessary in order to maintain curtains and drapes.
eBay will generally provide curtains and accessoriesat an affordable rate and if deciding to go down this route, then take the recommended precautions and use PayPal to ensure a safe transaction.