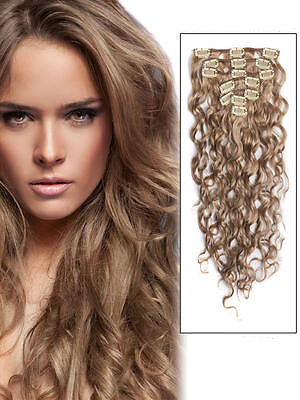 Professionally applied hair extensions should last for up to three months. Considering the cost of having them applied, caring for extensions properly to get the most out of them is the sensible thing to do. These hairpieces are made from synthetic or human hair, with synthetic hair costing a fraction of human hair extensions. However, human hair is more durable and generally looks more like your natural hair. Hair extensions are glued to hair by synthetic keratin protein applied to the tips of the extensions. This is bonded to the hair by heat or air pressure.
Even clip-on extensions, which can be used repeatedly, are kept looking as good as the day they were bought by protecting them from damage. These are a less costly alternative to salon applied extensions and simply slide into the hair just below the crown. A layer of the wearer's own hair covers the clips. Learn how to wash, dry, style, and colour hair without damaging your extensions and how to keep them from harm while sleeping or swimming. Keep proper hair extension care tips in mind to get the most out of your hair extensions. Hair extensions are available from hair salons, hair care product shops, and online sources, such as eBay.
How to Wash Hair Extensions
Some hair extensions, especially those bonded with hot or cold bond application, are easily damaged by heat. If possible, wash your hair every second or third day as washing it every day makes the extensions degrade faster. If you have your hair done professionally, ask your stylist to recommend a good shampoo and conditioner. If not, be sure to use high quality hydrating hair products.
Detangle the Hair
Before washing your hair, detangle it by combing it with a wide-tooth comb or brushing it with a hair extensions brush with nylon loop bristles. Start from the bottom of the hair and work your way up, carefully undoing knots without yanking or pulling.
Shampoo and Condition the Hair
Once the hair is free of tangles, gradually wet it. Adding a lot of water to hair at once can cause it to swell and tangle. Gently apply shampoo and rinse it out with your head tilted back. Never wash extensions over a bath or basin as this could damage them. Apply a nourishing conditioner, focusing on the ends of the hair, and rinse. Avoid greasy products as these break down the chemical bonds holding the extensions onto the hair. Wrap wet hair in a towel to absorb excess moisture or pat dry: never rub hair with extensions.
Washing Clip-On Extensions
Clip-on extensions should be removed before washing your hair. To keep them clean, detangle them and wash them in a basin or under a shower. Wet the hair, apply shampoo and comb through to coat every strand. Rinse the hair while keeping it straight and apply conditioner, if needed. Rinse and blot dry with a towel.
How to Dry Hair Extensions
It is best to let hair dry naturally. Where this is not possible, set the hairdryer to the lowest possible temperature and use a high quality heat protection spray. Heat damages extensions, especially synthetic ones. When having extensions applied by a stylist, ask what temperature setting should be used to dry hair and if a hairdryer can be used at all. In addition to damaging hair, heat could cause the bonds holding the extensions to your hair to break down faster.
Clip-on human hair extensions can be blow dried, with the same care taken when drying your own hair. Most synthetic hair does not respond well to any kind of heat treatment and caution should be exercised when using a hair dryer on synthetic clip-on extensions.
How to Style Hair Extensions
Confirm what kind of extensions you have with your hairdresser and whether they are heat resistant enough to allow styling. In addition, ask your stylist how hot styling equipment should be for the best results. Synthetic hair extensions cannot always be heat styled, whereas human hair extensions can be styled like your own hair, but be careful when using straighteners or curling tongs. Hair should not be heat styled every day and you must apply a good heat protection spray before styling. Before you begin, brush hair to ensure that it is free of knots to avoid damage from pulling or tangling.
How to Colour Hair Extensions
Human hair extensions can be colour treated, but this is best left to a professional stylist as the hair may not react predictably to colourants. Have hair coloured before extensions are applied to make the process easier. The extensions can simply be matched to your new colour and roots can be touched up when needed. Synthetic hair is not as absorbent as human hair and can seldom be coloured.
How to Keep Hair Extensions Safe While Sleeping
To keep hair extensions from tangling while you sleep, tie your hair in a loose bun with a soft scrunchie before bed. Brush out any knots and tangles before you gather the hair and make sure that your hair is completely dry before going to bed. Damp hair tends to tangle and break. Clip-on hair extensions should be removed before bed.
How to Keep Hair Extensions Safe While Swimming
The best way to protect hair while swimming is by wearing a swimming cap to keep hair safe from chlorine or salt water. If this is not practical, plait the hair. Pull it into a tight ponytail at the base of the skull, plait the ponytail, and place another band around the bottom end of the plait to ensure that the hair does not come loose. After swimming, keep hair under the shower until all the salt water or chlorine has been washed out. Remove the bottom band, undo the plait, and shampoo this section of hair. Squeeze the shampoo through the hair without rubbing and rinse. Remove the top band, and shampoo the rest of the hair, gently working the shampoo through the hair, and rinse. Remember to keep the hair straight while washing it and to pat it dry with a towel without rubbing it. Allow it to air dry or dry with a hairdryer on a low heat setting. Clip-on hair extensions should be removed before swimming.
Hair Extension Care Tips
Hair extensions remain at their best when treated kindly. Use heated styling tools sparingly, choose the right hair care products, and get expert help, if needed.
Use Heated Styling Tools Sparingly
The most important thing to remember when it comes to hair extensions is that heat damages real and synthetic hair. This includes your own hair. Keep heat styling to a minimum to keep hair looking good. It is best to use straightening irons or styling tools with heat indicator displays as this allows you to make more informed hair care decisions.
Use the Right Hair Care Products for Extensions
Invest in the right tools for hair care extensions. At the very least this should include a wide-tooth comb, an extensions brush, moisturising shampoo and conditioner, and heat protection styling spray. Consider using leave-in conditioner for added nourishment.
Brush Hair Extensions Carefully
Be gentle with your hair and hair extensions. Brushing hair roughly can cause it to break and become fuzzy. Hair extensions also break from this type of treatment and the clips holding clip-on extensions may become exposed. Always start at the bottom and work your way up when untangling knotted hair.
Get Expert Advice
When in doubt, ask your stylist. Hairdressers have specialist knowledge about hair and hair extensions and are able to give you the best advice for your hair. If the extensions were professionally applied in a salon, have them attended to regularly to keep the hair in place and looking good. Take clip-on extensions along with you when you next have your hair cut and ask the stylist to trim the hair pieces to blend in with your own style.
Finding Hair Extensions and Care Accessories on eBay
Searching for hair extensions and care accessories on eBay is easy. Type a keyword or search phrase, such as "clip-on auburn hair extensions", in the search box that can be found on every page. Choose the most appropriate category and features to see only the applicable listings. Alternatively, use the advanced search feature to make the search more specific.
Before You Buy on eBay
Before buying on eBay, learn all that you can about the item and the seller. The item listing page contains all the information that you need to make a buying decision. Here you will find details about, for example, bidding and buying options, the item and its condition, the seller's accepted payment methods, postage and packaging costs, and the seller's feedback. If you have any questions about a listing, use the "Ask a question" link to contact the seller.
eBay's seller feedback feature shows you to see what other buyers have to say about a particular seller's products and customer service. Detailed seller ratings give additional information about the seller's communication, whether the postage and packaging fees were deemed to be reasonable, how long it took for the seller to send the item, and the accuracy of the item description in the listing.
Conclusion
Hair extensions can make your hair look fuller, thicker, and healthier. Extensions are made from either human or synthetic hair and while both require special care, synthetic hair is the less durable of the two. To keep your extensions looking their best, take care when washing them. Never wash hair over a basin or dry it by rubbing it with a towel. It is best to allow hair to dry naturally, but if a hairdryer is used, the temperature setting should be low and hair should be sprayed with a good hair protection product before drying.
Invest in a special nylon brush designed for styling hair extensions to avoid breakage. Always be gentle with hair and avoid yanking or tugging on knots and tangles. Protect hair with a spray before heat styling and do not heat style synthetic hair without confirming the right temperature setting with your stylist. While human hair extensions can be coloured, it is best to leave this to a professional as the hair may not respond to the dye in the way that it would normally, or the chemicals could break down the bonds of the extensions. Keep hair safe while sleeping and swimming, and remove clip-on hair extensions before doing either. eBay sellers offer a range of hair extensions and care products, designed to leave you looking your best.