Vintage buckets are both useful and decorative. However, as these buckets are at least 20 years old, many of them require significant cleaning before they can be used. Learning more about how to clean vintage metal buckets and other materials is a great way to prepare for reusing them.
Clean a Vintage Tin Bucket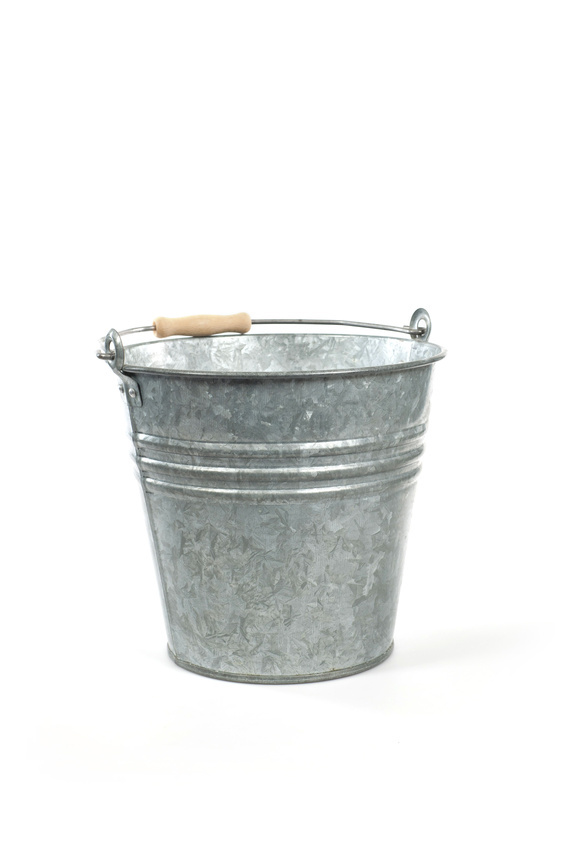 To clean a vintage tin bucket, use cloth or gentle sponge because the metal is fairly soft and abrasive scrubbers, such as steel wool, may scratch the surface. Avoid any cleansers that are highly acidic or contain trisodium phosphate or chlorine; these chemicals cause tin to rust. If the bucket is rusty, use fine sandpaper extremely carefully to remove the surface rust. After cleaning a vintage tin bucket, dry it immediately to prevent the welded parts from rusting.
Clean a Vintage Galvanised Steel Bucket

Vintage galvanised steel buckets are made from steel covered in a thin coating of zinc that prevents the metal from rusting. When cleaning this type of bucket, it is important to avoid damaging the zinc coating. To remove simple dirt and grime, use a sponge and soapy water made using mild washing-up liquid. If the bucket is covered with grease or stubborn stains, apply a solvent-based cleaner, such as white spirit, using a cloth. Avoid any acid-based substances, such as vinegar, as they discolour the bucket. To preserve the zinc coating and prevent rust, apply a layer of car wax, allow it to dry, and finally polish the surface.
How to Clean a Vintage Enamel Bucket
Vintage enamel buckets are made from metal and covered with a layer of enamel paint. The paint is highly durable and protects the metal from rusting. Enamel comes in many colours, which means the buckets are often quite decorative. To clean a vintage enamel bucket, apply a solution of soap and water to remove dirt and debris. If the bucket is not completely clean, make a paste from bicarbonate of soda and lemon juice, and spread it over the surface. Allow it to dry for 30 minutes, and then use the rough side of a dish sponge to work it over the surface. Finally, rinse off the mixture and dry the bucket thoroughly.