Owners of pool tables can enjoy countless hours of camaraderie with friends and family members. However, Owners of pool tables need to perform regular maintenance to ensure the highest quality playing surface. To maintain a pool table properly, you should learn about how to level the table and take care of the wood finish as well as maintain the felt or slate surface and the leather pockets.
Clean the Wood Finish
The wood finishes on billiard tables require regular maintenance. Dust and grime degrades most types of wood, which reduces the aesthetic appeal of the table's design. You should use a non-residue dusting agent and avoid any cleaning products that include ammonia. Lemon oil removes dust and the solution does not degrade wood. For beverage spill stains, you can eliminate the stains by applying a thin layer of varnish. If you live in humid climates, consider occasionally running a dehumidifier to prevent wood warping or cracking.
Keep the Surface in Mint Condition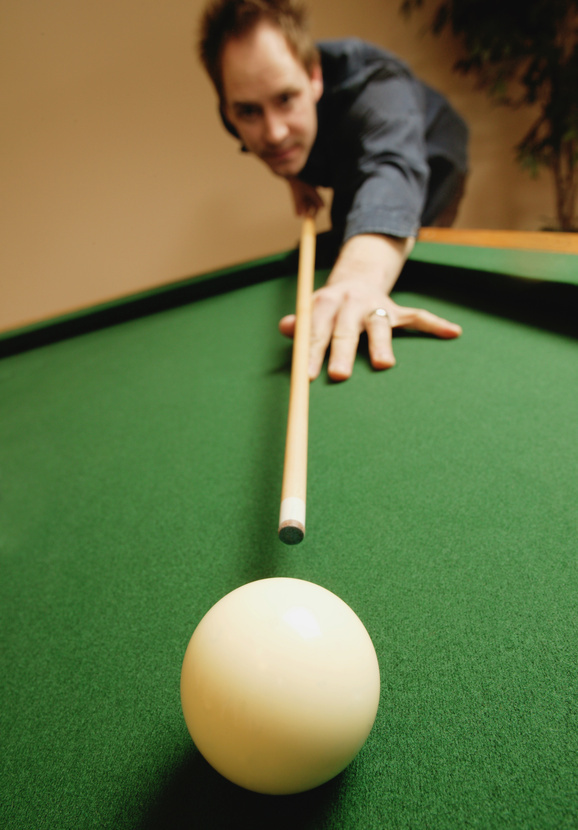 Before playing on the felt or slate surface, be sure to brush the felt or slate to enhance player performance. Most pool table manufacturers recommend using soft bristle brushes and to start brushing from the nameplate end of the table. Brush using short, straight strokes from the nameplate to the other end of the table. Circular or scrubbing motions cause streak marks on the felt or slate, which makes the table appear heavily used. New felt tables may accumulate small amounts of brushed felt that you need to remove from the table's surface.
Preserve the Leather Pockets
The top pub pool tables include supple leather pockets that absorb years of pool ball punishment from strong cue play. Most pool table manufacturers do not recommend applying leather treatment solutions to leather pool table pockets. Leather treatment solutions can cause pool balls to leave indelible marks on the felt surface. The best way to preserve the supple feel of the leather pockets is storing a few balls in each pocket. The weight of the pool balls keeps the leather supple, without degrading the quality of the leather.
Level the Pool Table
Frequent play on pool tables can cause the tables to knock out of level. You should adjust the table legs by using a spanner to turn the nut located a few centimetres above the foot. Adjust each leg by a half turn until the adjustments create a playing surface that rolls the cue ball straight in all four directions. Leveling a pool table may require a jack to raise the table so you can access the leveling adjustments and use the spanner. You should not lift the pool table corners to access the legs.